Roisin Willis & Sophia Gorriaran Both SMASH US High School Indoor 800m Record
By Jonathan Gault
February 11, 2022
BOSTON – In one of the most incredible races in the history of US high school track & field, not one, but two girls obliterated the US high school indoor 800-meter record at the David Hemery Valentine Invitational at Boston University on Friday afternoon. Roisin Willis, 17, a senior at Stevens Point Area Senior High School in Wisconsin ran 2:00.06 to win the fast heat and take almost two seconds off Sammy Watson's previous record of 2:01.78 from 2017. Not far behind, Sophia Gorriaran, 16, a junior at Moses Brown School in Providence, R.I., ran 2:00.58 to finish fourth.
Willis' time is not only the new US HS record. It is also is the #2 in the world in 2022 and well under the World Indoor Championships qualifying standard of 2:01.50, though Willis said she is not currently planning on running the USATF Indoor Championships in two weeks in Spokane, instead preferring to focus on high school competition.
Article continues below player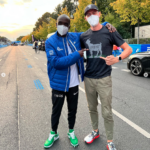 Kipchoge loves the 1:59:40 Shirt Get Yours Today
What a legend!
For Willis, the time was a significant improvement on her last race (2:03.28 at the Millrose Games on January 29) and also bettered her outdoor pb of 2:00.78. For Gorriaran, who ran 2:03.66 at Millrose and had a previous pb outdoors of 2:02, it was an even bigger breakthrough.
"I was trying to lower my 800 PR for a while now, so just to come out here and run 2:00 just very comfortably, I'm just super excited," Willis said.
Willis came in with the desire to not just break Watson's record, but to come as close as possible to 2:00.00, hoping to hit splits of 27-28 seconds at 200, 58 at 400, and sub-1:30 at 600. She could not have executed better as she got to the lead early and came through 200 in 27.90 before continuing through 400 in 58.20 and 600 in 1:29.39. 
"I was right where I wanted to be, but I felt people coming onto me, so I was trying to really stay on guard with my competition," Willis said.
Willis was passed coming off the first turn on the bell lap, but chose to stay patient rather than respond immediately.
"I really just couldn't respond then, and I didn't want to respond," Willis said. "I thought it was too early and I usually don't kick too early, so I just decided to wait because I knew we were running fast regardless and then I knew I could pull through in the last 50 meters."
Willis' confidence was well-placed as she fought back with a move of her own coming around the final turn, hitting the lead in the home straight and holding off pros Madeleine Kelly and Cynthia Anais – as well as a hard-charging Gorriaran – to take the win in 2:00.06.
Upon looking at the scoreboard and seeing the finish times, the two high schoolers Willis and Gorriaran embraced, broad smiles splayed across their faces.
"I'm so excited for her," Willis said of Gorriaran. "We just both were jumping up and down seing 2:00 by our names."
In addition to smashing the US high school indoor record, Willis is now the second-fastest US high schooler ever, indoors or out, with only Mary Cain (1:59.51 outdoors in 2013) ahead of her on the all-time list. Gorriaran is #4 on that list.
Willis, the daughter of 2000 Irish 5,000m Olympian Breda Dennehy-Willis, is committed to run at Stanford University, but her personal best now ranks her above almost every collegian in history. Indoors, only Olympic champion Athing Mu has run faster among collegians (1:58.40). On the combined indoor/outdoor list, only five women (Mu, Olympic bronze medalist Raevyn Rogers, Suzy Favor Hamilton, Alysia Montaño, and Katie Waits) have gone faster than Willis' time today.
For now, however, Willis has a more pressing concern. She is still only 17, after all.
"I have a lot of homework!" Willis said. "I have so many tests. Going to these Friday meets are just kind of hard because you have to miss a lot of school, especially flying and everything."
Results/splits courtesy Lancer Timing
HPL
JD
#
Athlete
Yr.
Team
Time
Splits
Note
1
3150
WILLIS, Roisin
SR
Unattached
2:00.06

| | | | |
| --- | --- | --- | --- |
| 27.90 | 30.30 | 31.19 | 30.67 |
| (27.90) | (58.20) | (1:29.39) | (2:00.06) |

2
3121
KELLY, Madeleine
Unattached
2:00.11

| | | | |
| --- | --- | --- | --- |
| 28.29 | 30.45 | 31.29 | 30.09 |
| (28.29) | (58.74) | (1:30.02) | (2:00.11) |

3
1823
ANAIS, Cynthia
SR
AR.Elite
2:00.49

| | | | |
| --- | --- | --- | --- |
| 29.34 | 29.10 | 31.05 | 31.01 |
| (29.34) | (58.44) | (1:29.48) | (2:00.49) |

4
3113
GORRIARAN, Sophia
JR
Unattached
2:00.58

| | | | |
| --- | --- | --- | --- |
| 28.48 | 30.76 | 31.18 | 30.17 |
| (28.48) | (59.23) | (1:30.41) | (2:00.58) |

5
1871
DETRA, Brenna
BAA/Adidas
2:01.47

| | | | |
| --- | --- | --- | --- |
| 28.21 | 30.34 | 31.27 | 31.66 |
| (28.21) | (58.55) | (1:29.82) | (2:01.47) |

6
3135
RICHARDS, Emily
Unattached
2:01.52

| | | | |
| --- | --- | --- | --- |
| 28.58 | 30.67 | 31.67 | 30.61 |
| (28.58) | (59.25) | (1:30.92) | (2:01.52) |

7
1867
WEEMS, Presley
SR
Auburn
2:04.05

| | | | |
| --- | --- | --- | --- |
| 29.56 | 30.38 | 31.74 | 32.39 |
| (29.56) | (59.93) | (1:31.67) | (2:04.05) |

8
3265
GASKIN, Sonia
York University T& F Club
2:10.86

| | | | |
| --- | --- | --- | --- |
| 28.33 | 30.58 | 32.87 | 39.09 |
| (28.33) | (58.91) | (1:31.77) | (2:10.86) |
Post-race interview with Roisin Willis