From Chauffeur to American Record: The Story of The First Time Keira D'Amato and Deena Kastor Met
By Jonathan Gault
January 20, 2022
The first meeting between Keira D'Amato and Deena Kastor was a memorable one. For one of them, at least.
Article continues below player.
D'Amato and Kastor reunited (virtually) on Wednesday night for a special edition of LetsRun.com Track Talk after D'Amato broke Kastor's American record by running 2:19:12 at the Houston Marathon last weekend. But their first meeting actually came almost three years earlier ahead of the Cherry Blossom Ten Mile Run in April 2019. D'Amato, then 34, was in her ninth year as a member of the race committee and tasked with handling clinic speakers at the race expo. Kastor had agreed to speak ahead at the 2019 expo and upon securing her commitment, D'Amato volunteered to serve as Kastor's handler for the weekend, picking her up from the airport, ferrying her around town, and organizing the autograph line for a signing of Kastor's book, Let Your Mind Run.
"I was kind of like your bouncer for part of that weekend," D'Amato said. "I was so excited to be the one to pick you up from the airport. And we chatted about your daughter and being a mother. And it just, it opened my mind up to pursuing this as a mother. And I don't even think you knew how much you inspired me that day. I got your book that day and I got it signed. And it's just so special, I have it right here. You signed were just so gracious and I just loved it. [It] was such a special moment for me that weekend, getting to meet you, and it's just kind of crazy that this has come full circle."
Kastor initially did not recall the interaction, but hearing D'Amato relay it back to her reminded her of the weekend and a message of inspiration now fulfilled by D'Amato, whose marathon pb at the time was 2:40:56.
"I do remember, I wrote in your book, Reach for the stars and become one!" Kastor said. "And look at you shining so brightly."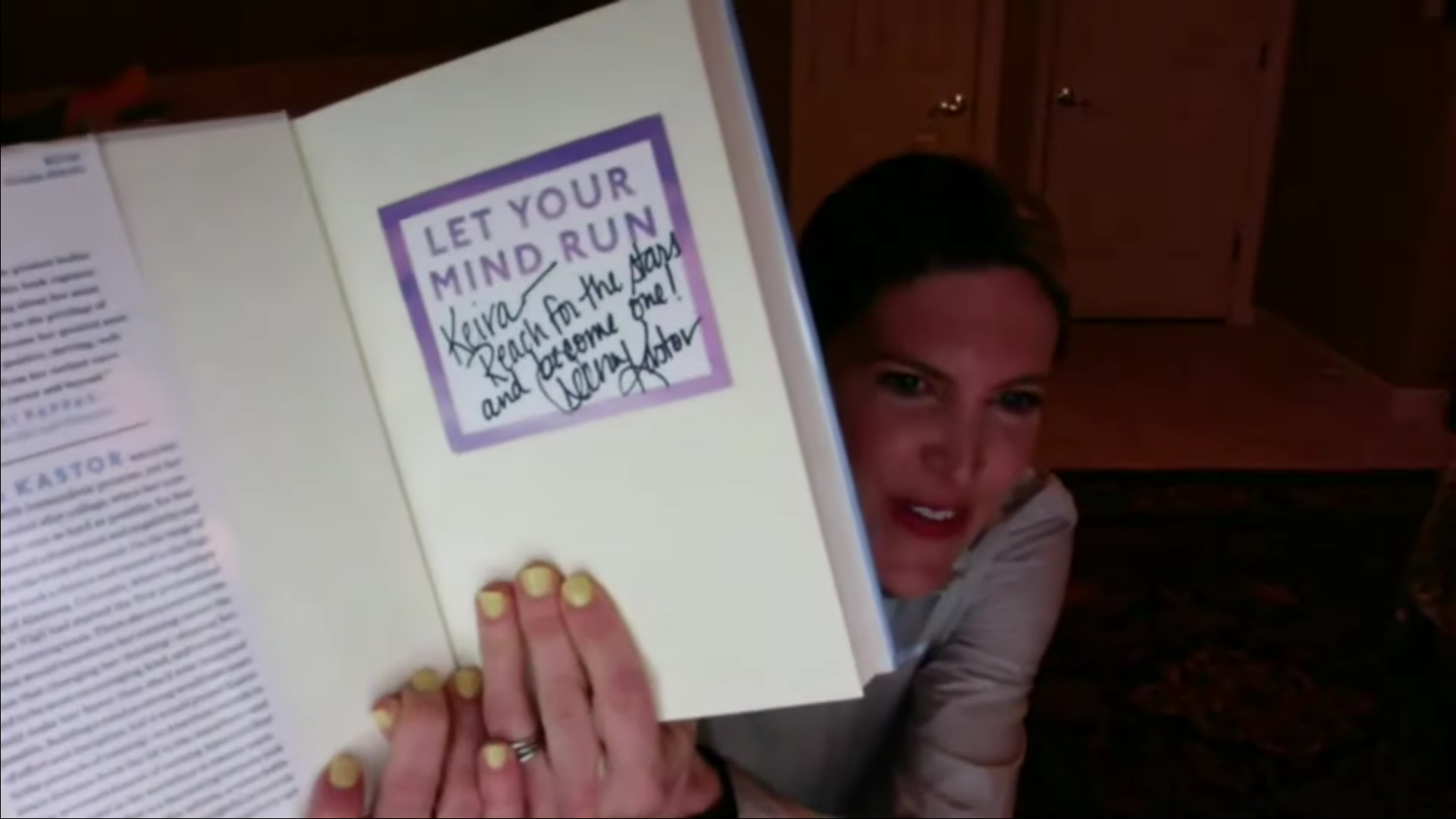 It's not the first time D'Amato has drawn inspiration from Cherry Blossom. In 2014, D'Amato held the finish tape at Cherry Blossom when Janet Bawcom set the American women's-only 10-mile record of 52:12. In 2020, after Molly Huddle agreed to appear as a speaker at the clinic (the race was later cancelled), D'Amato told Huddle she believed Huddle could break Bawcom's record. Turns out, it was D'Amato herself who broke the record later that year, clocking 51:23 at the Up Dawg Ten Miler, a race she staged herself during the pandemic.
You can watch the full, hour-long conversation episode of LetsRun Track Talk with D'Amato and Kastor below. The anecdote in the story above starts at the 32:35 mark.