Book Review: "Tokyo Countdown" by Geoff Wightman
By Jonathan Gault
December 16, 2021
If you go to big-time track meets, chances are you've heard Geoff Wightman's voice. The in-stadium announcer for the 2012 Olympics, 2017 and 2019 World Championships, and dozens of other events around the world (he called Shalane Flanagan coming home to win the New York City Marathon in 2017), he's a fixture of the track & field scene. He also happens to be the coach of one of the world's best middle distance runners — his son Jake, who owns a personal best of 3:29.47 for 1500 meters.
Article continues below player.
Last year, the elder Wightman was set to announce at the 2020 Olympics in Tokyo, while Jake, who finished 5th at the 2019 Worlds, was among the medal favorites in the men's 1500. It was already a hectic year, and that's before COVID-19 interrupted everything.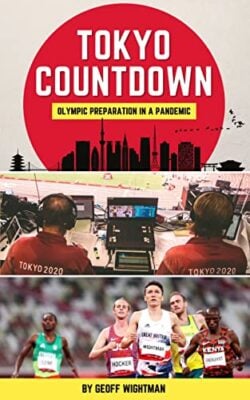 Good thing, then, that Geoff was keeping a diary of it all. For the sixth time, Wightman has released a behind-the-scenes look at his life as announcer and coach, but unlike the previous editions, Tokyo Countdown spans two years rather than one. Beginning in January 2020 and running through the final day of track & field at this summer's Olympics, Tokyo Countdown documents the Wightmans' circuitous journey to the strangest Olympic Games in history.
This is not the training diary of a 3:29 1500 runner. We hear about the highs and lows of Jake's training, and while a few more specifics would have enhanced the book, we still get a peek behind the curtain at how to train an elite miler and the stresses inherent within — such as what to do when he flops in his final pre-Olympic race. We also get an answer to what is surely the most common query Geoff faces: how does he stay neutral while calling his son's races?
"People are surprised that I don't lose it, with my son in contention for a medal on a close last lap," Wightman writes of the 2018 Commonwealth Games 800m final, "but: I am there for all of the competitors and spectators; and I love the middle distance and if I act partisan then I won't get to do it again."
As a narrator, Wightman is generally warm and lighthearted, unless the subject is Justin Gatlin — whom he despises. In fact, Wightman reveals Nike's decision to re-sign Gatlin after his four-year doping ban is one of the reasons why Jake elected to leave Nike and sign with New Balance in 2017.
One of the book's strongest sections deals with the various hoops Wightman and co. must jump through while traveling and training during a pandemic; his story of catching a flight from Los Angeles to Tokyo for a test event, which required hitchhiking outside of LAX at 1 a.m., is particularly memorable. Perhaps you're tired of reading articles about COVID protocols, but I suspect this book will age well as a document of the strange things we had to do in 2020-21 to return to a semblance of normalcy.
The true highlight, however, is the Games themselves. If you've never worked an Olympics, it's hard to appreciate the long hours, limited sleep, and even more limited dining options. Tokyo Countdown functions as a backstage pass to all of that — not to mention the lack of exercise permitted under Tokyo's COVID protocols, something that clearly drives Wightman, a lifelong runner, up the wall ("the most lard-arsed phase of my whole life," Wightman writes, after a KFC lunch). All of this while preparing Jake for the race father and son had been dreaming about for 27 years.
At 198 pages on Kindle (the only edition available), Tokyo Countdown is a fun, quick read with a few behind-the-scenes stories from a man who knows pretty much everyone in track & field. If you're fixing for some track in the dead month of December, Tokyo Countdown will scratch your itch.
Verdict: four out of five stars.
---
You can order Tokyo Countdown here.