Who?! Italy's Marcell Jacobs Stuns the World to Win Unlikely Olympic 100-Meter Title
If you'd like to be a true track & field insider and get all the insights from Tokyo, join the LetsRun.com Supporters Club. Get daily video shows/podcasts from Tokyo, all the LetsRun.com content, savings on running shoes, and a free LetsRun.com or 1:59:40 shirt if you join for a year.
By Jonathan Gault
August 1, 2021
TOKYO — Tonight was the night track & field went mad. Through the first two-and-a-half days of track at this year's Olympics, you could at least pretend that all of this was normal. The deserted stadium, the socially-distanced medal ceremonies, the fact that these 2020 Tokyo Olympics aren't even taking place in 2020. All of it could be overlooked because the performances on the track made sense. An Ethiopian winning the men's 10,000. A Jamaican sweep in the women's 100. USA relay controversy. All refreshingly normal.
Article continues below player
Then Marcell Jacobs, an Italian whose Instagram handle is "@crazylongjumper," went out and won the damn men's 100 meters.
Embed from Getty Images
And suddenly it felt like the theater of the surreal in the Olympic Stadium.
The 26-year-old Jacobs, a powerfully-built converted long jumper (personal best: 8.07 meters) who had never run faster than 10.03 before this year and needed a time qualifier just to make it to the 100m final tonight, ran 9.80, pulling away from the USA's Fred Kerley over the final 20 meters to win a shocking gold, Italy's first-ever in this event, from their first-ever finalist in the men's Olympic 100 meters. Usain Bolt, the most famous track star in history, had seen his Olympic title pass to a man who could have walked around the Olympic Village unbothered this morning.
Jacobs, upon crossing the finish line, emitted a series of screams and ran straight into the arms of his countryman Gianmarco Tamberi, who minutes earlier had won the Olympic high jump title, splitting the gold with Qatar's Mutaz Essa Barshim. Italy has never had a finer hour in track & field. Actually, with double gold and victories in the Eurovision Song Contest and European football championships, Italy may not have had a finer year since the Renaissance.
That Kerley, who held on for silver in a personal best of 9.84, was the man Jacobs had to overcome was equally unlikely. Only third at the US Olympic Trials (he was .03 away from missing the team entirely), Kerley had won bronze in the 400 at the 2019 World Championships and had largely focused on that event during his competitive career. His 10.15 season opener in March was Kerley's first competitive 100-meter race in six years, and spurred a surprise move to the 100 in 2021, one that was validated tonight.
Article continues below results.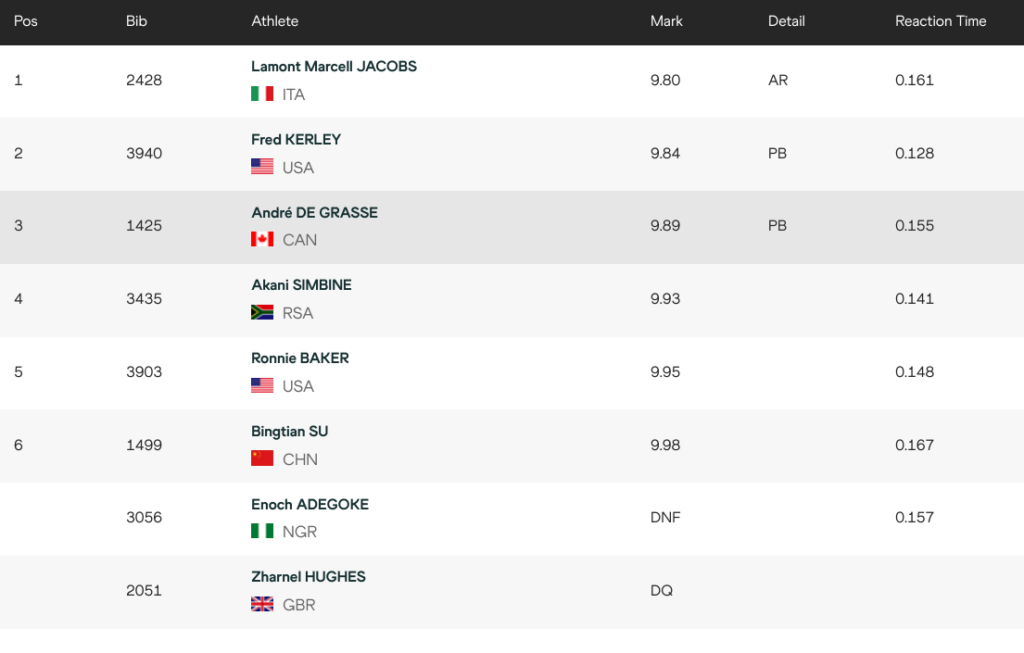 Andre De Grasse's bronze medal was about the only thing that made sense on a warm, soupy evening in Tokyo. A model of consistency, the Canadian secured his second consecutive Olympic 100 bronze — and fourth global 100 medal overall — and finally broke the 9.90 barrier in the process, taking third in 9.89.
The contrast between the certainty of the Bolt era — Bolt shows up, Bolt preens for the crowd, Bolt wins gold medal, repeat — could not have been sharper. Recently, the question that has hung over the sport since Bolt's retirement following the 2017 Worlds — who would succeed him as Olympic 100-meter champion — has felt like one that no one wanted to answer. Just as striking as the names on tonight's results sheet were the names that were absent.
Bolt — but that's an obvious one. Christian Coleman, reigning world champion? Banned for whereabouts failures. Noah Lyles couldn't make the US team. Nor could Justin Gatlin, whose body finally gave out at age 39.
Embed from Getty Images
No matter — a favorite had emerged this year, and his story could not be better. Trayvon Bromell, who left his last Olympics in a wheelchair, who overcame the longest of odds to return to the top of the sport after spending the better part of three years on the sideline, had dominated the 100 this year, running a world-leading 9.77 seconds, and seemed poised to write a Hollywood ending in Tokyo.
Yet Bromell was puzzlingly ordinary at these championships, needing a time qualifier just to advance from Saturday's first round before finishing third in his semifinal in 10.00 and missing out on the final by one-thousandth of a second. If there was a recurrence of the Achilles injury that derailed his career, Bromell did not admit it, instead pointing to his lack of major championship experience since 2016 and a need for more international races.
"I'm just honestly looking like, how are they running fast and I'm not able to?" Bromell said. "I can only put my finger on that they race overseas a lot more than me."
Embed from Getty Images
With Bromell gone, favorite status for the final tentatively passed to his countryman Ronnie Baker, runner-up at the US Trials and winner of Diamond Leagues last month in Stockholm and Monaco. Baker was part of a ridiculously fast third semifinal, won by China's Su Bingtian in an Asian record of 9.83, Baker taking second with the same time and Jacobs third in a European record of 9.84 — the second-fastest third-place time in history, behind only Gatlin's 9.79 for bronze at the 2012 Olympics.
Suddenly we had fast times, but with three personal bests in semi #3, would any of them be able to do it again two hours later in an Olympic final? Baker and Su could not, finishing 5th and 6th, respectively, in 9.95 and 9.98. Jacobs went the other direction, running yet another personal best — his third in 26 hours — to claim the biggest prize in track & field.
So…uh…who exactly is this guy? It's not an unfair question. Jacobs had never broken 10 seconds before this year, never made a global final before this year, never trained full-time as a 100-meter runner until two years ago, when chronic knee injuries caused him to give up his first love, the long jump, for the sprints. Born in El Paso, Tex., to an Italian mother and American father who separated while he was young, Jacobs moved to Brescia, in northern Italy, as a baby and is now based in Rome. He announced himself in March by running a world-leading 6.47 to win the European indoor title, then broke 10.00 for the first time in his outdoor opener on May 15. That remained his personal best until this weekend; in his last two races before the Games, Jacobs finished second in Stockholm and third in Monaco.
The world, surely, will learn more about him in the coming weeks and months. It is hard to stay anonymous as the Olympic 100-meter champion.
Embed from Getty Images
It's worth noting here that Jacobs' progression is far from typical (and sure to invite scrutiny). Jacobs could not break 10.10 in 15 races last year as a 25-year-old; men like that do not go on to run 9.80 a year later and win an Olympic final. Jacobs credited his improvement to an all-in approach, not just from himself, but his family and support staff, including his coach Paolo Camossi, who relocated with Jacobs to Rome in 2018.
"We set up a total support team," Jacobs said. "Mental coach, chiropractor, nutritionist, and we all work together as one team. We were all equals in that team and that helped me from the start of this year to win the European Championship [indoors] and improve, step by step, until today when I won the Olympic gold medal thanks to my entire team."
This was a different 100-meter final, to be sure. It was one that, frankly, carried low expectations given the absence of so many favorites and seemed destined to be overshadowed by the legendary women's 100 that preceded it. And perhaps, in the end, it will be. 
But this race was special in its own way. The beauty of this sport is that there are many ways to appreciate it. One can be stunned by the greatness of Elaine Thompson Herah on one night and equally stunned by the sheer absurdity of a long jumper and 400-meter specialist going 1-2 in the Olympic 100-meter final 24 hours later. Olympic track & field is many things. But it is very rarely boring.
Like this article? Become a LetsRun.com Supporters Club member and get all the insights from Tokyo and the world of professional distance running. We are having daily video shows/podcasts from Tokyo, plus get exclusive LetsRun.com content throughout the year, big savings on running shoes (if you buy one shoe that will more than pay for a month of your membership), and a free LetsRun.com or 1:59:40 shirt if you join for a year. Join here.
Not yet ready to join? Follow us on twitter, instagram, subscribe to our free weekly podcast, or get our free newsletter.