Sunset Tour: Josette Norris Keeps Rolling, Klosterhalfen Back From Injury, Lagat and Kidder Sub 1:45 for 1st Time
By Karl Winter
July 26, 2021
The third Under Armour Sunset Tour meet in California in as many weeks, hosted in collaboration with Sound Running, produced several 2022 World Championship qualifying marks on a perfect night on the fast track at Azusa Pacific University.
Josette Norris outdueled Konstanze Klosterhalfen in the women's 5000 to cap the night, running 14:51.32 to Klosterhalfen's 14:51.97 and shaving a tenth of a second off her personal best.
Article continues below player
In other distance races, Henry Wynne got his first victory as a professional, winning the 1500 in 3:34, Taryn Rawlings ran a 5-second pb to take the women's 1500, Festus Lagat beat Brannon Kidder in a quick 800, and Isaac Updike won in his first steeple since the Olympic Trials.
Women's 5000: Norris' big season continues
The most highly-anticipated race of the evening lived up to its billing, as Josette Norris delivered the goods with a 65.66 final lap to outkick Nike athlete Konstanze "Koko" Klosterhalfen in the final 100. The victory continued a breakout season for Norris, marred only by an eighth-place finish in the 5000 at the Olympic Trials. Since then, Norris broke 4 minutes in the 1500, making her only the fifth American woman in history to eclipse that mark and run under 15 minutes for the 5k, and now she has another victory.
"The goal coming in was to get that World standard [of 15:10] — that was my goal coming into both these races — so I wasn't too focused on trying to run a PR," Norris said. "[…] I found myself in the lead, which I didn't think was going to happen, but that was really good practice for me, but once KoKo took over, my goal was just stick with her the whole time and, and then I want to see what I could do in that last 100 meters, and I had it today."
Eleanor Fulton paced the field through 2k in around 6:01 before Norris took over the lead. By 2400, lead pack was down to four women: Norris, Klosterhalfen, Bowerman Track Club's Emily Infeld, and New Balance's Abbey Cooper.
Klosterhalfen, the 2019 World Championship bronze medallist at 5000m, running her first race since February 27 and her first 5k of 2021, seized the lead with 1600 to go and squeezed down the pace, running a 69.9 on the fourth-to-last lap. By 800 to go, Cooper was struggling to hold on. Klosterhalfen continued to lead over Norris and Infeld at the bell, and Infeld fell off slightly with 200 to go. Norris made her move coming off the final turn and eased past Klosterhalfen for the victory.
Norris' mark did not advance her up the U.S. all-time list, where she was already tenth, but she said that her 3:59.72 1500 the previous week got her into the 1500 at the Prefontaine Classic in August.
Klosterhalfen's pb is more than 25 seconds quicker than her mark today, but she said she dealt with a "serious injury" in 2020 and had to take "a few months off" in 2021. Her only previous race this year was a 31:07 10k in Austin, Texas in February.
The Pete Julian-coached German will run only the 10,000 at the Tokyo Olympics next week. She said her season is "just starting" now that she is healthy.
"I don't have a lot of expectations in Tokyo," Klosterhalfen said. "Just go there to race. The conditions will be really tough, so it will be a different race, so I'll just go there and see what works."
Infeld finished in 14:54.09 in third, while Cooper ran 14:56.58 for fourth, her first time ever under 15 minutes. Both women also grabbed the Worlds standard in the process.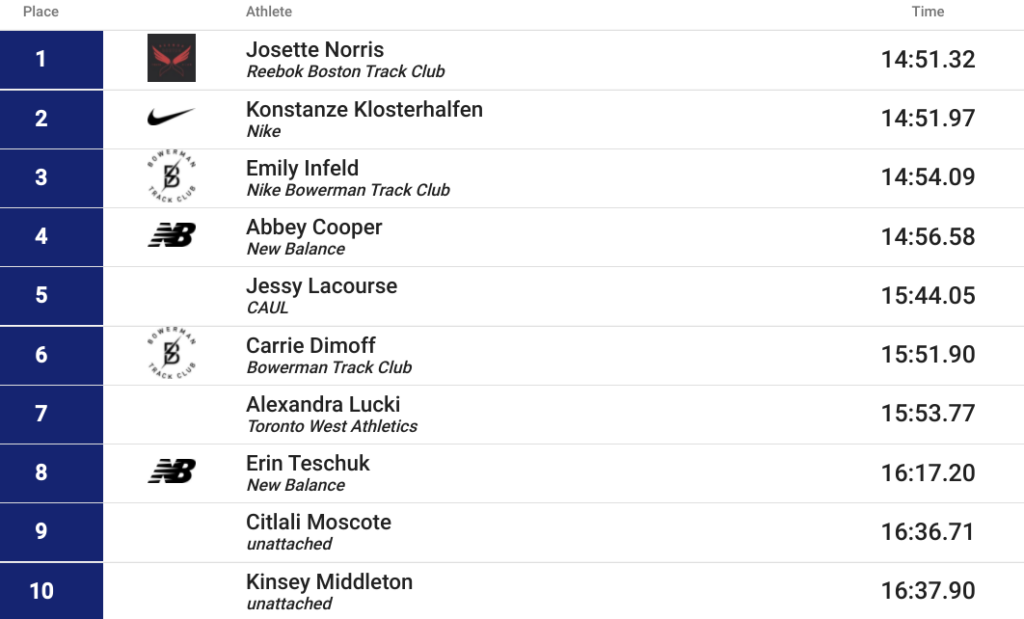 Men's 800: Lagat takes down Kidder, both under 1:45 for first time
The Brooks Beasts' Brannon Kidder sought a third consecutive win in the men's 800 and the first sub-1:45 clocking of his career. He got the sub-1:45 but not the victory, as NCAA fifth-placer Festus Lagat of Iowa State and Kenya ran his first sub-1:45 to win.
"This is something I've been looking for for several years," Lagat said. "[…] When I came [back] to the U.S. [from Kenya after the Kenyan Trials], I told my coach, I want to get something good before my season ends."
Kidder was pleased to get pushed to his first 1:44. "Post-Trials has just been having fun, chasing times, so it's my third race in a row doing the same thing, just going to the front," Kidder said. "I'm glad I finally fell on the right side of 1:45. It was great having Festus coming up on my shoulder; I think that's really what helped me get under."
Winner of the men's 100 Chris Royster paced the first lap in 51.26, and Kidder and Lagat were the only ones hot on his heels. Royster hadn't run a documented 400 since a 4×4 in 2013. Kidder pushed on in the front but could not shake Lagat.
"That's definitely not the way I'm used to racing," Kidder said. "It's hard to move up from the front."
Entering the home straight, Lagat swung to the outside and passed Kidder, taking the win in 1:44.47. Kidder finished in 1:44.99, barely sneaking under 1:45 and his 1:45.06 previous pb.
Lagat also finished fifth in the Kenyan trials 800, a deep race which he led for the first 600 because nobody wanted to take the lead. He said he is excited to watch his friends and Kenyan 800 team members Michael Saruni, Ferguson Rotich, and Emmanuel Korir race at the Tokyo Olympics.

Men's steeplechase: Updike beats Michalski
New Nike teammates Daniel Michalski and Isaac Updike, the fourth and fifth-placers finishers, respectively, at the Olympic Trials in the men's steeple, battled to the line in the men's steeple, with Updike taking the win in 8:20.17 and Michalski getting a pb of 8:20.96.
Updike and ASICS' Obsa Ali traded the lead until the bell, when Michalski took it and he and Updike dropped Ali. Ali, who crushed Michalski by nearly 11 seconds and ran 8:20 in New York on July 9, could only manage a 70-second last lap and an 8:30.20 performance.
Michalski and Updike were neck-and-neck on the final water jump before Updike, a newly minted sub-4-minute miler, made his move on the final straight.
The race was Updike's first steeple since the Trials. NCAA champ Kigen Chemadi was fifth in 8:38.50.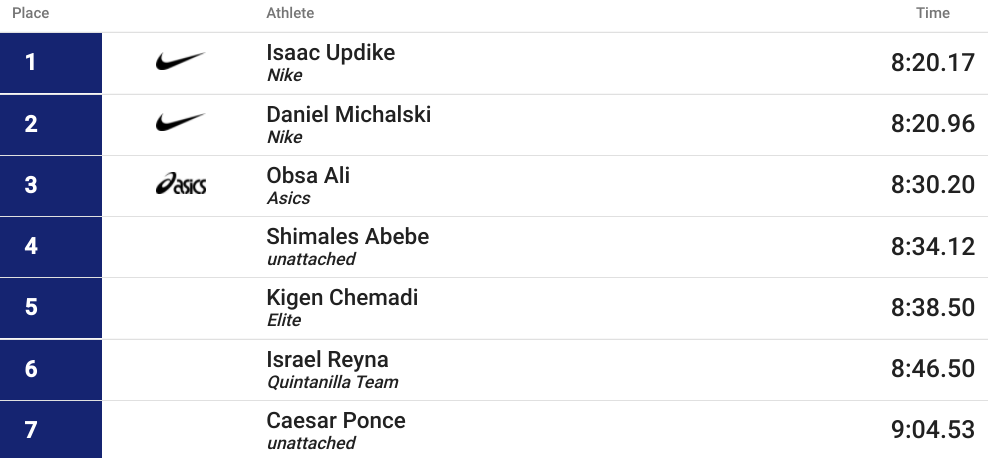 Women's 1500: Rawlings wins with miraculous personal best
A wild last lap saw the three of the top four women run personal bests in the women's 1500, but the biggest winner was Under Armour Dark Sky's Taryn Rawlings, who not only won her second professional race in as many weeks, but also got a 5+ second pb, running 4:05.02.
Rawlings, a former University of Portland athlete, kicked wide in lane two on the final 100 to finish off a 63.40-second last lap. At the Olympic Trials five weeks ago, Rawlings did not make it out of the first round, finishing tenth in her heat.
In second place was Brooks Beast Karisa Nelson, who also closed in 63 (63.73 to be exact) and had a lethal final 100, just not quite as lethal as Rawlings to her outside. Nelson also scrambled to the start line after not having her hip numbers or spikes on within five minutes of the gun.
Sara Vaughn, who has made two Worlds teams and is running for the non-profit &Mother now, led the middle portion of the race and hung on to finish third in 4:05.23. Eleanor Fulton got a pb of 4:05.33 for fourth, making a pass with 175 to go but not being able to hold off the other three.
Reigning NCAA 5000-meter champ and new adidas pro Elly Henes ran a pb of 4:09.33 for sixth. Henes said she will run a few more races as she moves to her new home of Flagstaff, where she will train with HOKA pro and Olympian Rachel Schneider.
She also offered a word of support to her boyfriend Luis Grijalva, who said on Instagram he "will be marching down the USCIS office in Phoenix [Monday] to make one last effort in gaining an advance parole" so he can fly to the Olympics and return safely: "I really really hope he'll be on a plane, the end of this week. I think there's still a few things left to be figured out and ironed out, but hopefully everything goes well; fingers crossed."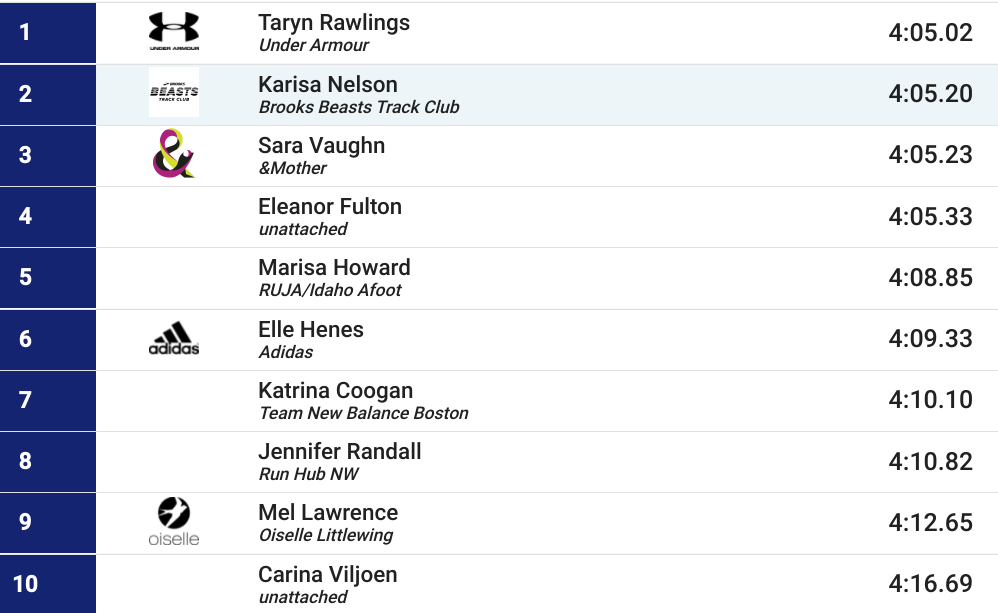 Men's 1500: Wynne gets first professional win
Brooks Beast Henry Wynne had the best kick in the field in the men's 1500, closing in 55.79 to run 3:34.22, slightly off of his pb of 3:34.08, and beat Charles Philibert-Thiboutot of New Balance (3:34.43) and ASICS' Johnny Gregorek (3:34.49, pb). Each man grabbed the 3:35.00 Worlds standard.
The pace was hot early and only Izaic Yorks, following teammates Drew Windle and Kidder, stuck to the pacers. Yorks, who is returning from an injury (the Olympic Trials were his first races of the summer), had a 10-meter lead with 500 to go, but it was cut in half by 300 to go. With 200 to go, Wynne, Gregorek and Philibert-Thiboutot made the pass and Yorks faded to sixth.
The top three traded blows in the final 150 but it was Wynne, who does much of his training with British champ Josh Kerr, who got the victory.
"First couple laps are always tough so I stayed in control," Wynne said. "I saw Izaic go with the pacers and I knew like, if I just stay controlled, I'd be able to close hard. He was pretty far ahead of us at 400 to go but I just trusted my kick and started reeling him in. I can see the shadows the people behind me so at that point is just pumping your arms and helping to get to the finish line first."
Josef Tessema closed in 56.87 to take the B heat in 3:42.53.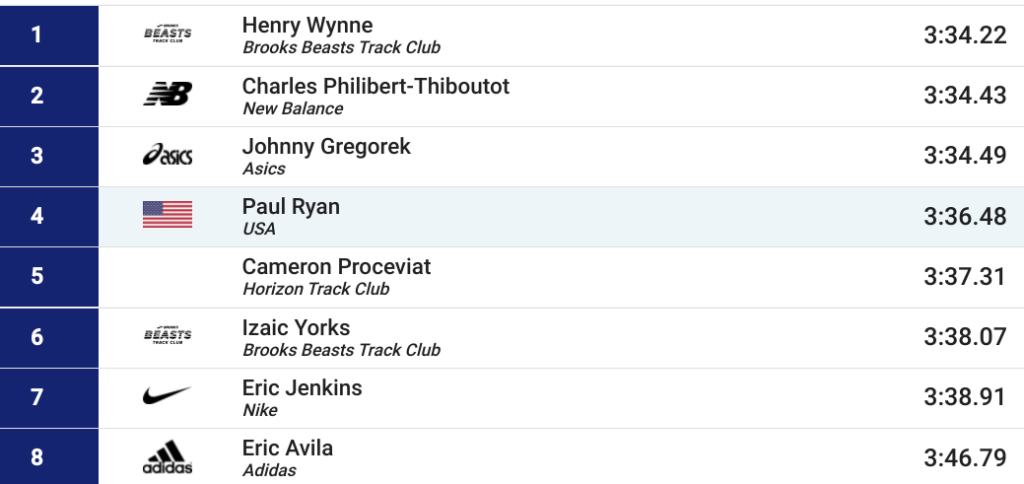 Men's 5000: Gusman wins
In another race targeting the Worlds standard (13:13.5), nobody came close. Pacers Festus Lagat and Craig Nowak kept the pace honest for 3k, with Nowak crossing that mark under 8 minutes, but it lagged dramatically from there.
When the dust settled, Tinman Elite's Jordan Gusman got the win in 13:34.05, holding off a fast-finishing Andrew Rafla of the Asics / Idaho Distance Project.
Gusman, who was dealing with injuries this season until recently, switched his World Athletics allegiance from Australia to Malta in 2019, and he holds the Maltese national records in the 1500, 3000 and 5000. Rafla closed in 59.29 to close down a gap to Gusman and run 13:34.21, but Gusman held him off in the home straight.
Brooks Beast Garrett Heath was the leader after the pacers dropped off and led Gusman with 800 to go, but faded hard, running 70.19 and 67.53 on his final two laps to finish fifth.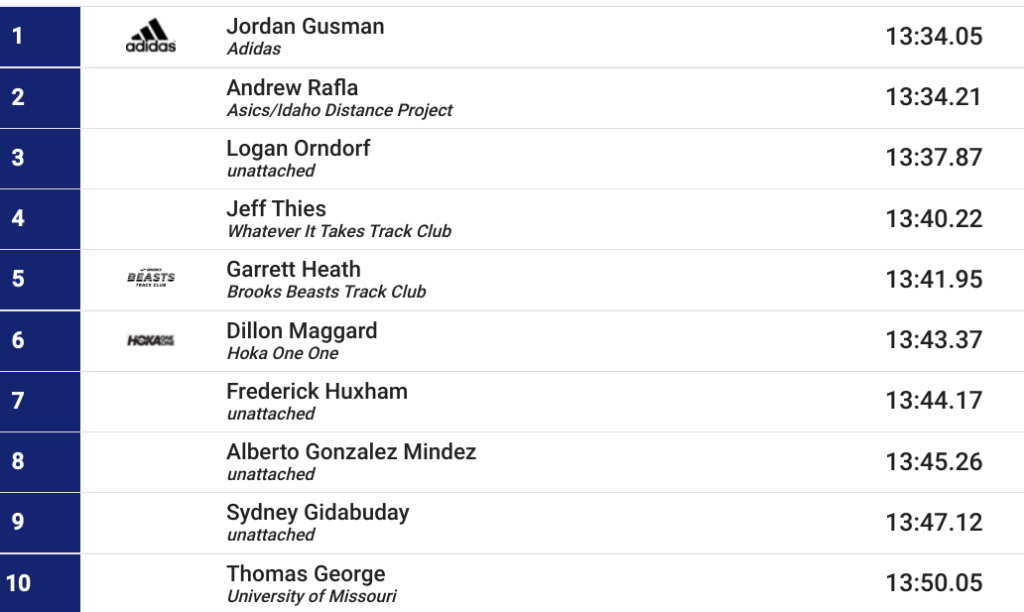 Women's 800: Akins wins in 2:00.24
No one went with pacer Rachel Walters, who went through the bell in 58.37, and chaos ensued on the final lap. Olympic Trials sixth-placer Allie Wilson made a move on the back stretch but was shuffled back and could not recover, finishing fourth in 2:00.70.
Brooks Beast Nia Akins went wide in the final straight to take a narrow win in 2:00.24, a pb of 0.06 seconds. Dani Aragon, formerly of Notre Dame and now of Empire Elite Track Club, ran a big pb of 2:00.30 for second, kicking hard on the outside of lane one. Nikki Hiltz ran 2:01.36 for fifth, one hundredth of a second better than her previous pb.
Angel Piccirillo of Oiselle Littlewing went wire-to-wire to win the B heat in 2:03.00, splitting 60.8 at the 400 mark and opening a five-meter gap into the home straight to beat the field by more than half a second. Nike's Alexa Efraimson was just fifth in 2:05.71.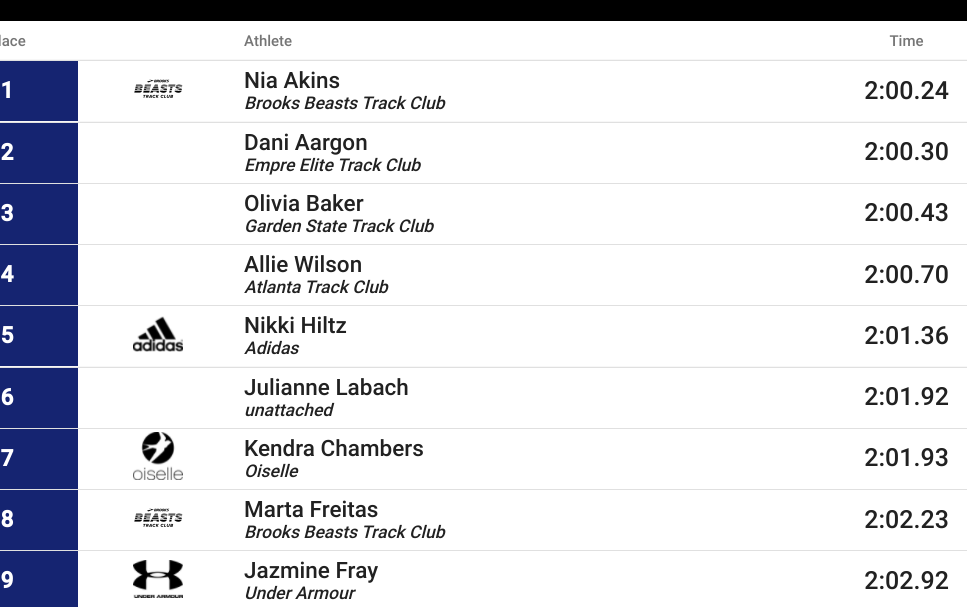 Sprint action: Marshall returns (results)
The most notable sprint/hurdle result was the return of Tonea Marshall, the second-fastest woman in the world this year in the 100 hurdles, who raced for the first time since the Olympic Trials and won the 100 hurdles in 12.63 (+2.2 m/s). Marshall, a fifth-year LSU athlete this season, did not start at NCAAs due to a minor injury and then finished sixth in the final at the Olympic Trials. She announced on Instagram that she lost her father in late June.
2015 Worlds finalist Sharika Nelvis, who was eighth at the Trials this year, was second in 12.66.
Chris Royster took the men's 100 in 10.11 (+2.2 m/s) ahead of Josephus Lyles, who ran 10.12, an all-conditions pb. 90 minutes later, Lyles came back to win the 200, running a wind-legal pb of 20.22 (+1.7 m/s) and getting the Worlds standard in the process.
Amere Lattin, better known as a 400-meter hurdler, won the men's 110 hurdles in 13.74 (+2.4 m/s). Lattin was DQ'd in the 400 hurdles heats at the Olympic Trials and had not run a 110 hurdles race since 2019.
Nike athlete Kortnei Johnson won the women's 100 in 11.09 (+2.0 m/s), equal to her personal best. Morolake Akinosun, a gold medallist in the 4×100 in Rio, was a DNS.
Anastasia Lee-Roy of Jamaica won the women's 400 in 52.19.
*Discussion: 7/25 Sound Running Sunset Tour: Lagat, 1:44.47, Wynne 3:34.22, Akins 2:00.24, Rawlings 4:05.02