Day 7 Rest of Meet: Ramsey Bombs SP Meet Record, Athing Mu Pro Debut, and the 5,000m Qualifying Format Is Stupid
By LetsRun.com
June 25, 2021
EUGENE, Ore. — After two rest days, the 2020 US Olympic Trials resumed on Thursday night from Hayward Field with finals in the women's shot put and steeplechase and a whole bunch of prelims, including the women's 800 which had the pro debut of Athing Mu. We have separate articles on the dramatic steeple final and men's 1500 prelims, in which high schooler Hobbs Kessler won his professional debut for adidas. We recap everything else below.
Women's shot put final: Jessica Ramsey comes up huge
Entering 2021, 29-year-old Jessica Ramsey had never made a US World/Olympic team, or even come particularly close (she was second at USAs in 2018, but her best finish in a championship year was sixth. This year, she'll be going to the Olympics in Tokyo — and she did it in style, winning her first national title and breaking the meet record with a 20.12-meter heave in round four — a personal best by 62 centimeters (Ramsey had not thrown beyond 19 meters all year outdoors).
Article continues below player.
Ramsey needed to throw that far as Raven Saunders, the 5th placer at the 2016 Olympics, had thrown 19.96 in round three — also a personal best, and also farther than the previous meet record of 19.59. NCAA champion Adelaide Aquilla rounded out the Olympic team by taking third with a best throw of 18.95.
Ramsey is now fourth on the all-time US list, as her throw was the longest since Michelle Carter tossed an American record of 20.63 to win Olympic gold in 2016.
Women's 800: Athing Mu Pro Debut & The Favorites Roll
On paper, the first round of the women's 800 looked pretty brutal. The US is the deepest country in the world at 800. There were 42 starters and they were getting whittled down to 16 runners for Fridays' semifinals. Only the top 2 in each of the five heats were guaranteed a spot in the semis. Would a major star fail to advance?
No.
Of the 11 women who had a qualifying time of under 2:00, eight made the semis. The three who didn't make it (Kaela Edwards, Brenda Martinez, and Sinclaire Johnson) were seeded #9, #10, and #11. The top eight seeds got 8 of the 10 auto qualifiers for the final. The cream rose to the top.

High Schoolers Do Well
There were three high schoolers in the 800 and they all ran very well. Roisin Willis (2:01.27) and Juliette Whiitaker (2:01.21) both made the semis and the third Sophia Gorriaran ran a PB (2:02.26) and was the 19th best on the day.
Athing Mu a Pro
Athing Mu is a sensation. She's the US leader at 400 and 800 and as of this week a pro athlete for Nike. She also seems to still have her carefree and playful attitude, laughing on the post-race Zoom interview and having a good time.
She takes being called a prodigy in stride saying, "I take everything lightly. I don't let it get to my head. It's awesome. I've always wanted to be a prodigy. I want that. It never happened. Here I am though, and it's awesome to be called that. "
She said hiring an agent was "tricky" but she trusted her instincts. She's excited to be with Nike and feels like their marketing is right up her alley.
End of an Era?
33-year-old Brenda Martinez was one of the sub-2:00 women who didn't make it out of round 1 as she struggled, running 2:02.72. That means Martinez, the 2013 Worlds silver medallist, will likely never make the Olympic team in her best event. In 2016, she got caught up in a collision in a hectic 800m final, but she did come back in the 1500 to nab the 3rd spot and an Olympic berth. Because of that she'll always be an Olympian.
Sage Hurta Pro and 800 Runner
Despite being the NCAA indoor mile champ, Sage Hurta said she considers the 800 to be her best event. That's what she ran at the Trials and she ran a 2:00.08 pb, the second-fastest time of the day, to advance in her pro debut for the OAC.
On day 1 of the Trials, Sage's boyfriend Joe Klecker made the Olympic team in the 10,000. Maybe it was best Sage didn't run the 1500 as she said she needed a few days to refocus herself after Joe's performance.
These prelims were super fast
With 42 women qualifying for the women's 800 field, USATF was forced to draw up five heats and chose to advance the top two in each heat as well as the next six fastest times. And with only the top two spots guaranteed, the results were some incredibly fast first-round races.
Consider: two years ago in Des Moines, Raevyn Rogers ran the fastest first-round time of 2:01.77. Had she run that tonight, she would not have advanced. Chanelle Price led all qualifiers by winning heat 2 in 1:59.86, while the slowest time qualifier was 2019 NCAA mile champ Julia Rizk, who ran 2:01.31 to finish 5th in heat 3. In all, 11 women broke 2:01.
This was a perfect advertisement as to why USATF needs to take more qualifiers in the men's and women's 1500. When you have more athletes vying for comparatively fewer spots, there's more on the line and the races are more excited.
Why did Kate Grace choose the 800 over the 1500 this year? "I think I'm a better 800m runner."
Grace won the Olympic Trials 800 in 2016, then switched to the 1500 for the next three years, making the team in 2017 and finishing 5th at USAs in 2019, .27 off of third.
But Grace decided to switch back to the 800 this year, and did it for a simple reason: she thinks it is her better event (and better chance at a medal in Tokyo).
"I think in the 800, the US could sweep the medals — if you make the team," Grace said. "I think that's a reasonable thing to look for."
We asked Grace whether she thought she could have made the team in the 1500 this year and she admitted she didn't know. It would have required a pb to do so as third placer Heather MacLean ran 4:02.09 and Grace's best is 4:02.49.
"That was an incredible [1500] final," Grace said. "I have no idea what I could have done in that final. I've never run in a final that fast."
Grace said she feels confident this year after making the switch to coach Joe Bosshard and that she is in "the same or better fitness than I ever have been."
"I was ready to go all-in as a middle distance runner and I feel Joe was the person to take me there," Grace said.
Men's 5K first round: Erassa out, the 5-6 format is stupid
Our biggest takeaway on the men's 5k first round was that there are too many time qualifiers in this format. More on that below, but the vast majority of the big players in the event moved on without stress.
HOKA ONE ONE's Kirubel Erassa was the most notable casualty, as he was one of only seven men with the Olympic standard entering the meet, and he ran only 14:08.35 to finish dead last in heat 1. That had nothing to with the time qualifier format; he just didn't have it today.
The format was an issue for Biya Simbassa and Sydney Gidabuday, the #9 and #11 ranked guys in the country this year based on seasonal bests, as they finished eight and seventh in heat 1, respectively, and were eliminated. Five of the six time qualifiers came out of heat 2, as 10 of the 11 guys in that heat advanced.
The pace in the first heat was simply slower, giving the second heat a large advantage. Contenders Eric Jenkins, Grant Fisher, Woody Kincaid, and Cooper Teare all closed in 55 seconds to finish in that order and get auto Qs. 35-year-old Garrett Heath, a four-time Trials competitor and Brooks Beast veteran, pushed the pace with a 60-second penultimate lap and then held off Colorado's Eduardo Herrera for the final auto Q spot in heat 1. Herrera would be the sole time qualifier from the heat. Jenkins, the 2016 fourth-placer who dropped out of Friday's 10k final, won the heat in 13:43.18 (more on him below).
In heat 2, a host of collegians traded the lead with 2016 Olympic silver medallist Paul Chelimo. BYU's Conner Mantz and Casey Clinger and Michigan State's Morgan Beadlescomb all took turns at the front and cobbled together a pace that was faster than that of heat 1. A group of seven pulled away in the final 100, including Chelimo, Hassan Mead, Emmanuel Bor, and four collegians. Chelimo closed his final 400 in 56.94 to ease away and win the heat in 13:36.66 with NAU phenom Nico Young hot on his heels in 13:36.74.
In all, nine collegians will make up 16 of Sunday's finalists, with Teare being the only one with a legitimate chance to make the team as he is the only one with the Olympic standard.
The heat today (temperatures in the 80s) prevented anyone from attempting a fast pace. The Olympic team, to be decided Sunday morning, will consist of three of the remaining six guys with the standard: Chelimo, Bor, Jenkins, Teare, Kincaid, and Fisher. All six looked like their finishing kicks were intact today.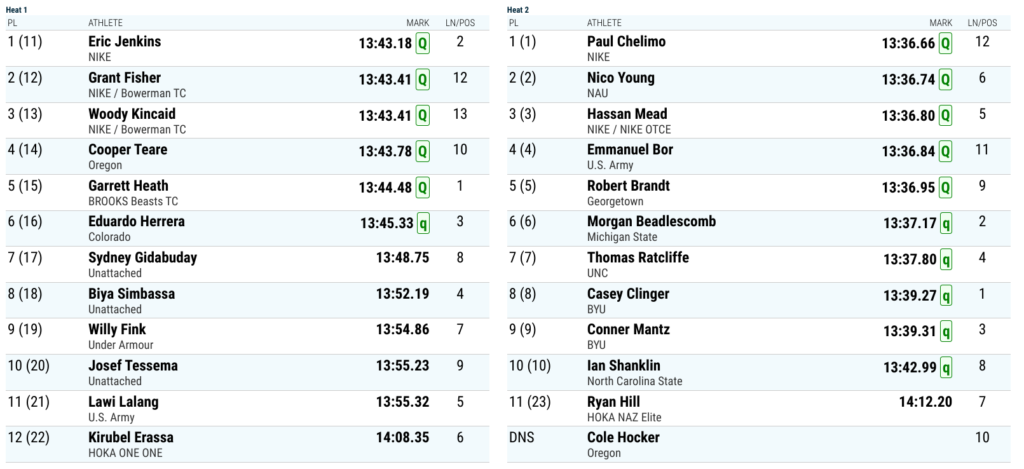 Quick Take: Eric Jenkins admits that he "let the moment overwhelm me" in the 10k last week
Jenkins looked good today in winning the first heat with a 55.06 last lap, which makes his DNF in the 10k on Friday after seven kilometers that much more puzzling. When asked about why he dropped out of the race, Jenkins was refreshingly honest.
"I really just dropped the ball," Jenkins said. "I wish I had a better excuse than that, but I let the moment get the best of me. It's been a long time since I've been in a meet like this, fighting for a spot on a team. And I couldn't relax, I couldn't settle, I couldn't get out of my mind. I let the moment overwhelm me and that's about it."
He said he got some "words of wisdom" from coach Pete Julian after the race, who told him not to overthink things. He certainly looked more at ease in the prelims tonight, but the real test will come in Sunday's final. Jenkins missed the team by just .06 in 2016 and finally has a shot at redemption, five years later.
Jenkins also had the funniest line of the night when asked whether he was grateful for USATF moving the final up to 10 a.m. rather than running it in the heat of the day when there is a record high of 111 degrees forecast in Eugene. He said that he would not be complaining about the schedule change.
"Look at me, I'm a walking solar panel out there," Jenkins quipped.
Quick Take: Chelimo says he is really fit and that the heat on Sunday is good for him
Two-time US champion and two-time world medallist Chelimo has raced sparingly this year (only once outdoors), so there were questions about his fitness entering this meet. He admitted that his training hasn't been smooth.
"It has been tough," Chelimo said. "It has been a journey. [I lost] my brother a month and half ago. It is what it is and I came here and qualified for finals and the finals should be fun."
Despite the setbacks, Chelimo affirmed that he is "really fit."
"My fitness is good," he said. "It is where I want it to be. I don't want anything less than the win."
Chelimo is also probably the only person who wishes Sunday's final was in the evening in the scorching heat, saying he uses heat to his advantage.
"The more hot it is, is better for me," Chelimo said. "Tokyo is going to be really hot. Any temperature, I am going to take it. I know it is going to be hot and it is going to be fast. […] [The temperature] is what I grew up with. I have been training in hot conditions. I am really fit and prepared for it. It is my weapon."
Quick Take: USATF needs to change the format of the 5k. Six time qualifiers is a joke
As the 5k heats were going on, agent Dan Lilot took to Twitter to vent his frustration.
He's absolutely right. Times in championship 5k's are largely irrelevant, especially in a prelim, which makes time qualifiers questionable to begin with. But if you're doing two heats and taking 16 men to the final, there is absolutely no reason to take six time qualifiers. Just take the top eight in each heat. Or if you need time qualifiers, take two and make the top seven spots in each heat automatic. But six time qualifiers is a massively unfair advantage for the second heat — and unsurprisingly, five of the six time qualifiers came from heat 2 (everyone in heat 2 advanced except for Ryan Hill, who was dropped early and finished last, over 30 seconds behind 10th place).
Women's 200 first round: Gabby Thomas runs world-leading 21.98, Prandini runs pb 22.14
PUMA's Jenna Prandini and New Balance's Gabby Thomas both narrowly missed making the 100-meter Tokyo team on Saturday, finishing fourth and fifth in the final (though making the relay pool), but now they turn their focus to their premier event: the 200. Both were very impressive in their heats.
Thomas won heat 4 in a world-leading and personal-best 21.98 (+0.7 m/s) to become the first woman in the world under 22 seconds this year. She was sixth in the Olympic Trials in 2016. Prandini won heat 3 in 22.14 (+1.9 m/s), a personal best for the former Oregon star and 2016 Olympian in the event.
Both said they relaxed in the final 50 meters and believe they can go faster.
Five-time Olympian Allyson Felix qualified for the semifinals as well but needed a time qualifier to do so, running 22.56 (+1.0 m/s) for third in heat 5.
The extreme heat in Eugene will persist over the next few days, and if the consistent tailwinds persist as well, we could see more women under 22 in the semifinals and finals. With the arguable favorite in the 200, Sha'Carri Richardson, scratching the event to focus on the 100 in Tokyo, there is room for a collegian to steal a spot on the team.
Men's 400 Hurdles first round: Squirrel Burrell is eliminated
The men's 400 hurdles weren't without drama as LSU's super frosh Sean 'Squirrel' Burrell, who ran a 1.01-second pb in the NCAA final to win the title and set a U20 world record of 47.85, was eliminated after falling in heat 3. Burrell, who came in today's first round with the #2 time in the US and #4 in the world, had a lot of ground to make up coming into hurdle 8 and he clipped it with his trail leg and went sprawling to the track.. No one else with a 2021 seasonal best under 49 seconds failed to advance although Quincy Hall, #10 in the US this year at 49.04, pulled up injured in heat #3.
World leader Rai Benjamin didn't look good in heat #2 as he was seriously chopping his strides heading into hurdle #2 but he won the heat in 49.12 and said afterwards he was only struggling because he's not used to running that slow.