Eric Avila & Rachel Schneider Win First National Titles at 2021 USATF Road Mile Champs
By Jonathan Gault
April 21, 2021
A pair of veteran athletes finally earned their first national titles at the 2021 USATF 1 Mile Road Championships on a chilly, windy Wednesday evening in Des Moines. In two hard-fought races, 29-year-old Rachel Schneider and 31-year-old Eric Avila timed their kicks perfectly to prevail on a course that began on the Drake University campus before finishing on the Drake Stadium track for the final 600 meters. For Schneider, who qualified for the World Championships in the 5,000 meters on this track two years ago and ran an impressive 31:09 in her 10,000-meter debut at the Sound Running Track Meet in December, her win today in 4:30.26 was a reminder of her versatility. For Avila, who won the top section of the 3000m at the 2019 US indoor champs, but was denied a national title because Drew Hunter ran faster in the earlier section, tonight was a high point in a career that saw him climb from NAIA Southern Oregon to professional runner to national champion. It was also a good omen for his Olympic chances, as he held off two of the US's top runners in Craig Engels and Clayton Murphy to win in 3:58.96 (55.72 final quarter).
Women's Race
Article continues below player
Another former NAIA star, Anna Shields, led early in the women's race, but Schneider assumed the lead at the 1000m mark as the runners entered Drake Stadium. 4:01 1500 runner Shannon Osika moved into second at the bell, and those two would separate over the first half of the final lap. Osika was still right on Schneider as they rounded the final turn, and Schneider even did her the courtesy of swinging wide, opening up lane 1 if Osika was able to take it. But Schneider was simply too strong, powering away over the final 100 to win in 4:30.26 to Osika's 4:31.27 thanks to a 64.08 final quarter.
Men's Race
In the men's race, Tinman Elite's Jeff Thies started the race with a bang by ripping the first quarter in 54.69, and by halfway (1:55.18), he had a five-second lead on the chase pack. But Thies, who ran a pb of 3:39 in Austin in February, was always going to be an unlikely winner, and though he was still out in front at the bell (2:59.99), his lead had been cut in half, to 2.42 seconds.
At that point, it was a matter of when, not if, Thies would be caught (he ultimately faded to 10th after running his last lap in 66.69). Pat Casey had made a break from the chasers by the bell, but he too would wound up getting run down, as Avila made the pass into second, Engels and Daniel Herrera following behind. Avila kept his momentum rolling to pass Thies with 150 to go, and as he did so, the chase pack briefly began to bunch before Avila strung things out again.
Coming off the final turn, Avila led, with Engels behind him. Murphy wanted to join them, but found himself boxed in at the end of the turn. He managed to free himself at the top of the home straight and closed well, but could not make up the ground he had ceded to Engels and Avila. And Engels, in turn, could not close the gap on Avila, who threw his arms out as he crossed the finish line to win his first US title in 3:58.96 to Engels' 3:59.24 and Murphy's 3:59.52. All three men ran their final lap in under 56 seconds.
Women's results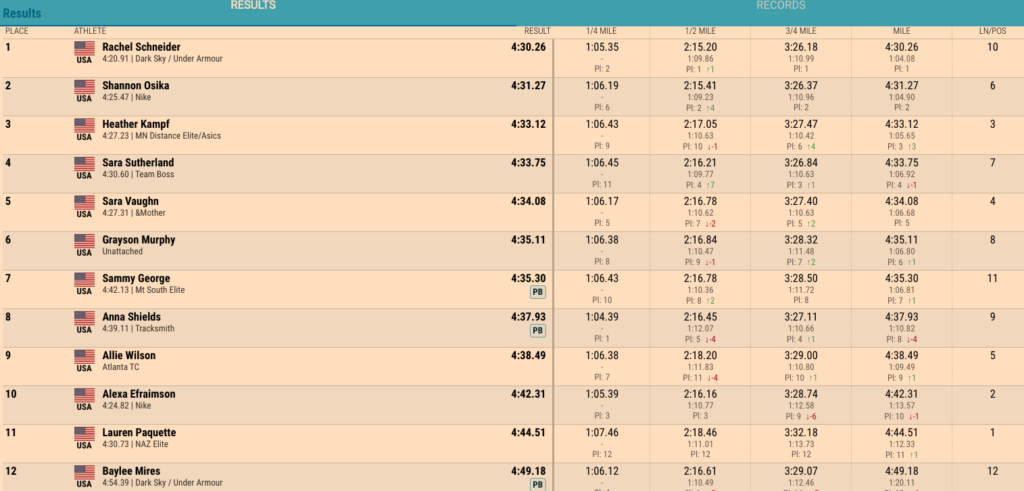 Men's results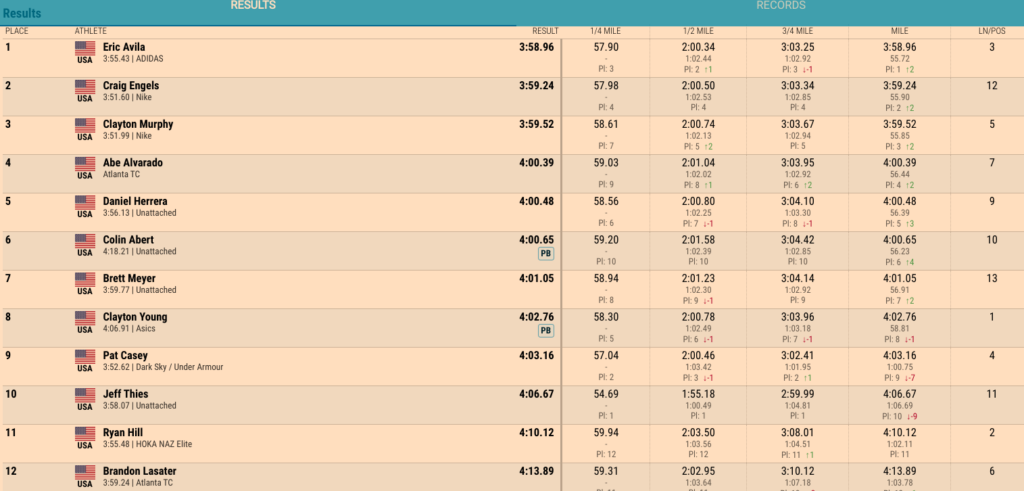 Quick Take: Congrats to Schneider and Avila on national title #1
A 1 mile road title isn't as prestigious as a US title on the track, but it's still nice to call yourself a national champion. And after grinding as pros for the better part of a decade, that sure is a nice reward for Rachel Schneider and Eric Avila (the $3,000 first-place prize ain't bad either).
Both athletes earned it, too. Osika, Engels, and Murphy are no slouches, and with Shields and Thies taking things out, both Schneider and Avila had to measure their effort correctly to earn the win tonight. Schneider did so with a long, sustained kick, while Avila positioned himself well at the bell in third and never surrendered that position. He pushed at the right times — going by Casey with 200 to go, and Thies quickly thereafter gave Avila the jump on his rivals and he made that positional advantage count by holding off Engels and Murphy over the final 100.
Quick Take: There is a chance for revenge on Saturday
Many of the athletes who ran tonight will be sticking around to run the 1500 at the Drake Relays this weekend. Both the men's and women's races will be televised as part of NBCSN's live coverage of the meet (3-5 p.m. ET on Saturday), with the forecast calling for slightly warmer temps (high of 59) than today (46 and windy). Schneider and Osika are both entered, and though Engels isn't running, Avila and Murphy both are, as is 2017 US 1500 champ Robby Andrews.
Quick Take: There were some rough races out there tonight
This was a road mile on a cold night in April, so we don't want to read too much into the results tonight. But the Olympic Trials are less than two months away, and a few athletes who could be contenders did not look like contenders tonight. In the women's race, Alexa Efraimson was 10th in 4:42, while on the men's side, Ryan Hill was 11th in 4:10 and 2019 NCAA 1500 runner-up Justine Kiprotich was dead last — 13th in 4:15.73. For Efraimson and Kiprotich, this is supposed to be their best distance. For Hill, it's not — but he will have to be able to run close to 4:10 pace for three miles if he wants to be competitive in the 5,000 in June.
---
Discuss the races on the LetsRun messageboard:
MB 7:30 pm EST Wednesday> USATF Road Mile Champs Engels vs Murphy