"The Unforgiving Line" Review: An Enjoyable, Authentic Running Novel
By Jonathan Gault
March 24, 2021
The Unforgiving Line, the 2020 novel by author Paul C. Maurer, features its share of cliches. A grizzled coach searching for redemption, a hotshot young athlete who wants to do things his own way, all of it building to the Big Race at the end of the story. A thriller this is not — halfway through, it becomes clear which direction the book is headed. But that is not to say it's not still enjoyable, particularly for the young runner who may just be realizing, Yes, there are others like me.
Article continues below player.
When it come to authentic running fiction, John L. Parker, Jr.'s Once a Runner is the magnum opus, not just for its story and memorable characters, but because, more than any novel, it depicts what it means to live and breathe the sport on a daily basis. Comparing any running novel to Once a Runner is monstrously unfair, but that same authenticity permeates Maurer's novel. He gets running.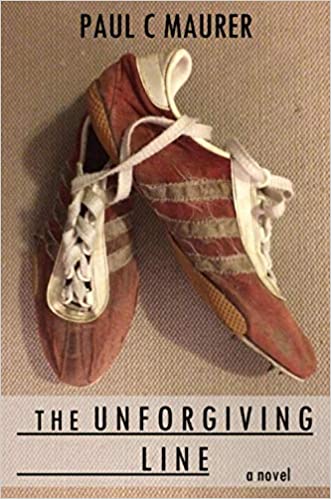 The Unforgiving Line tells the story of D.J., a mixed-race high schooler forced to move from Chicago to rural Wisconsin, and Thomas "Mac" McKinley, a septuagenarian still dwelling over his failure at the 1968 U.S. Olympic Trials. Initially lost — D.J. as an outsider in his community, Mac unable to overcome the ghosts of his athletic past — the two bond over running, with their connection the driving force behind the novel as D.J. chases the state title over 1600 meters.
The pages turn easily, which is fine if you're satisfied with a quick, easy read. But as I wrapped the book, I couldn't help feeling a bit dissatisfied. The Unforgiving Line has the bones of a compelling story, but it doesn't go deep enough. Maurer creates opportunities to mine for character growth — whether it's D.J.'s difficult upbringing in Chicago, his relationship with his estranged father, or his rivalry with the area's top miler, Dalton — but what we get is mostly surface-level stuff.
The biggest issue overall? Too much telling, not enough showing. We hear plenty of D.J. and Mac's thoughts, and while that helps us relate to them as characters, it's not always the most valuable service to the reader. Moments and scenes produce conflict and collisions; they reveal truths about characters and their nature. And there are not enough of them in this book.
For the most part, the running scenes are well-done, whether it's D.J. on his own for a cold winter practice effort or a 1600m at the state qualifying meet. Maurer does his best to create drama within each race, even if the ultimate outcome is often predictable.
If you're desperate for a story about running, The Unforgiving Line will whet your appetite in much the way as a plain hamburger would. It will do the job, but you can't help but wish there could have been a little more to go with it.
Three and a half out of five stars.
---
You can purchase The Unforgiving Line here. Read all LetsRun.com book reviews here.