"Out of Thin Air" Book Review: A Deep Look Into Ethiopian Running Culture
By Jonathan Gault
January 12, 2021
Modern distance running has two superpowers. Nowhere is that more apparent than the marathon, where 89 of the 100 fastest men in history hail from either Ethiopia (42) or Kenya (47).
Part of our job, as chroniclers of the sport, is to share these athletes' stories; it is a disservice to simply refer to them as "the Africans." And over the last decade, that task has become easier. Everyone from the New York Times to GQ have written about Eliud Kipchoge, whose charisma, wisdom, and unparalleled ability have made him the biggest distance running star in Kenya's storied history. The rise of social media has also allowed athletes to share their personalities directly with the world (I challenge anyone not to smile while watching Olympic 1500 champion Faith Kipyegon dance her way through mobility drills) while granting a peek into previously inaccessible areas. The NN Running Team, in particular, is very good at this — any serious running fan will recognize the Global Sports training camp Kipchoge shares in Kaptagat with athletes like Geoffrey Kamworor and Augustine Choge.
Article continues below player.
You may have noticed something about the names in the previous paragraph. None of them are Ethiopian. As the distance running world has learned more about Eldoret and Iten, Brother Colm O'Connell and Patrick Sang, Kenya's northern neighbors have proved a tougher nut to crack. The biggest reason: the language barrier. In general, Kenyan athletes are far more proficient in English than Ethiopians (which makes sense as English is one of two official working languages in Kenya) and that makes it harder for Western media to truly explore the backstories of the Ethiopians. To write a book like Running with the Kenyans, Adharanand Finn's 2013 exploration of the Kenyan running scene, on the Ethiopians would require a significant commitment from a Western journalist.
Fortunately for us, that is a commitment Michael Crawley was willing to make. In 2015, Crawley, a serious runner (2:20 marathon pb), elected to travel to Ethiopia for 15 months as part of his PhD project at the University of Edinburgh. Embedding himself within the Ethiopian distance running scene, Crawley learned Amharic and trained with a group of aspiring athletes with the Moyo Sports agency in the capital of Addis Ababa to learn about a culture where "running is life." The result is Out of Thin Air — to my knowledge, the deepest exploration of Ethiopian distance running ever produced in the English language.
As an anthropologist, Crawley is meant to be an observer, and for the most part, he fills that role ably. He is restrained and respectful while discussing the different theories he encounters in his travels, whether it is the belief that high-altitude forest training can "pull energy" from the trees or an episode in which a makeshift exorcism must be performed on a female runner who believes she is cursed and begins convulsing on the side of the road in the middle of a training session. Rather than passing judgment, Crawley uses the incident to explain why the runner believes she is cursed.
In some cases, however, Crawley has no choice but to become an active participant, and the book is richer for it. Memorably, he enters the Ethiopian Cross Country Championships with the sole goal of not getting lapped. He soldiers along in last place, catching stragglers — only for them to immediately drop out to avoid the indignity of getting beaten by a foreigner.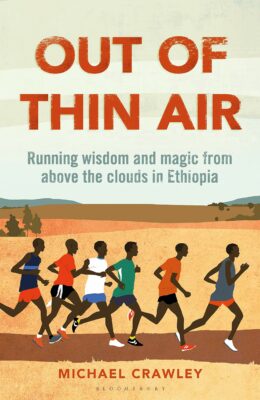 Out of Thin Air is somewhat limited in scope, as it deals mainly with Amhara athletes (as opposed to Oromo/Tigray), all of whom are male (Crawley says it would have been viewed as culturally inappropriate for him to interview female athletes). But that is less a failing than Crawley butting up against the limits of his project. To truly study all the different cultures present in Ethiopian distance running would have required an investment of time, language study, and resources beyond the scope of a single individual. In general, however, Crawley makes an effort to explore beyond the limits of Addis Ababa and its surrounding areas, traveling to the running hub of Bekoji (the hometown of Kenenisa Bekele and the Dibaba sisters) and Gondar, the rural north Ethiopian town where three of his training partners got their start before getting their breaks in the capital.
While Out of Thin Air began as an anthropological study, the book is underpinned by a sense of hope — which tends to happen when the group of people you choose to profile are all chasing the same unlikely dream. The way they approach that dream is a little different than what we're used to here in the States — the concept of "talent" isn't really discussed, as you'll learn in this excerpt. Rather, everyone believes they have the necessary talent to succeed.
Inevitably, however, they will be judged by the clock. Some of their dreams will die. And the consequences of what those hard truths reveal may be worth a deeper exploration, one which Crawley hints at but neglects to fully dive into. It's the answer to a question posed to Crawley by Dr. Benoit Gaudin, a professor at Addis Ababa University: "The runners believe that they have something inside of them, so if they fail what does that mean?"
That, perhaps, is another book. Out of Thin Air, meanwhile, is about the journey, illuminating the structures and beliefs of Ethiopian distance running and the path the nation's runners must take to (hopefully) one day arrive on the start line of a major marathon.
Five out of five stars.
---
You can purchase Out of Thin Air and support LRC in the process here. Read all LetsRun.com book reviews here.