By Robert Johnson
October 25, 2020
LetsRun.com is a website focused on running but the beauty of the internet is there are no size constraints or print deadlines or marginal costs to adding a story, so you pretty much can write about whatever you want, particularly if you are the owner of the website.
This column is not about running. It's about my beloved Dallas Cowboys. So if you don't like the NFL, please don't bother reading this. Now if you hate the Dallas Cowboys, let me start with a disclaimer. If I wasn't originally from Dallas and a lifelong fan, I would pretty much hate everything about the organization. They are nearly all fluff and little substance. How they remain a topic of national discussion year after year despite only having won a total of four playoff games since their last Super Bowl win a quarter-century ago is amazing.
This year's Cowboys team features a HORRIFIC defense. In last week's game, even though the Arizona Cardinals didn't score a point in the first quarter or complete a pass in the third quarter, the Cowboys allowed them to score 38 points by the end of the game.
After last week's game, I'd had enough. I decided to look into the credentials of Cowboys defensive coordinator Mike Nolan, as a few weeks ago on a gambling podcast with Colin Cowherd and RJ Bell, I heard Bell make a reference to the fact that the big bettors who watch NFL tape look at the Cowboys defensive scheme and think it's a joke and think that Nolan is unqualified to be a defensive coordinator.
Article continues below player
So this week I've been doing what every running journalist who never played a down of tackle football in pads in his life would naturally do — a little research on Google. I soon was reminded that Nolan used to be the head coach of the San Francisco 49ers so I tried to figure out what his legacy was in San Francisco.
I knew that he didn't win many games (18-37) but I wasn't going to judge him solely on that as I've long believed that plenty of great coaches have been fired for losing when maybe they shouldn't have been. Most NFL fans know that Bill Belichick was fired after amassing a sub-.500 record (36-44) in Cleveland, but how many of them know that two-time Super Bowl winning coach George Seifert was canned after going 3-15 over two years at Cornell?
I've heard it repeated over and over that Nolan's defensive strategy is extremely complicated so I figured I'd try to research his track record and see if his defenses normally struggled in year one and then improved the longer he is in charge. I was thinking, "Ok, if we suck this year because it's hard to implement a super complex scheme during COVID-19, I'll be ok with it if he has a track record of his defenses improving the longer he stays somewhere."
But before I could even compile those stats, I was stunned by something I'd totally forgotten. When Mike Nolan was the head coach of the San Francisco 49ers, he basically pulled an NFL code red and blackballed QB Alex Smith in the San Francisco locker room, labeling the former #1 overall pick as too soft to QB a team in the NFL.
Yes, you are reading that correctly. In 2007, Nolan implied to the team that Smith, the man who has inspired millions in his comeback from his gruesome leg injury that almost required amputation and could have killed him, was too soft to be an NFL QB. Smith was irate and felt his reputation was ruined in the locker room and for good reason, as reporters Daniel Brown and Dennis Georgatos wrote that "certain members of the team have derisively referred to Smith as 'The Lion,' as in the one without courage in The Wizard of Oz."
Nolan repeatedly downplayed Smith's shoulder injury to the team and reporters, saying Smith had a "not very severe" Grade III separation and Nolan acted surprised when Smith pulled himself out of action. Eventually, when famed surgeon James Andrews took a closer look, he realized the injury was "much worse" than initially thought and surgery was required.
So there you have it Cowboy fans. The man leading our defense once thought Alex Smith wasn't tough enough to play in the NFL. Once I read that, I was like, "Shouldn't that automatically disqualify Nolan from coaching in the league?" Instead, this is the man head coach Mike McCarthy hired as his defensive coordinator and still stands behind.
And this wasn't a one-time occurrence where Nolan made a mistake under immense pressure as a first-time head coach. In 2010, while coaching the defense in Miami, he continued to take gratuitous shots at Alex Smith's toughness as shown in this excerpt from Pro Football Talk.
"I always thought [Shaun Hill] was good," Nolan said via the South Florida Sun-Sentinel. "I would admit to making a mistake not making him a starter at the end. The last year I was there I should have [switched QBs] because he's a baller.  . . . He checks it down. But he's a guy the players trust will lead them to the end zone. That's a huge factor."
(Translation: Alex Smith is not one of those guys. Or a baller.)
After being reminded that Nolan didn't think Alex Smith was a baller, I almost didn't bother to look up the stats as to whether Nolan's defenses improve in year two, but in case you are wondering the stats appear in a table below. I didn't see a real clear trend in either direction. Mike Nolan has led an NFL defense for more than one year five times. In three of those five stops, his defenses dropped in their rankings (in terms of points allowed) in year two as compared to year one and twice they were better in year two. More troubling is the fact that in his seven previous stops as a defensive coordinator or head coach, five times his defenses improved in terms of their points allowed ranking in year one as compared to the year before he got there, but that's clearly not the case this year.
Ranking of Mike Nolan's Defenses In Terms of Total Points Allowed
Team
Yr Before Nolan
Ranking During Nolan
Rank After Nolan
NYG (93-96)
26th
1st, 8th, 16th, 10th
3rd
WAS (97-99)
13th
8th, 28th, 24th, 
7th
NYJ (2000)
8th
13th
12th
BAL (02-04)
4th 
19th, 6th, 6th, 
10th 
SF (05-08)*
32nd
30th, 32nd 20th, 23rd
4th
DEN (09)
30th
12th
32nd
MIA (10-11)
25th
14th, 6th
7th
DAL (20)
11th
32nd
TBD
For years I've been threatening to give up my Cowboys fandom and never followed through on it. I do know one thing: if Alex Smith comes in during today's Washington Football Team vs Dallas Cowboys game, I'll be rooting for him to torch the Cowboys defense and get some sweet revenge on Nolan.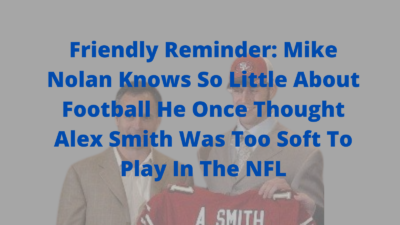 Smith started off his career by going 19-31 in the regular season when he was led by overmatched minds like Nolan and Mike Singletary who constantly blamed Smith for their struggles, but since then Smith amassed a super impressive 75-35-1 record when coached by successful coaches like Jim Harbaugh and Andy Reid.
Talk about this article on our messageboard. MB: NFL fans. This is for you. Anyone Remember When Mike Nolan Thought Alex Smith Wasn't Tough Enough To Be An NFL QB?
2007: 49ers' Smith rips into Nolan for turning team against him
2007: Alex Smith vs. Mike Nolan goes nuclear: Will there be any survivors?
ESPN: Alex Smith's comeback: Inside the fight to save the QB's leg and life
Dallas has allowed 14 passing touchdowns and 10 rushing touchdowns through the first six games.

The last team to do that? Mike Nolan's 2005 San Francisco 49ers.

— Bobby Belt (@BobbyBeltTX) October 20, 2020
---
Advertisement
The 1:59:40 GOAT shirts are here