Mondo Duplantis Clears 6.15m in Rome to Break Outdoor Pole Vault World Record
By LetsRun.com
September 17, 2020
Indoors, outdoors, no matter how you slice it, no man has jumped higher in the pole vault than Mondo Duplantis. After a remarkable 2020 indoor campaign that saw him break the overall world record twice with clearances of 6.17 and 6.18 meters, the 20-year-old Duplantis, who was born and raised in Louisiana but competes internationally for Sweden, made more history in Rome at the Golden Gala Pietro Mennea on Thursday.
Article continues below player
After barely brushing the bar on his first attempt, Duplantis cleared 6.15 meters on his second try, the highest clearance ever outdoors. Though it is not officially a world record (track & field's governing body, World Athletics, does not distinguish between indoor and outdoor marks in the pole vault), it surpassed the previous outdoor best of 6.14m, achieved by Ukraine's Sergey Bubka in 1994. It is a mark Duplantis had been chasing for some time: in all, he had taken 14 unsuccessful attempts at 6.15 across six meets in six countries over the last 35 days. But it all came together on attempt 15, which saw Duplantis steam down the runway, twist his body in midair, and maneuver up and over a bar set at a height no one else had ever cleared outdoors.
Watch a GIF of Duplantis' historic vault below:
Outdoor world record for @mondohoss600 in Rome!! https://t.co/vB9oGR9Pyn pic.twitter.com/rbIacCjAw7

— LetsRun.com (@letsrundotcom) September 17, 2020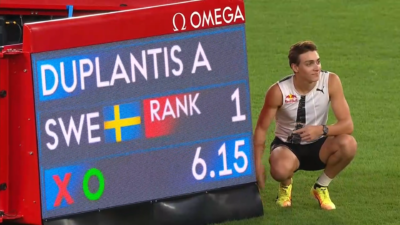 Bubka, a six-time world champion and 1988 Olympic champion, has long been regarded as the greatest pole vaulter in history. Based on his accomplishments in major championships, he still holds that title (Duplantis owns just one global medal, a silver from last year's World Championships), but perhaps not for long. At the age of 20, Duplantis now owns world records indoors and outdoors and is set to dominate the event for the next decade. Bubka, for comparison, had a personal best of 5.94 at Duplantis' age and did not vault his lifetime best until age 29.
Talk about Mondo's WR on our world famous messageboard/ fan forum.