Sam Prakel (3:58.3) And Emily Lipari (4:29.3) Win USA Road Mile Championships At Drake Blue Oval Showcase
By David Monti, @d9monti
(c) 2020 Race Results Weekly, all rights reserved
(29-Aug) — Emily Lipari and Sam Prakel, both representing adidas, won the USATF Road Mile Championships this morning at Drake University in Des Moines, Iowa, part of the special Blue Oval Showcase Presented by Mediacom.  Each won $3000 in prize money.
Article continues below player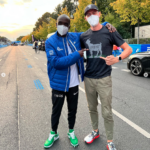 Kipchoge loves the 1:59:40 Shirt Get Yours Today
What a legend!
Running on a special point-to-point course from the Painted Street on Drake's campus to Drake Stadium, today's race was the first USATF road running championships in 301 days, since the Abbott Dash to the Finish Line 5-K in New York City last November.  Because of the pandemic, today's race was limited to elite athletes.  Men and women ran in separate sections.
In the women's contest, Lipari shared the lead with steeplechaser Marisa Howard through the quarter mile in about 70 seconds, and the pair were still together at halfway in about 2:19.  In the third quarter Howard and Lipari upped the tempo, and by the time they entered Drake Stadium for the final 500 meters on the track they had a comfortable lead over the rest of the field.
Lipari, known for her strong sprint finish, patiently drafted Howard.  She waited for the final 200 meters to surge past her rival, then sprint for home on the backstretch to win going away in 4:29.3.  Howard got second (4:31.1) followed by Megan Mansy in 4:32.0
For Lipari, this was her second national title.  She also won the USATF road mile championship in 2018 contested on a different course in Des Moines as part of the Grand Blue Mile (that event was cancelled this year due to the pandemic).
The men's race was more tactical.  Johnny Gregorek was the early leader along with Joe Klecker, the recent University of Colorado graduate.  Abraham Alvarado was next to take up the pace, and he led the field into Drake Stadium with Klecker on his heels.  Prakel, dressed in all black, was well back in fifth position saving his energy for the final sprint.
Alvarado was clearly tiring, and would fade to finish fifth.  In the final 200 meters, Prakel moved to the outside, and began his final sprint.  Coming out of the final turn, he want past both Klecker and Colby Alexander to win in 3:58.3, half a second in front of Alexander.  Klecker got third in 3:59.0.  It was the first national title for Prakel in any discipline.
Top Results:
MEN –
1. Sam Prakel, adidas                   3:58.3  $3000
2. Colby Alexander, Hoka NJ-NY TC       3:58.8   1000
3. Joe Klecker, On Athletic Club        3:59.0    500
4. Jake Edwards, Columbus RC            4:01.8    300
5. Abraham Alvarado, Atlanta TC  Elite  4:02.0    200
WOMEN –
1. Emily Lipari, adidas                 4:29.3  $3000
2. Marisa Howard, RUJA                  4:31.1   1000
3. Megan Mansy, Hoka NJ-NY TC           4:32.0    500
4. Alli Cash, Ravenna TC                4:33.3    300
5. Katie Mackey, Brooks Running         4:36.0    200