Paul Chelimo's Rise to the Top: "I'm Willing to Die in a Race"
By LetsRun.com
August 4, 2020
United States Olympic 5,000m silver medallist Paul Chelimo was the guest on last week's LetsRun.com Track Talk podcast and he had a lot of interesting things to say about his career, running fast, his goals, doping in Kenya, racism in America, his daughter, his rivalry with Lopez Lomong, and a lot more.
As a teenager in Kenya, Chelimo ran a tryout race in the hopes of earning a scholarship to come to the United States. Though Chelimo ran poorly, he still made it to the States, and the rest is history. He arrived at NAIA Shorter (Ga.) University with $450 to his name. He'd move on to UNC Greensboro and become a two-time NCAA runner-up, but then joined the Army thinking his running career may be over. Fortunately for Chelimo, he was accepted into the Army World Class Athlete Program and in 2016 he burst onto the professional scene in the biggest way possible, ending up with an Olympic silver in the 5,000m in Rio.
Article continues below player
Definitely worth a listen. You can find the full podcast here or listen in the player at the bottom of this page.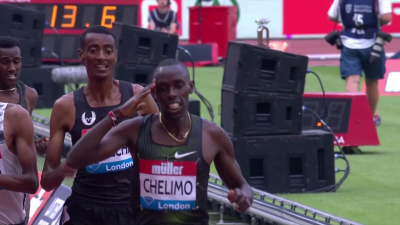 Chelimo revealed two factual things of note we had not heard before. First, he said his ultimate goal is to run the Los Angeles Olympic marathon in 2028.
And he revealed that he missed two out-of-competition drug tests when he was first put into the anti-doping pool after bursting onto the scene in 2016. He said he was unfamiliar with the whereabouts system and how it worked so he missed two tests. "Since then I was so strict, because I knew if I just missed the last one, the third one, it's gonna be a huge mess," he said, explaining that a lack of familiarity with the system may be why runners in Kenya are now getting whereabouts failures of their own.
More highlights from Chelimo's comments below. You can click on the timestamps to listen to them.
[60:06] On what he thinks of Moh Ahmed running 12:47 for 5,000m and Lopez Lomong going sub-13:00 and whether that makes him scared or confident:
"I never get scared. As long as we start from the same starting line in a race, and we finish at the same finishing line in a race [it] really, really doesn't scare me…
"Usually they say it's the lion that is smart that strikes the meat. My goal is, it's towards the Olympics…
"If you're going to show up and run really fast, and try to frustrate me or frustrate anyone else, I really don't care. I have a strong mind…. I know they can run fast now. They can pace me. I don't have to pace them anymore… So it's good. It's good for the sport, actually."
On whether his rivalry with Lomong is overstated:
[62:37] "You know, it gets to a point like when someone is becoming dominant. It's time someone else tries to break that dominance and I see Lopez Lomong try[ing] break the dominance that I've had in the 5K and I like it. I like challenges and Lopez Lomong is very competitive. We're going to show up and we're going to race and whoever wins is a champion that day."
Chelimo says his ultimate goal is running the Olympic marathon in LA 2028, so that makes it easy to avoid taking the shortcut of doping.
[63:41] "Eventually the big goal is to get to LA 2028 in the marathon, think about me being in the LA 2028 marathon. It's gonna be big. So I just want to keep going and keep going to when I get there. I just want to have a long career. That's that's what my big goal is and I just don't want to be greedy and that's why I don't support the drug cheats because I know the more patient you are, the more you get. I know like if I cheat today, yeah, I'll make a lot of money. But what happens if I get busted? I stay out of running for four years…. And it's so easy in track and field to be so greedy. It's so easy to be greedy, especially when people are smoking you in races. It's so easy to be greedy and try take the shortcuts but let them… I'm happy with what the anti-doping [authorities] are doing and everything because people are getting busted. Which shows it's working."
Chelimo on whether he has been offered drugs in Kenya:
[69:08] "I think what people believe is that when you go to Kenya, you just get to Iten and everyone is like, "Oh I have EPO. Take it man. Can you buy it from me?' The people think it is like a [drug] market. And [in reality doping] is like, really top secret. Because think about it this way. If you're doing something illegal, and these people are going to say something about you, or you're going to get busted [then] people are really so secretive about it."
On what he would say to people who are suspicious on why he trains some of the time in Kenya:
[72:09] "What I know is people will always talk. People always talk when you're on top. People always talk when you go down… When you disappear, no one will talk about you. What I know is that I grew up in Kenya. I see my family in Kenya. I have my parents in Kenya. And I have a brother in Kenya. So I have friends that I grew up with in Kenya. I go to Kenya to to visit family.
"And I grew up in Kenya. When it's cold [in Kenya] it's 50 degrees Fahrenheit and people are like, 'it's freezing today.' [Meanwhile in] Colorado Springs, you'll have like two inches or three inches of snow… You're gonna tell me it's gonna be effective for me to train in the snow?… It's like this, you cannot take a crocodile out of the water and expect it to go fast outside on the land. The crocodile is always fast in the water because it's used to that environment. So it's the same for me when I go to Kenya. I go to Kenya because of the weather. I go to Kenya because I want to visit the family and I go to Kenya just to refresh my mind…
"If you want to dope, you're gonna do it. Trust me… It's so easy to go to another country like West Africa and Senegal, like in the middle of nowhere [and dope]. You know, that's easy, but it would be so stupid of me to go to Kenya and dope because I'm going to get busted… There's a huge crackdown in Kenya. And I when I'm in Kenya, I get tested. So it's a no-brainer [not to go there to dope]. It's just about jealousy and people gotta talk and people gotta be people. These people are jealous of success."
On joining the Army after college and being an NCAA runner-up:
[86:44] "I realized life would be really tough because I was not an NCAA champion….Because coming from Kenya, you got to realize this. Whatever money you have at that point is what you're gonna have for another four years or another five years… There is no inheritance. There's nothing from the parents. Because in Kenya, it's just a struggle. My parents sold land, they had to sell something to bring me to the US to get the flights and then get the money. And I remember I landed in the US with with about $450. And since then I've never called my mom to ask for money.. . So then I didn't want to get in a situation that I have to call my mom again to ask for money. Because I got to be a man… I'm just gonna go join the military and just got go forget about running and if running comes back to me at some point, let it be…So before basic training, I was lucky to get the orders to come into WCAP, US World Class Athlete Program…. Because if there was no WCAP, I wouldn't be a runner today. I'd probably be an officer in the military."
On being willing to die in a race:
[89:19] "Really, it's all about life. I just have to put food on my table. I just have to hustle hard and I just have to make a living. People hate, they don't know what I've been through… I ran a 5k on a dirt track in Kenya. I ran like eight laps. And I got kicked out of the track because I got lapped in a 5k, running barefoot. And I remember I ran a cross country race in Kenya. I was third to last. I was like, second or third to be last….So, coming from that, and now Nike [is] sponsoring me, I have the best shoes in the world and you want to put me in a race against someone who has had shoes the whole time? You're gonna think that guy is gonna beat me? I mean I'm just gonna do my best, just to do all I can win the race because I know where I've come from…. And I really, really want it. So am I guy, I'm willing to die in a race. And trust me if I die in a race one day, that's the best way I could die man. I could be happy because I know I was hustling and I know I was digging deep. So that's pretty much it. That's pretty much me."
Chelimo talks about having billionaire Stephen Schwarzman as a mentor (Schwarzman is the CEO of Blackstone Group and is the largest donor to the USATF Foundation, from which Chelimo has received over $100,000 in grants):
[100:10] "Stephen Schwarzman has been my mentor, outside running. You know, it's someone it's a billionaire that I can have a conversation one-on-one… Stephen Schwarzman has been really influential, influential in my life. He really believes in success in everything. What he's doing to USA Track & Field is really amazing. I'm just so happy because they reward the effort of the athlete. I go out there and work really hard and they reward my efforts."
For more on Chelimo, including his hardest workout, racism in America, being afraid to run in certain places, listen to this week's Track Talk podcast in the player below or on your favorite podcast app. Chelimo starts at the [54:05] mark. (And if you want to be a Founding Member of the LetsRun.com Founders Club and receive a special offer be sure to listen to the [1:45] mark of the podcast).