Fall Training and Racing Program — Was Your Cross Country Season Cancelled? We've Got You Covered
by LetsRun.com
August 28, 2020
Was your high school or college fall cross-country season cancelled? Are you forced to train by yourself this fall? Or are you just looking for a little motivation or guidance with the majority of road races cancelled?
If you answered yes to any of these, then the LetsRun.com Fall Training and Racing Program is just for you.
Article continues below player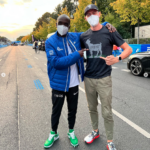 Kipchoge loves the 1:59:40 Shirt Get Yours Today
What a legend!
The program is a nine-week training and racing plan based on the LetsRun.com Training Principles made famous by coaching guru, John Kellogg "JK", that features two hard workouts per week and either a third workout, or a long run or virtual race / time trial each week. At the end of 9 weeks we'll have you ready to excel at a 5,000m or 8,000m virtual time-trial or race.
Learn How to Train Properly With a Daily Workout & Purpose
Each day you will have a specific workout tailored to you that you can access in the Final Surge training app. You'll know not only how far and fast to run each day, but more importantly the purpose of each workout.
We don't want to just make you a better runner 9 weeks from now, we want you to understand the principles of smart training so you can repeat them year-in and year-out.
Who We Are
We're assuming most of you are familiar with us and LetsRun.com (the largest website for competitive runner in the United States with roughly 1 million unique visitors a month), but if you're not the LRC Fall Training Program is guided by LRC co-founders Robert and Weldon Johnson, along with coaching guru John Kellogg.
John Kellogg – is the coaching genius behind LetsRun.com. One reason LetsRun.com was founded was Weldon and Robert had been frustrated runners before they started training under the Kellogg principles and they wanted to spread his knowledge. And this was when neither of them had any pedigree as a runner or coach. LetsRun.com was launched and Weldon went from being a frustrated college runner to a top flight professional. As a pro, he finishing 4th at USAs in the 10,000m twice and running 28:06 for 10k. Robert never broke 5 minutes for the mile until college, yet ran a 2:23 marathon after it. Both Robert and Weldon separately helped pace women to world records in the marathon.  Kellogg has always been a reluctant guru (so much so that others have created 200+ page documents highlighting his training principles), but his principles were behind Robert's success as the coach at Cornell, and now Robert and Weldon have gotten Kellogg to come out of retirement and start coaching people again.
Robert Johnson aka Rojo: Rojo, a Princeton University graduate, is the co-founder of LetsRun.com and former men's distance coach at Cornell University for 10 years where his teams won 13 Indoor and Outdoor conference titles, including an unprecedented 8 straight outdoor titles. At Cornell, he coached five sub-1:50 800 runners, 7 sub-4:05 milers, and five sub-30 10,000 guys including Bruce Hyde, a former LetsRun.com summer training program participant (LRC only offered formal coaching one year before this year), who ended up winning the Ivy League and NCAA NE regional cross country crowns before finishing as an All-American at NCAAs, one spot behind America's fastest marathoner ever Ryan Hall. Prior to coaching at Cornell, Rojo coached one of the first USATF women's steeplechase qualifiers and also coached a North Carolina state 1600-meter champion.
Weldon Johnson aka Wejo: Wejo was only the #2 man on his high school team. In college at Yale University, he never cracked the top 30 in the conference in cross country nor broke 30:00 for 10,000. John Kellogg assured him he could be a much better runner if he trained smarter and he was right. After college, Weldon knocked two minutes off his 10,000 PB and ran a pr of 28:06 for 10,000m and twice finished 4th at USAs (losing to Meb Keflezighi is nothing to be ashamed of, but edging out 4 time-Olympian Abdi Abidrahman is something he'll always be proud of). He also competed at two US Olympic Trials and represented Team USA at the Pan American Games and World Half Marathon Champs. His training article "Why I sucked in College" has become a cult classic and one of the most read articles in LetsRun.com history.
Money Back Guarantee + Testimonials
We don't need to talk more about ourselves. We've got testimonials on our sign-up page, and we're so confident you'll like the program it comes with a money-back guarantee. Click here to sign-up and if at any-time you don't like it we'll refund your money.
Want a whole team to sign up? Email us at coaching@letsrun.com
Also, we don't want financial resources to prevent anyone from accessing our program. Our program cost less than $3 a day ($149 for the summer) which we think is a bargain for someone wanting to be a great runner. However, financial assistance is available if needed. Are you the coach of an underprivileged team? Email us at coaching@letsrun.com if you have any questions.
Click here to sign up for the 2020 Fall Training and Racing Program