Donavan Brazier Runs 1:43.84 in His 800 Opener; Bowerman TC Breaks World, American 4×1500 Records
By LetsRun.com
July 31, 2020
304 days after he last raced an 800 outdoors, world champion Donavan Brazier returned to his signature event at the Big Friendly 3 in Newburg, Ore., on Friday night, and earned a commanding victory in 1:43.84. While the time is a second-and-a-half off Brazier's American record, it is still faster than any American not named Brazier ran in all of 2019.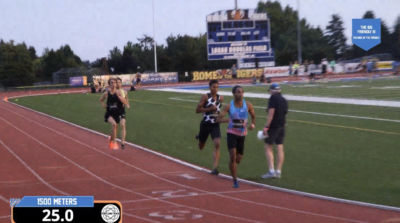 Brazier's splits were 50.80 for the first lap and 53.04 for the 2nd; from here, he will head to Europe, where he is slated to run the 800 at the Monaco Diamond League on August 14. Sadly the 2,800+ people who had tuned in to watch it live didn't get to see Brazier's win as the free YouTube stream froze mid-race.
In a separate meet in Oregon held at the same time as the Big Friendly 3, the Bowerman Track Club quartet of Colleen Quigley, Elise Cranny, Karissa Schweizer, and Shelby Houlihan set a women's world record in the 4 x 1500 relay, running 16:27.02 to break the old record of 16:33.58 set by Kenya at the 2014 World Relays. In case your math isn't great, their time averaged out to be 4:06.76 per woman. The fact that they broke the world record was far from a surprise as their PRs add up to 16:04.86 (4:01.22 per woman). Official splits weren't available at print time but Houlihan reportedly only ran 4:05 on her leg.
16:27.02 NEW 4x1500m WORLD RECORD for @BowermanTC! pic.twitter.com/ORpYYjFnXa

— RunnerSpace (but wearing a ?) (@runnerspace) August 1, 2020
The BTC men, anchored by Lopez Lomong, bettered the American 4 x 1500 record by running 14:34.97 to take down the mark of 14:40.80 set by Pat Casey, David Torrence, Will Leer, and Leo Manzano (also at the 2014 World Relays). That's an average of 3:38.74 per man for Bowerman.
Article continues below player.
BOOM ?? RECORD SMASHED!

14:34.97

57.1 last lap for Lopez pic.twitter.com/OwNMT1HNPW

— RunnerSpace (but wearing a ?) (@runnerspace) August 1, 2020
In other action, former American record holder Shannon Rowbury ran her fastest 1500 since 2016, clocking 4:03.62 to easily win the women's 1500 at the Big Friendly 3 (2017 NCAA mile champ Karisa Nelson was second in 4:08.48). 2019 World Championship finalist Josh Kerr was also an easy winner in the men's 1500, pulling away on the home stretch of the penultimate lap to win in 3:34.53. US champ Craig Engels was third in 3:36.01. 
Reigning Olympic 1500 champ Matthew Centrowitz also made his long-awaited 2020 outdoor debut, but fans will have to keep waiting to see him put forth a serious effort. In a decision likely made for contractual reasons, Centrowitz "raced" the 400, 600, and 800 at the Bowerman Intrasquad meet in Portland. In reality, he was jogging, recording times of 1:28.44 for 400, 2:19.60 for 600, and 3:08.28 for 800. Josh Thompson, Amy Cragg, Emily Infeld, and Kate Grace all recorded similar times in those races (Infeld skipped the 800).
Big Friendly 3 Results *Big 3 Video Replay *Portland Intrasquad IV Results
Talk about the meets on our fan forum: