Allison Grace Morgan Breaks Beer Mile World Record Thanks to Superior Drinking, Chris Robertson Gets AR at 2020 Beer Mile World Classic
by LetsRun.com
July 6, 2020
Covid-19 forced the best beer milers in the world to compete virtually in 2020 for $8,000 in prize and bonus money, but the virtual format did not stop American Allison Grace Morgan from Bend, Oregon from breaking the world record by running 6:16.5 to break Liz Herndon's previous best of 6:17.8.
Morgan got the pending world record by being amazingly consistent and super fast on her chugs. Only third out of the first beer drinking zone, she was very consistent the rest of the way. Her other chugs were unofficially timed in 13.2, 15.0 and 15.4 seconds while her laps were 80.6, 81.4, 85.0 and 77.0 to just get the world record.
Overall, Grace Morgan spent 52.4 seconds drinking whereas Herndon spent 82.3 seconds drinking when she set the previous record. Grace Morgan's fastest lap was 77.1 whereas Herndon's slowest lap was 76.6, but that didn't matter as Grace Morgan's superior drinking got her the world record.
Article continues below player.
Fellow American Elizabeth Laseter had a 10 second PB to finish second and give the team Queens Cup to the Americans (top 2 places for each country).
Shannessy Adams of Australia ran 6:45 to break the Australian record and finish 3rd, but no other Aussie competed so that let the Canadians with Katie Anderson and Marissa Markle take the runner-up team spot in the Queens Cup.
The top 9 women's finishers all set personal bests which may have been due to the unique nature of this year's virtual event. All the competitors had a week to go out and run their best beer miles, film them, and submit them for verification to the Beer Mile World Classic. On July 4th, the filmed races were unveiled as simultaneous virtual races on LetsRun.com. (The full race broadcast is at the bottom of this article.)
Morgan herself ran three races during the submission period all between 6:16 and 6:24 according to Beer Mile Classic founder Nic MacFalls.
Morgan, who drank Bud Light Platinum during the race, credited the COVID-19 shutdown for helping her prepare. "I felt more confident this year. I was really able to get in some really good track workouts. There was nothing else to do. My chugging was improving. I was not tensing up so much in my neck and not being so worried about my time," she said.
Results:
| | | | |
| --- | --- | --- | --- |
| Place | Athlete | Country | Time |
| 1 | Allison Grace Morgan | USA | 6:16.5 World Record, NR, BMWC Record |
| 2 | Elizabeth Laseter | USA | 6:42 PR |
| 3 | Shannessy Adams | Australia | 6:45    AUS Record |
| 4 | Laura Riches | England | 6:53  PR |
| 5 | Katie Anderson | Canada | 7:04  PR |
| 6 | Hanna Hugosson | Sweden | 7:06 Scandavian Record, NR |
| 7 | Marissa Markle | Canada | 7:16  PR |
| 8 | Kassandra Marin | USA | 7:49  PR |
| 9 | Lisa Renteria | USA | 8:11  PR Masters Winner |
| 10 | Kristyn Kadala | USA | 8:13 |
Splits:
Chris Robertson lowers his American record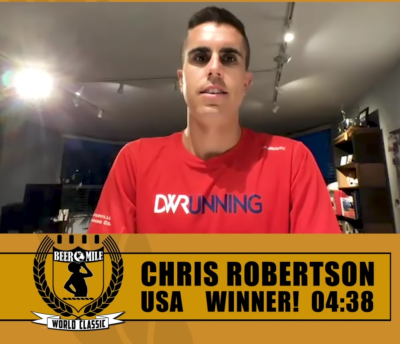 On the men's side, few thought Corey Bellemore's world record of 4:33.6 was touchable as it was 13 seconds faster than anyone had ever run. Bellemore was out with injury, but American record holder Chris Robertson gave a noble effort in attacking the world record. In the end Robertson had to settle for the win, dominant victory, and new American record of 4:38.7; nearly 8 seconds faster than his previous best.
Markus Liwing of Sweden finished second in 4:53, a new Scandinavian record and Nick Finch of Australia was third in 5:00.6. Robertson, Andrew Benkosvky (5:03.4 PR in 4th) and "Bud Lightning" (5:17 in 9th) led the US to the Kingston Cup men's title over Canada (27 points) and Sweden (28).
Results:
| | | | |
| --- | --- | --- | --- |
| Place | Athlete | Country | Time |
| 1 | Chris Robertson | USA | 4:38.7 American Record |
| 2 | Markus Liwing | Sweden | 4:53  NR Scandinavian Record |
| 3 | Nick Finch | Australia | 5:00.6 PR |
| 4 | Andrew Benkovsky | USA | 5:03.4  PR |
| 5 | Josh Harris | Australia | 5:06 |
| 6 | Phil Parrot- Migas | Canada | 5:09 |
| 7 | Rasmus Thiesen | Norway | 5:15 |
| 8 | Jonas Andersson | Sweden | 5:16 |
| 9 | "Bud Lightning" | USA | 5:17  PR |
| 10 | Gabe Ghiglione | Canada | 5:22 |
| 11 | John Tayleur | England | 5:23.5 |
| 12 | Jim Finlayson | Canada | 5:29  Masters Winner |
Splits:
*Full results here *Discuss the race here 
Full race video:
*A reminder to drink responsibly