USATF Announces Athletes Will Not Be Able To Earn Olympic Trials Standards Until December 1
By Jonathan Gault
June 17, 2020
On June 1, USATF announced guidelines for hosting events in the wake of the COVID-19 pandemic. Eleven days later — last Friday — USATF quietly updated its COVID-19 information page with an important fact: any marks attained this summer cannot be used to qualify for next year's U.S. Olympic Trials.
In instituting this policy, USATF is following the lead of World Athletics, which will not recognize any marks made through November 30 for Olympic qualification purposes (like WA, the USATF freeze on OTQ marks lasts through November 30).
Article continues below player
"The rationale is that different areas of the country (and different nations) have varying restrictions on gatherings, activities, and resources," USATF wrote on its website. "COVID-19 cases and active community transmission varies between locations. For fairness, qualifying is suspended during this window."
In an email to LetsRun.com, USATF head of communications Susan Hazzard confirmed the above, adding, "the issue is the equity in opportunity to compete. That's why we mirrored World Athletics' decision."
LetsRun.com disagreed with this policy when World Athletics announced it. And for USATF, it makes even less sense.
The point of a qualifying standard is to demonstrate an athlete is fit enough to compete at a championship. If someone runs 1:44 for 800 meters this year, he has proven he belongs at the Trials. What does USATF gain by forcing that athlete to qualify for the Trials again in 2021? His running 1:44 this year does not prevent anyone from running under 1:46.00 (the automatic standard) next year. The only thing it does is possibly prevent an athlete from getting in if fewer than 32 men hit the auto standard (and only then if the athlete who ran 1:44 this year fails to break 1:46 next year).
Yes, COVID-19 restrictions vary across the country, which could lead to a disparity of opportunities for athletes to chase standards. But that disparity has always existed — albeit in different forms. It's easier for an athlete on the West Coast to get to a fast 10k than someone on the East Coast. It's easier for a member of a top pro group to get into a fast race than it is for an unsponsored post-collegiate. An athlete who gets fit enough to hit an OTQ despite the difficulties of training during a global pandemic should not be punished just because the opportunities may not be perfectly equal across the country.
One more potentially important tidbit: as of now, it's unclear whether marks made during 2019 or the 2020 indoor season will be able to be used to qualify for next year's Olympic Trials. Had the Trials been held in 2020, that would have been the case. But USATF's Olympic Trials qualifying standards page no longer lists any qualifying window and only reads:
All periods for qualifying performances for the U.S. Olympic Trials are pending and to be based on the extent of continuation of the c-19 virus pandemic and revised Tokyo Olympic Games qualifying procedures.
LetsRun reached out to a USATF spokesperson on Tuesday; as of publication, LetsRun had not received clarification on the qualifying period for next year's Trials.
What does this mean for the 2020 season?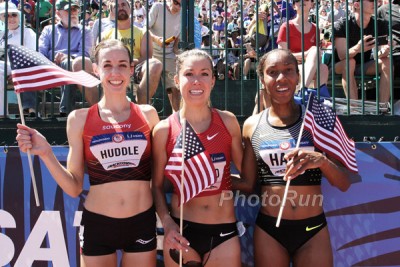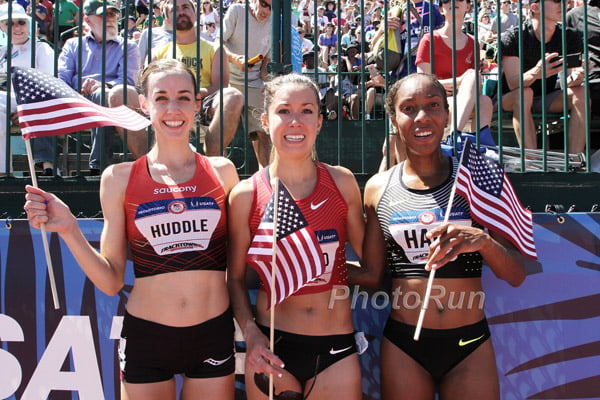 Between time trials and virtual races, it's clear that most athletes want to compete right now, whether OTQs are available or not. But by removing that incentive, USATF has somehow found a way to remove even more purpose from a 2020 season that has already seen the cancellation of numerous meets and the postponement of the Olympics.
"For a lot of athletes it does take one more thing off the table for them," says Jesse Williams, director of the two Sunset Tour meets tentatively scheduled for August 22 and 29 in the Los Angeles area. "Right now, number one, people want to compete. Number two, they are probably looking for some kind of standard or [time] bonus or prize money. That's what you're gonna get out of this season at this point…I've had so many athletes, agents, coaches contacting me about setting up fast races here in August. People are ready to roll and it would be really nice if it counted for more than just a pat on the back."
Williams is one of several meet directors who have formed a loose coalition in an attempt to salvage some sort of 2020 domestic season. That group includes Dave Milner (Music City Distance Carnival), Max Paquette (Ed Murphey Classic), Jeff Caron (Sir Walter Miler), Blake Boldon (Drake Relays), plus the organizers of the Portland Track Festival. As of now, Sir Walter Miler (August 7), Music City (August 15), and Ed Murphey (August 22) have all announced dates for competition this summer.
Milner says he understands why USATF made its decision, but was disappointed that USATF didn't reach out to inform the meet directors directly (Milner only found out the news after receiving an email from a coach on Tuesday morning).
"As far as I know, we're the only people putting on pro meets that would be affected by this ruling," Milner says. "So for those stakeholders to be left out of that communication doesn't seem like a very sound approach to me."
Williams still plans on holding his meets and says that he doesn't expect the inability of athletes to chase standards will have a major effect on the Sunset Tour. Initially scheduled for the period between the US Olympic Trials and the Olympics, his meets were originally intended to provide tuneups for Olympians and domestic competition opportunities for other Americans — not to hit standards.
Likewise, Milner says he doesn't think USATF's decision affects his meet very much.
"It's one less plus that I had going for it, but in reality it doesn't make a whole lot of difference," Milner says. "I think the athletes just want to race."
Williams is also planning on holding an outdoor meet in December, which he believes could become very popular given the window to earn Olympic and Olympic Trials standards reopens on December 1.
"December might end up being a pretty important month for US athletes, whether you're trying to get that Olympic standard or you're trying to get your USATF times," Williams says. "Specifically maybe in the longer events, where you may not want to run a 10k three weeks out or two weeks out from the Olympic Trials."