Book Review: A 46-Year-Old Spends a Summer Training Like a Pro in Flagstaff in "Running the Dream"
By Jonathan Gault
May 18, 2020
How much could I improve if I had no responsibilities other than to become as fast as possible?
Article continues below player.
For most runners, it is an unanswerable question, a dream beyond reach. Maximizing one's running potential requires a combination of time, resources, and desire hard to come by unless you own a professional running contract. And Matt Fitzgerald, a 46-year-old 2:41 marathoner, did not have a professional running contract.
But he did have the next best thing: a book deal.
One of the advantages of being a writer is you can do it pretty much anywhere. So, in the summer of 2017, Fitzgerald moved to Flagstaff, Ariz., and accepted the challenge of finding out just how good he could be. The result is Running the Dream: One Summer Living, Training, and Racing with a Team of World-Class Runners Half My Age, a record of his attempt to run a personal best at the 2017 Chicago Marathon.
Fitzgerald, with 40 marathons under his belt, was no novice. But he was also nine years removed from his personal best and battling a balky groin. So Fitzgerald pulled out the big guns: he convinced coach Ben Rosario to allow him to join his HOKA ONE ONE Northern Arizona Elite squad for his Chicago buildup. For 13 weeks, Fitzgerald lived and trained like a pro — strength and conditioning sessions, physical therapy, visits with a sports psychologist — all under the supervision of a top coach at 7,000 feet in the United States' greatest training mecca.
Similar to Running with the Buffaloes, the book is structured as a series of daily installments tracking Fitzgerald's progress toward his ultimate goal. And while it's interesting to see Fitzgerald improve, Running the Dream wouldn't be nearly as fun without the team aspect. More than most groups, NAZ Elite stresses team, meeting daily as a group, workout or not. This book shows why. The gentle ribbing, the support in workouts, the deeply personal conversations on long runs — being part of a team doesn't just make the journey easier, but more interesting as well.
Though the behind-the-scenes stuff with NAZ Elite is entertaining, it's not exactly new territory. Few groups are more open, both with their training details and personalities, and Rosario and marathoner Scott Fauble already gave an excellent insight into the NAZ process in Inside a Marathon.
But there's plenty of worthwhile content within. Ever wonder what it's like to visit John Ball, the mobility guru pros like Des Linden and Molly Huddle swear by? Fitzgerald has the full (and at times, painful) details. Thanks to agent Josh Cox, Fitzgerald wrangles an elite bib for Chicago, which results in a neat look at some of the nice and not-so-nice (uniform inspection!) aspects of being a professional athlete at a World Marathon Major.
A keen observer and talented author, Fitzgerald's sharp, snappy prose makes the book fly by, mixing humor and seriousness as necessary. Just as important as offering a glimpse at the elite lifestyle, Fitzgerald allows readers into his head. We feel his elation after a big workout and his devastation upon suffering an injury. By race day, we're invested.
Some of the book's messages — cherish the process and not just the outcome; the real PR is the friends we made along the way — are predictable, venturing into cliche territory, but that doesn't make Running the Dream any less fun, nor does it lessen the stakes once Fitzgerald finally makes it to the starting line in Chicago. It's difficult for any amateur to replicate the do-or-die stakes of a race like the Olympic Trials. There is, after all, always another race. Not for Fitzgerald. His all-in quest creates a unique urgency; he knows he'll never again have the opportunity to enter a marathon as prepared as he was on that day in Chicago.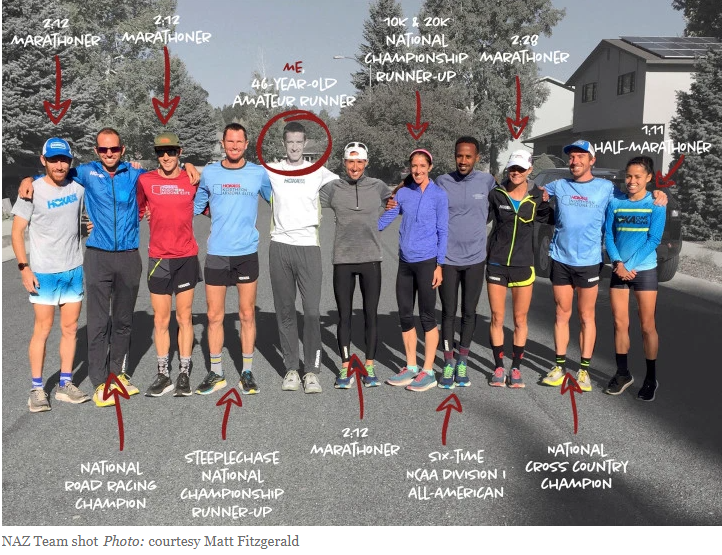 By the end, we have an answer to the book's pressing question (Editor's note: We don't want to spoil the outcome of the book but if you must know if he PRd or not, click here). More than that, though, we have a newfound appreciation for one of the privileges of life as a professional runner. Not the chance to travel the world racing in cool locations or the freedom to nap copiously, but the ability to dedicate all of one's energies to becoming the best one can be — and the opportunity to make memories doing it alongside friends and teammates.
Five out of five stars.

You can read an excerpt from the book on Podium Runner here.  To order Running the Dream and support LRC in the process, click here.
---
Other book reviews by LetsRun.com can be found here.