Madeline Manning Mims – The Greatest American 800m Runner Ever? — Podcast
By LetsRun.com
April 18, 2020
On this week's LetsRun.com Track Talk podcast (subscribe here) we talked to Dr. Madeline Manning Mims who is arguably the greatest female 800m runner ever in America, and likely the greatest American distance runner most of you have never heard about. We were shocked how little we knew about her ourselves when we started doing the research for the Greatest American Distance Runner contest on LetsRun.com.
Article continues below player.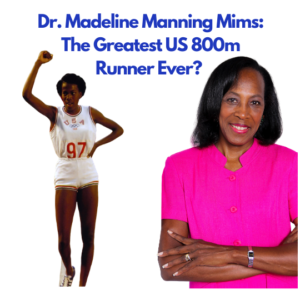 We liked our talk with Manning Mims so much that we are releasing our talk with her as its own bonus podcast, which you can listen to in the player below. If you want our regular podcast with all the LetsRun.com banter in addition to the Manning Mims interview click here. We encourage you to listen but if you want to read textual highlights keep reading below the player.
There is a great profile on Manning Mims from Clevelandwomen.com here. You can follow her on facebook here (and see her giving an Easter concert from her garage for her neighbors during the COVID-19 shutdown).
[spp-player track_player url="https://pinecast.com/listen/f5748c6c-86b0-4780-be6f-f9dedb718f1a.mp3″]
A few highlights: She set an indoor world record in the first 800 she ever ran which was by accident as a high school student  Manning Mims said the first 800 she ran was by mistake. She was running at the Maple Leaf Games in Canada as a high schooler and was supposed to run the 400. The 400 got replaced with an 800. So she went out and ran  2:10.2 which was a indoor world record at the time. Two year later she was running 2:00 to win Olympic gold. (Click here [spp-timestamp time="12:12″] to listen).
On what Jesse Owens told her before the 1968 Olympics: "Listen, you're ready. This is your time. Go out there and get that gold medal."  (Click here [spp-timestamp time="22:27″] to listen).
On being overlooked prior to the Olympics despite being undefeated for the 2 years previously: "I knew that I could win. I knew that I had the best time….Now this is one area that there was a lot of prejudice….I found out later on was the myth was that women of color could not run long distance. And so with me winning it was such a unique time an Olympic record. And with the space between me and my competitors, it awakened something in the world and that's when people of color began to run long distance." (Click here [spp-timestamp time="25:08″] to listen).
On how she was received in America after her gold: "[I was] accepted but not recognized. In other words, they they did not not accept me. But there was no recognition for any of the women. No matter what color they were." (Click here [spp-timestamp time="28:32″] to listen).
On what she told a coach who told her she could be the greatest half-miler ever if she took steroids: "I speak to thousands of young people, kids in schools across this nation. How do you expect me to stand in front of them and lie as to because this would be a lie. I'm not coming to them with my god given gift. I'm coming to them with some type of synthetic help. And and I want them to develop their character and be honest and trustworthy. How can I stand in front of them? And this may sound a little religious to you, but what do I tell the Lord when when I stand before Him? And he says, 'what did you do with what I gave you?'"  (Click here [spp-timestamp time="42:42″] to listen).
On what she advises athletes struggling with the Olympic postponement: " You will never stop being an athlete. That's what you were born to be. That's what you're created to be. You are beautifully and wonderfully made and your soul knows it. And so it's not about something causing you not to be who you are and who you were born to be. You are just that because that's the gift that God has given to you."  (Click here [spp-timestamp time="66:08″] to listen).
Show notes: (Click on a timestamp to listen to that part)
[spp-timestamp time="7:00″] Track career started with physical fitness tests
[spp-timestamp time="12:11″] Accidental 1st 800 was an indoor world record
[spp-timestamp time="18:14″] College and not knowing "Skeeter" aka Wilma Rudolph
[spp-timestamp time="23:42″] 1968 Olympic gold + reception back home + not being a millionaire
[spp-timestamp time="31:17″] Her other Olympics including 4×400 silver in 1972
[spp-timestamp time="39:40″] Getting beat by dopers and being told to dope
[spp-timestamp time="44:34″] Running 1:57.9, getting faster with age
[spp-timestamp time="49:41″] Could she beat Ajee Wilson?
[spp-timestamp time="51:24″] Intersex women in 800 today, Caster Semenya
[spp-timestamp time="57:52″] 1980 Olympic boycott/Mentoring athletes today and what she is telling them about Tokyo postponement
This week's podcast is sponsored by TheFeed.com. They've got everything you need to perform at your best and try and stay healthy. In addition they have a new product – BLDG Active's Anti-microbial Face and Hand Spray which is a medical-grade solution you can take with you to spray on your hands and face. Go to TheFeed.com/Letsrun for more info and use code LETSRUN to save 15% off your entire order.