Looking For A Race? A Sporting Event To Follow? The Quarantine Backyard Ultra Is Saturday
By Robert Johnson
April 2, 2020
Are you looking for a race?
Or maybe just an actual sporting event to get excited about?
Article continues below player
I've got good news for you. While the coronavirus has basically wiped out the worldwide sporting calendar in recent weeks, there is actually a newly-created race taking place this weekend.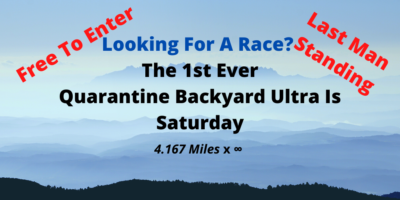 On Saturday morning, the first-ever Personal Peak Quarantine Backyard Ultra is taking place. The race is free to enter and starts at 9 a.m. Eastern Daylight Time (EDT is four hours behind GMT). There will be a YouTube stream focused on the elite field.
If you aren't familiar with a "backyard ultra," here's a quick primer. Backyard ultras have exploded in popularity in recent years as they level the playing field between the speed-oriented and endurance-oriented ultra runners. And they are something that any runner can do — at least for a while. As Outside Magazine said, a backyard ultra is "is deceptively, painfully simple."
In a traditional backyard ultra, the most famous of which is the Big Dog's Backyard Ultra founded by Gary Cantrell (the Barkley Marathons creator), the race concept is quite simple. Every hour, a bell rings and you must be on the start line. Then you have one task — complete a 4.167-mile loop within the hour.
Not too hard, right? You only have to run/walk 14:23.9 mile pace. Once you complete it, you can do whatever you want for the rest of the hour. You just need to be ready to go again at the top of the next hour when you need to do another loop.
The thing that makes this race interesting is there is no set distance. The winner is the last man or woman standing — the last runner to complete a loop.
You may be wondering, "Why in the hell are they running a 4.167-mile loop? Is that 7 km or something?" No, it's not a converted metric mark. The reason why the loop is 4.167 miles is so that every 24 hours, the runner completes 100 miles.
The record for the Big Dog's Backyard Ultra is 68 laps — that's 283.356 miles (and almost three days). Sweden's Johan Steene ran that in 2018 to beat America's Courtney Dauwalter, who tapped out after 67 laps.
Due to COVID-19 travel and social distance restrictions, there is no set location for Saturday's race. You can run it wherever you are located in the globe and can even run it on a treadmill.
I've got to hand an award out though to Sweden's Anna Carlsson for best course design. She recently snowplowed a 4.167-mile loop in her native Sweden as shown below (if the video doesn't show up below, click here as it's pretty cool).
https://www.facebook.com/US24HR/posts/1726655407477453
Travis & Ashley Schiller-Brown — the owners and operators of Personal Peak Endurance Coaching — are the race directors for Saturday's event and Dave Proctor — the Canadian 24- and 48-hour record holder — played a crucial role in getting the elite field. More than 1,200 people worldwide have signed up and I imagine that number will explode between now and Saturday. Some pretty big names in the ultra world have already signed up. Here is a list of some potential winners (if you know of others or mistakes in the bios, please email me).
Potential Winners of The 2020 Personal Peak Quarantine Backyard Ultra
Men
Greg Armstrong – USA – Multi-time winner and course record holder at Vol State 500k. Vol State 500k (2019) unaided CR (3 days, 14 hours, 11 minutes).
John Cash – USA – 24-hr PB of 154.5 miles/248.674 km. Placed 2nd at 2016 Vol State (3 days, 13 hours).
Jamil Coury – USA – Failed to finish five times at the Barkley.
Joe Fejes – USA – Only modern US runner to top 600 miles (606) for 6 days.
Johnny Hällneby – SWE – 6-day PB of 546.9 miles/880.3 km.
Will Hayward – NZL – 2nd-last person standing in 2019 Big's Backyard Ultra (246 miles/59 loops).
Bob Hearn – Very consistent 24-hour runner, consistently puts up 150 miles in 24 hours. Also done over 500 miles in 6 days. 2018 Desert Solstice 24-hour, 154 miles (50-54 US record).
Jake Jackson -USA – PB of 165.0 miles / 265.6 km for 24 hours, run at the 2019 24 hour World Championships
Jay Kinsella – USA – Winner Bigfoot 200 mile.
Pete Kostelnick – USA – Fastest run across America — 3,067 miles in 42 days, 6 hours, 30 minutes. 24-hr PB of 163.6 miles/263.4 km; ran over 5,000 miles from Alaska to Key West self-supported, averaging more than 50 miles per day.
Olivier Leblond – USA – 24-hr PB of 171.1 miles/275.4 km (2nd all-time US); US 48-hr record of 262.1 miles/421.9 km.
Harvey Lewis – USA – 24-hr PB of 160.6 miles/258.6 km at last year's 24-hr WC. Ran 241.668 miles (58 laps/hours) at 2017 Big's Backyard Ultra, finishing 2nd/last DNF. Multi-time US 24-hr team member. Badwater 135 champion in 2014.
Dave Proctor – CAN – Canadian 24-, 48- and 72-hour record holder. 24-hr PB of 159.7 miles/257.0 km.
Rich Riopel – USA – Has done 260 km in 24 hours.
Greg Salvesen – USA – One of the first people to complete Infinitus Trail in Vermont (888km). 233 miles (56 hours) at Big's Backyard.
Matt Shepard – USA – Outrun Backyard Ultra Golden Ticket Winner, 32 laps (214km).
Women
Anna Carlsson – SWE – 4th place woman at mountainous 2019 Tor des Géants.
Courtney Dauwalter – USA – 24-hr PB of 159.3 miles/256.4 km. Highest female Backyard mileage, running 279.168 miles (67 laps/hours) in 2018 to DNF behind Johan Steene.
Maggie Guterl – USA – Winner 2019 Big Backyard Ultra with 250 miles (60 laps / hours) outlasting Will Hayward.
Darcy Piceu – USA – Past Hardrock, Bigfoot 120, Ronda del Cims, HURT, Angeles Crest champion – competitive in very mountainous 100s with extreme elevation gain/loss.

You can sign up and get more info for the race here. The U.S. National 24 Hour Running Team Facebook page also has lots of updates and info. We'll have more info on the YouTube stream as we get closer to the race.
Talk about the race on our world famous fan forum / messageboard. MB: 2020 Quarantine Backyard Ultra Race! Official Race Discussion Thread .