Sebastian Coe Shares His Vision For The Future, Explains Diamond League Cuts, & Says Track & Field Has "A Lot of Work to Do" in the US
By Jonathan Gault with reporting by Robert Johnson
December 10, 2019
On the afternoon of Sunday, June 18, 2017, the IAAF Diamond League made its annual trip to Stockholm. Kenya's Timothy Cheruiyot, announcing himself as a Diamond League force, ran a world-leading 3:30.77 in the 1500 meters; bringing up the rear in that race was a promising 16-year-old from Norway named Jakob Ingebrigtsen. Canada's Andre De Grasse, running in a virtual hurricane, won the men's 100 meters in 9.69 seconds. There were predictable wins for Mariya Lasitskene in the women's high jump and Luvo Manyonga in the men's long jump and an upset in the women's discus as Cuba's Yaime Perez snapped the 16-meet win streak of Croatia's Sandra Perkovic.
Sebastian Coe saw none of this. Instead, he was across the North Sea in London, watching Pakistan defeat India by 180 runs to win the ICC Champions Trophy (that's cricket, for our non-Commonwealth visitors).
Article continues below player
Later, it was put to Coe that, as president of the IAAF and chairman of the Diamond League, he should have been in Stockholm. Or, at the very least, watching on TV. Coe's response?
"I would have done, if I could have found it anywhere," he says.
A lack of live television coverage was just one of several complaints Coe had developed about track & field's showcase circuit. He had seen attendance dwindle — on that day in Stockholm, wide swaths of seats in the 14,000-seat Olympic Stadium had gone unoccupied — and saw meet directors picking athletes based on past relationships as opposed to current form. When Coe tried to explain what, exactly, the Diamond League was, he found he couldn't — "it really isn't a league," he says. His frustration, as both DL chairman and a lifelong fan of the sport, was mounting.
Before the 2018 season, Coe issued a challenge to the Diamond League meet directors: step it up.
"I started off with one really very clear principle: this has to be a product that, when we put our hand on our heart, we could genuinely say was best in class," Coe says. "And although you could say that about three or four meetings, if we were being hard-nosed about it, you couldn't say it about many more than that."
And by some measures, they have.
From 2015 to 2017, the Bislett Games, held at the 15,400-seat Bislett Stadium in Oslo, went from 14,000 fans to 13,000 to 10,240. The meet has sold out the last two years. In the last two years, Paris' attendance has increased by 11%, from 14,568 to 16,175.
"Paris was drifting very, very badly," Coe says. "They've gone to a smaller stadium, they could barely fill that. And last year, it was stuffed to the gunnels."
And, after going seven years without a title sponsor, the Diamond League inked a 10-year deal with the Chinese conglomerate Wanda, owners of the World Triathlon Corporation and Competitor Group, operator of the Rock 'n' Roll Marathon series. The IAAF (now known as World Athletics) called it "the biggest commercial partnership in the history of athletics."
Yet in other areas, the Diamond League has continued to struggle. Paris — which was not quite stuffed "to the gunnels" in 2018 or 2019 — has lacked a title sponsor since Areva left after 2015. Despite the gains in Paris and Oslo, attendance in London — which drew over 90,000 fans across two days in 2015 — has declined sharply to just 23,500, per numbers provided to LetsRun.com from the Diamond League, and as a result, overall DL attendance was down for the fourth consecutive year in 2019 (see table below; data courtesy of the Diamond League).
In the United States — which lost the unpopular New York Diamond League meet after the 2015 season — five of the 14 DL meets in 2019 were not shown live on TV, including the DL final in Brussels.
Last month, Coe spent 45 minutes discussing the Diamond League and his vision for the sport on the phone with LetsRun.com. One of his chief aims: raise its profile in the United States. Coe acknowledges that track & field has "a lot of work to do" in the United States as we enter a decade that will see the US host the two biggest track meets on Earth, the 2021 World Championships in Eugene and the 2028 Olympics in Los Angeles. He would love to see a second Diamond League in the United States (in addition to the Prefontaine Classic), but there are few viable candidates.
"We've found it almost impossible to find a meeting that actually wanted to slot into the Continental [Tour] (the circuit a tier below the Diamond League)," Coe says. "That can't be a good position for the sport…We have the slightly perverse position where you guys are the powerhouse of track and field. You clean up at the World Championships, which you clearly did just a few weeks ago. Your athletes are feted in Europe, but can walk around their towns in anonymity."
***
It is in this environment, entering its 11th season, that the Diamond League made the most significant changes of its existence. It expanded the series from 14 meets to 15, adding a second meet in China as part of its agreement with Wanda. The Diamond League also announced that the 5,000 meters will be replaced by the 3,000 meters, the international broadcast window for each meet will be trimmed from 120 to 90 minutes, and four disciplines per gender — the steeplechase, 200 meters, triple jump, and discus — were dropped as official Diamond League events. Instead of two finals, there will be just one super-sized final in Zurich, in which all 24 events (12 men's, 12 women's) will be contested.
We'll get to the why of all that in a minute, but let's begin with who is making these changes. Much of the criticism following the Diamond League's announcement last month was directed at Coe and World Athletics. But they don't have complete control over the DL, which is run by a Swiss company known as Diamond League AG, of which World Athletics and the organizers of every DL meeting are shareholders.
"I sit on the [Diamond League] board as the chair," Coe says. "I am there to protect the investment that the IAAF puts in, which over the last 10 years has been circa $50 million. It is a complicated structure. And I think it's been slightly overlooked, that actually the events that are included in that 90-minute window haven't been signed off by the IAAF. They were agreed by the meeting directors."
With Wanda stepping in, Coe says World Athletics will direct a significant portion of the $5 million it annually earmarked for the Diamond League elsewhere in 2020, with one of the main aims beefing up the Continental Tour (formerly known as the IAAF World Challenge), which will include the disciplines cut from the DL.
As for the why? Coe says that two of the biggest changes — going from two finals down to one and trimming the international broadcast window to 90 minutes — were driven by broadcast rights holders. Coe says that the broadcasters were very clear: if they were to continue televising the Diamond League, these changes were necessary.
"Broadcast is funneling most of what we do," Coe says. "My challenge is to diversify away from that — and Wanda is a good start — and finding fresh revenues that are going to augment that. But Olympic sports rely on their broadcast funds. We rely on those relationships.
"…The starting point was absolutely the 90-minute window and one final. We were steered quite well in that direction by the broadcasters and our funding. They were saying that they were finding it increasingly difficult to make the case, in that arena of scarce resources that we all live in, to fight their way onto [two hours]."
Coe says that appeasing the broadcasters — and ensuring that the DL will continue to be shown on TV around the world — was critical to securing the Wanda sponsorship.
"They'd gone eight years without a Diamond League sponsor," Coe says. "And there's no doubt to me that Wanda would not have come to the table if they [felt] that this was something that wasn't going to work globally."
World Athletics executive director of communications Jackie Brock-Doyle says that the hope is, by going to a 90-minute broadcast, rights holders will be more inclined to show the Diamond League live.
"Some of them have got ads to put in," Brock-Doyle says. "They just wanted 90 minutes so they could top and tail it with studio stuff. And they will probably end up, those that show it live, with a two-hour show. If we can do it this way, more of these broadcasters who have bought these rights will stop warehousing them and will actually put it on television so people can see it."
But shortening the broadcast window doesn't fully explain why events like the triple jump and discus have been killed off. Those events were barely shown on television to begin with and could be staged in-stadium at DL events, with full DL prize money. Yet, with the exception of one competition per gender, that won't happen.
Aside from the final — where the prize money is greatly increased, and where neither event will be staged — the 200 and steeplechase won't look that much different in 2020. Both events will be held at five Diamond League meets per gender — in the broadcast window with prize money equivalent to a DL event. There will actually be one more steeplechase in 2020 than during the 2019 regular season.
That was not the original plan. Recall that, back in March, the IAAF announced that the Diamond League would be reduced from 14 meets down to 13 in 2020. Instead, the Diamond League, after seeing improvement in Oslo and Paris in 2018 and 2019, chose not to eliminate any meets and instead added a second Chinese meet for 2020.
As a result, there were two more 90-minute TV windows to program. Suddenly, the Diamond League needed the 200 and steeple to help fill those gaps. So why, if they're going to be contested almost as frequently as actual DL disciplines, aren't those events part of the official DL program?
"They don't fit, particularly the single final at the end of the League," Brock-Doyle says. "The issue is not the length of time of each race but the total time each takes from walk on, set up, intros, race, then mixed zone. A 20-second 200m in real time takes between 4-5 minutes."
The Diamond League's critics, including Olympic steeplechase silver medalist Evan Jager, believe event introductions, and other bells and whistles, can be trimmed.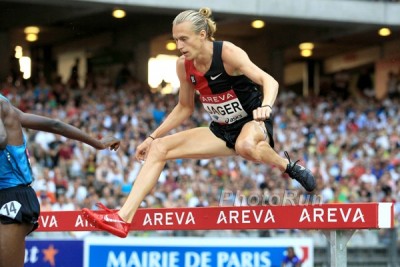 "Shorten the dead time or the replay time or the intro time," Jager told LetsRun last month. "Just make the events bang-bang-bang-bang-bang-bang. And then you're giving more entertainment in a shorter or same amount of time."
So that's where we stand entering 2020. But more changes could be afoot. The Diamond League will re-evaluate its disciplines after the 2020 season, and it will also re-evaluate itself. There is a set of criteria every meet must hit in 2020, including attendance, broadcast numbers, and the level of competition. Coe says that meets that do not hit that criteria will lose their Diamond League status.
"The [meeting directors] did give the two meetings that were drifting badly the opportunity of one more year to get their act together," Coe says. "Whether they are able to is entirely a matter of conjecture. There are no tomorrows."
And if there are fewer DL meets in 2021, the gentle cut of the 200 and steeple (or whatever events the DL decides to exclude after next season) could become more severe. With fewer DL TV windows to program, they would increasingly be relegated to the Continental Tour, rather than remain as non-points events at DL meets.
Only time can judge whether the new-look Diamond League is an improvement over the previous version. Coe and the DL meet directors deserve credit in this respect: at least they are trying something. Whether they're trying the right something is up for debate, but track & field isn't going to magically become more popular by sticking with the status quo. If a 90-minute broadcast leads to more Diamond League meets on television, that's a good thing. Unless, of course, you're a triple jumper or a discus thrower, confronted with more evidence the Diamond League can use to justify your event as unnecessary.