2019 NYC Marathon Media Day: The Men's Course Record Is In Jeopardy, The Women's Might Be, And Yes, Shoe Talk
By LetsRun.com
October 31, 2019
NEW YORK — New York City Marathon week is in full swing, and LetsRun.com is on hand to document everything. Today was the one and only day to meet with the top athletes running the big race on Sunday, so that's what we did. We spoke to former NYC champs Mary Keitany and Geoffrey Kamworor about course record attempts, Jared Ward and Des Linden about shoes, and plenty more (we've also got a separate article on Linden, who gave her unvarnished take on the shoe debate and the future of her career: LRC Des Linden on the Olympics, Her Running Future, & the Great Shoe Debate: "It's an Arms Race and It Should Be a Footrace").
All the highlights from media day below.
Article continues below player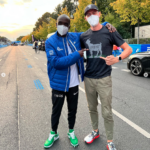 Kipchoge loves the 1:59:40 Shirt Get Yours Today
What a legend!
Ethiopians Lelisa Desisa & Shura Kitata will "for sure" be targeting the course record if the weather cooperates
It was unseasonably warm and muggy today in New York, but the conditions on race day look as if they'll be just about perfect — high of 52, mostly sunny, with manageable wind (6 mph). We spoke to famed coach Haji Adilo, who coaches top Ethiopians Lelisa Desisa, Shura Kitata, and Ruti Aga, and he told us that if the forecast remains good, Desisa and Kitata will "for sure" target Geoffrey Mutai's 2:05:06 course record.
2:05:06 in New York is no joke. Remember, when Mutai ran that time, he was best marathoner in the world coming off a 2:03:02 in Boston. The previous course record was 2:07:43; after 2011, it took another seven years for another man to even break 2:07 in NYC (though Emmanuel Mutai did run 2:06:28 behind Mutai in 2011).
But Desisa and Kitata have one thing Mutai did not: the Nike Vaporfly NEXT% shoes.
Of course, Desisa ran (and won) the World Championship marathon just four weeks ago. As great as he is, even winning New York would be a remarkable achievement, let alone in course-record fashion. But Adilo also said that Kitata was in better shape than last year — when he ran 2:06:01 to finish second, two seconds behind Desisa. Adilo also feels that Kitata is better prepared than before his first NYC last year, when Adilo says he ran "confused" and threw in too many surges early in the race.
Desisa indicates recovery after Worlds was harder than he thought
After winning the World Championships earlier in the month in Doha, Desisa was all smiles. He indicated getting ready for New York wouldn't be a problem. "After one week of recovery, I['ll be] fine," he said in Doha with a huge grin on his face, before running in place to show he'd be training again (video here).
In reality, it was not that easy for Desisa to recover post Worlds. "The marathon is not easy my friend," he said. "At that time [when I spoke in Doha] I am champion. I am happy. Not feeling [any pain]. After one week [I wasn't ready]. It was later… I don't know what will happen for this race, but I will try."
Desisa reminded us that despite helping take the marathon to new heights, it still is the 26.2-mile race with some uncertainty.  "I don't know what will happen because it is the marathon. I will try my best," he said.
Jared Ward is faster than when he ran 2:09 in Boston
Last year, Ward almost didn't run the New York City Marathon as he had been struggling with injuries. But he did and ran 2:12 to place sixth. He then continued to improve and ran 2:09:25 to place in eighth in Boston this year.
Already having made the Olympic team in 2016, and having shown he can run sub-2:10 in Boston this spring, Ward has a free roll of sorts in New York and wants to compete with the world's best. He says if the leaders go out at 2:05 course record pace he won't be able to hang, but if it is a more traditional pace in New York, he's confident he can go with it.
Ward said "my strength, I think it is as good as it was before Boston, and my speed is better." He noted that he did some speed work with the BYU guys this year and that made him faster, which makes his strength work feel easier. "I think I'm in a good position, probably as good a position as I've ever been in to make a strike on the podium, so I'm not going to throw it away. I'm going to give it a try."
Ward says he's no longer at a competitive disadvantage because of his shoes
Ward did not know it at the time, but when he toed the line at the Rio Olympics in 2016, he was at a competitive disadvantage to the athletes wearing the Nike Vaporfly prototype shoes that have a higher stack height and a carbon plate in them. Scientists now are coming to agreement that such shoes give athletes a competitive advantage over traditional marathon shoes.
The debate for the sport is whether the IAAF will start regulating shoes to ensure a level playing field. Ward says now the sport is in an interesting place as all the shoe companies experiment with new technology. However, he said he has been working with the Saucony engineers and he is confident the shoe he will wear Sunday, which is the final prototype of an unnamed shoe he expects to be released this spring, does not put him at a competitive disadvantage. 
Last year in New York, Ward, for the first time, wore the first version of the shoe in a race. He only received it five days before the race, but since his preparation had not gone perfectly, he figured he should give the shoe a chance. He ran very well and then followed it up with a better run in Boston. Ward said this year's version of the Saucony shoe uses a better, lighter beaded foam, and he is very excited about the shoe.
Ward said he would let someone else figure out if the shoes should be regulated by the IAAF, but he felt long-term the shoes might self-regulate themselves. The new shoes have much higher stack heights and essentially increase the lever length of the leg and help the runner with eccentric loading. Ward noted when he lands with the new shoes, he has to do less work than in the past. 
However, Ward said the increases in stack heights can't go on forever. Shoe companies keep increasing the height of the shoes, but at some point Ward said the shoes would have to get too wide and too heavy to keep going higher so they will reach an equilibrium point.
"I think in a year or two, things will stabilize and then we'll be back to running," he said.
Mary Keitany just wants to win
Keitany is a New York legend, with four wins in Central Park. She's won by massive margins (3+ minutes in both 2016 and 2018), but the one thing that has so far eluded her is Margaret Okayo's 2:22:31 course record from 2003. Among World Marathon Majors, only London has an older CR (by a few months).
Keitany could have gotten it last year had she gone out faster than 75:50, so we asked her today if it was something she would pursue on Sunday.
She paused for a few seconds, chuckling as a wry grin spread across her face. It felt as if she were waiting for this question, and gave a deliberately noncommittal response.
"I'm ready to run a very nice race on Sunday," Keitany said. "I know I'm not alone. There are other athletes and I respect them. And for now, I'm not talking about any course record."
Keitany says she will wear "normal shoes" on Sunday
We also asked Keitany about the shoes she'll be wearing on Sunday as she was recently spotted training in what appeared to be adidas prototypes. Is this adidas' answer to the Nike Vaporfly?
Keitany said she'd be racing in the same shoes she wore at the Great North Run in September. We then asked her for the model (exchange begins at 3:44 mark in the video above), and after a seven-second pause during which her expression ranged from indifference to confusion to the brink of laughter, Keitany gave a simple — and vague — answer.
"I think it's normal shoes," Keitany said, sticking her tongue out in delight.
Other NYC Marathon press conference videos
Kellyn Taylor is fit and ready to rock a big one
Geoffrey Kamworor fields questions from fellow 2017 NYC champ Shalane Flanagan, discusses his half marathon world record
42-year-old Sinead Diver, who led London at halfway this year, has enjoyed seeing sights of New York
Aliphine Tuliamuk on why she took up crocheting while injured
Roberta Groner discussed the challenges of bouncing back from Worlds five weeks ago
Allie Kieffer discussed her split from Brad Hudson and why she loves running in New York
Des Linden on shoes, her future, and the 2016 and 2020 Olympic marathons