Podcast: Will Christian Coleman Be at Worlds? Weltklasse Zürich Preview, Transgender Woman to Run NCAA Cross Country, Can Coburn Go Sub-9?
By LetsRun.com
August 27, 2019
The 2019 Diamond League track and field season has its first final this Thursday in Zürich and we break it down in this week's LetsRun.com Track Talk Podcast.
First, we start by discussing Christian Coleman missing three drug tests. What does that mean for Worlds? Then we talk Hanna Green winning in Paris, have some men's 1500m talk and then talk the Diamond League final in detail. Can Emma Coburn go sub-9 in the steeple and get the American record?  We end with June Eastwood becoming the first transgender women's Division I cross country athlete.
Article continues below player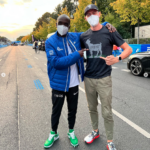 Kipchoge loves the 1:59:40 Shirt Get Yours Today
What a legend!
Full show notes below sponsors:
Podcast is sponsored by FloydsofLeadville.com . To save 15% on certified CBD products use code RUN2019.
Want a new pair of running shoes? Check out the LetsRun.com Better Running Shoe Site here. Find better running shoes and save on your favorite shoe.
Listen on itunes or your favorite podcast app ("LetsRun.com Track Talk") or in the player below. Click on a timestamp to listen there in your favorite podcast app.
Show notes: [2:07] Christian Coleman's career on the brink after he misses 3 drug tests + Is Justin Gatlin the favorite for Worlds?
[12:17 ]Paris DL: Hanna Green wins the 800 + she and Ajee' Wilson are looking good + what happens to intersex athletes' contracts?
[22:51] Men's 1500 Talk: Elijah Manangoi is Back? + Paris 1500 talk & who is the favorite for worlds
[31:47] British 1500 Talk: Charlie Grice or Jake Wightman for Worlds?
[38:09] No Bowerman Track Club at Diamond League Final
[46:01] Diamond League Final Preview: Men's 800: Donavan Brazier vs Nijel Amos, Murphy, & Crew
[51:03] Can Emma Coburn Go Sub 9 in the Steeple?
[53:50] Women's 1500: Sifan Hassan vs Tirunesh Dibaba and Jenny Simpson
[58:33] Final DL Men's 5000 Ever: What Does Kejelcha Need to Do?
[62:30] 400m Hurdle Talk: Rai Benjamin vs Karsten Warholm, Dalilah Muhammad vs Sydney McLaughlin
[67:26] Which Diamond League meet should be cut? How to broadcast it better?
[72:04] Men's 100: Talk: Noah Lyles vs Justin Gatlin
[76:04] Transgender runner June Eastwood to compete in NCAA women's D1 cross country
To be on the podcast call 844-LETSRUN (538-7786). Leave us feedback here https://www.letsrun.com/podcast/