Sorry Conspiracy Theorists, Rosie Ruiz Has Actually Died — Here Is Her Death Certificate
By Robert Johnson
August 13, 2019
Last week, LetsRun.com was the first media entity to publish that Rosie Ruiz — the most famous marathon cheat in history, a woman who for eight days was recognized as the 1980 Boston Marathon champ even though she ran less than a mile of the course — had died. We did so after LRC visitor Mike Atwood posted a link to her online obituary on our messageboard. Since the name, date of birth, and picture in the online obituary all seemed to match up, we went ahead and published that she was dead.
Two days later, the Washington Post followed suit, as did the New York Times a day after that, with the latter citing our article. That spurred the Boston Globe to publish its obit. The author of the Globe obituary, Bryan Marquard, wrote an accompanying piece explaining why the paper in the city where Ruiz gained notoriety had hesitated to publish her obituary: there was no independent confirmation of her death.
Article continues below player
Well now we have it.
Below you will see a copy of the Florida death certificate for Rosie M Vivas, Ruiz's name after marriage.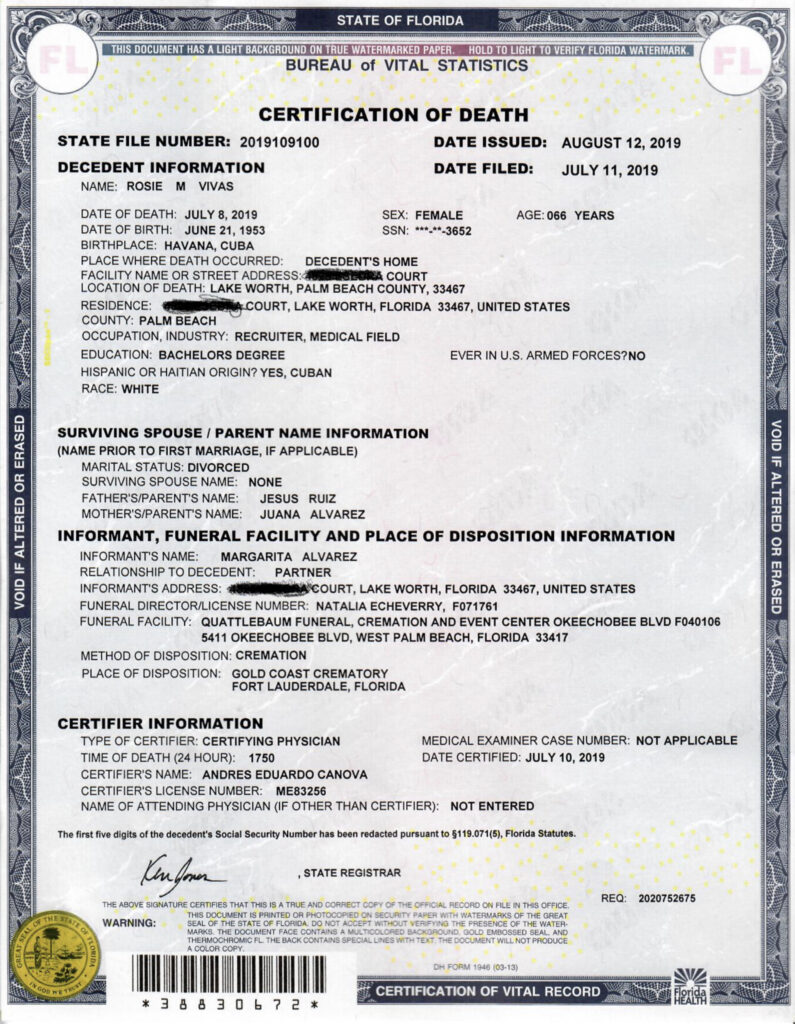 Considering that the listed name, place of birth, and date of birth and death all match up exactly with what we thought they should be, we think it's safe to say that Ruiz has died.
More: MB: Boston Globe: Is Rosie Ruiz actually dead? Might her online obituary be another hoax?
*LRC Rosie Ruiz – The Most Famous Marathon Cheat In History – Has Died At Age 66
*MB: Did Rosie Ruiz Die This Week?
*MB: Was the "breaking" of the news of the death of Rosie Ruiz Vivas the biggest scoop ever by someone posting on this forum