Texas A&M's Jazmine Fray wins coveted 1st NCAA title in her last race, goes wire to wire and wins 800 in 2:01:31
By Jonathan Gault with video interviews by Robert Johnson
June 8, 2019
Two days ago, as Texas A&M Jazmine Fray celebrated her 22nd birthday by advancing to her fifth NCAA final, she described the feeling that many graduating seniors get around this time of year.
"I'm old," Fray said. "Everyone keeps telling me I'm not old, but I'm old. I feel old."
Fray might feel that way because it feels like she's been around forever. Her shocking collegiate indoor record of 2:00.69, which she ran back in February 2017, seems an eternity ago. That race, fairly or not, thrust heavy expectations upon the shoulders of Fray, then 19. And Fray did not live up to them.
Outdoors, she didn't even make the NCAA final that year. She came to Austin for her final NCAA meet on the back of two straight last-place finishes in NCAA finals.
Now she exits as a national champion after going wire-to-wire to win the 2019 NCAA title in 2:01.31.
Fray entered this meet overshadowed by NCAA indoor champion Danae Rivers of Penn State, but she brought with her a new attitude.
Article continues below player.
"I've experienced this so many times and I've gone through this already," Fray said, who was one of 14 women this year to qualify for NCAAs in the same event four times. "And there comes a point where you start to mature and you just realize that this race is not the end of the world. You have to come to terms with the fact that one race doesn't define you."
Fray also brought a tweak to her tactics. A natural front-runner — she also split 51.39 on Texas A&M's national champion 4×400 today — Fray's preferred strategy was to take the race out as fast as possible. It's a strategy that had betrayed her at NCAAs past — in 2017, she came through 400 in 59.54 in her prelim, only to fade to sixth and miss out on the final entirely.
In Austin this week, Fray still went to the front, but was not quite as aggressive. In her prelim, she ran a slight negative split — 61.62/61.46. In the final tonight, ran a bigger one — 60.89/60.43 (with a sub-30 last 200) The result? When Penn's Nia Akins, the NCAA indoor runner-up, challenged her over the final 100 meters, Fray had more than enough to respond and streak to a long-awaited NCAA title.
"When I finished, I was almost in awe because I've waited for this moment for so long," Fray said. "I've just dreamt about this, and now it's finally here…I wanted it so badly and I knew I could do it so long ago, but God has things happen for a reason."
Results
1 Jazmine FRAY SR Texas A&M 2:01.31 SB FR
2 Nia AKINS JR Penn 2:01.67 PB
3 Avi' Tal WILSON-PERTEETE SO UNLV 2:02.20 SB
4 Susan EJORE SR Oregon 2:02.26 PB
5 Allie WILSON SR Monmouth 2:02.56 PB
6 Kristie SCHOFFIELD SO Boise State 2:03.86
7 Ersula FARROW SR LSU 2:04.80
8 Anna CAMP JR BYU 2:05.93
The race
Fray grabbed the lead by 200 meters, leading the field throw in 29-low with Akins on her shoulder; by the time Fray hit the bell in 60.89, Oregon's Susan Ejore had moved into second on her shoulder with the rest of the pack closely bunched behind her.
On the back straight, Fray left the inside of lane 1 open and UNLV's Avi' Tal Wilson-Perteete attempted to pass, but Fray successfully fended her off, with Akins instead moving into second with 200 to go.
Akins' kick had almost carried her to the NCAA indoor title, and as they entered the home straight, Akins looked poised to use it to blow past Fray and finish the job. But as Akins made her move, Fray sensed it and drifted out slightly to the edge of lane 2, forcing Akins to adjust her line.
Fray's instinct was to protect her position, but she may not have needed to. Soon Akins' form was breaking down as fatigue set in. She would not catch Fray today, settling for second once again in 2:01.67 — her second PR in three days — as Wilson-Perteete took third.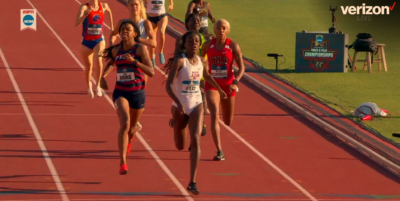 Jazmine Fray goes out a champion
Last year, Fray finished last in this final as her freshman teammate Sammy Watson stormed to a national title. The vast potential Fray showed as a sophomore was threatening to go unfulfilled. But today, she ran like a champion (well, apart from giving up lane 1 on the back straight) and has the title to go with it. Kudos to Fray for sticking with it and going out on top.
Some have argued Fray should have been DQ'd for forcing Akins to adjust her line in the home straight, but it would have been harsh. Yes, Fray did move slightly in front of Akins, but you're usually not DQ'd for that in championship races unless it's egregious, and what Fray did was far from egregious.
Fray says her plan is to compete professionally, but she also wants to get her master's in international business and communications and one day go into sports broadcasting. She plans on staying at A&M to train.
MB: Jazmine Fray should be DQ'd
Nia Akins has no regrets
Akins was proud of the way she ran today and said it was hard to be too upset with two PRs in two days, but she's already looking ahead to next year, where she'll be the top returner.