Mondo Duplantis Signs with PUMA
By LetsRun.com
June 11, 2019
Armand "Mondo" Duplantis, the greatest junior pole vaulter ever who competed collegiately for LSU this past year, has signed a professional contract with PUMA, it was announced today via press release and at a press conference in Stockholm.
Mondo vaulted 6.05 meters last year to win the European championships as an 18-year-old for Sweden. He rewrote the record books of what was possible for a junior vaulter. Mondo was born in the United States, but his mother is Swedish and he represents Sweden internationally.
Article continues below player
Mondo said in the press release below, "I don't want to sound like a cliché, but being part of the PUMA family is a dream come true. It's a perfect fit because Usain Bolt is the greatest ever to live, and I'm not saying that I'm him, but following in his steps is an amazing opportunity. I'm honored that PUMA trusted me to represent the brand, I'll do everything it takes to make them proud."
While at LSU, Mondo set the NCAA outdoor (6.00m) and indoor (5.92m) records in the pole vault and won the NCAA indoor title, but was upset by Chris Nilsen at the NCAA outdoor championships last week in Austin, Texas. His 6.05m vault from last year at the European championships put him in a tie for second on the all-time world outdoor list.
His family is super athletic, as his mom was a heptathlete, his dad an international pole vaulter (5.80m) and his brother Antoine is the all-time hits leader at LSU on the baseball team and drafted by the New York Mets in the 12th round.
Below is the statement Mondo tweeted yesterday when he announced he was leaving LSU plus the full PUMA press release.
Friendships and memories to last a lifetime. #foreverlsu #borntofly pic.twitter.com/LjNBx7Oalo

— Mondo Duplantis (@mondohoss600) June 10, 2019
Full press release below. Images via PUMA.
Discuss Mondo's signing in our forums: Mondo signs with PUMA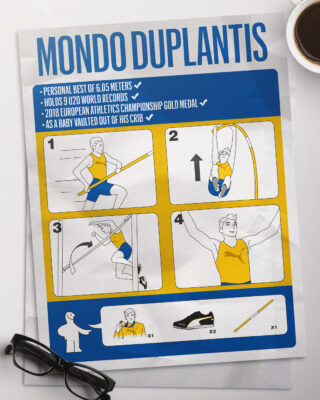 Discuss Mondo's signing in our forums: Mondo signs with PUMA