Tripp Hurt (4:03.9) and Nikki Hiltz (4:29.7) Won Tuesday's USATF 1 Mile Road Championships
Press Release by USATF
4/24/2019
DES MOINES, Iowa – Deep fields led to fantastic finishes at the USATF 1 Mile Road Championships Tuesday, as Tripp Hurt and Nikki Hiltz each claimed their first national title in Des Moines on the third stop of the 2019 USATF Running Circuit, hosted by the Grand Blue Mile. 
As in years past, the men's race got out to a modest start, allowing most of the field to stick together through the first half of the race. Veteran Will Leer took over the early pacing duties, with Harun Abda closely in tow up front.
Leer started to drop back shortly after the halfway point, while nearly ten others were still in contention. With a quarter mile to go, the field was still tightly packed, with Daniel Herrera, Kyle Medina and Abda leading the charge.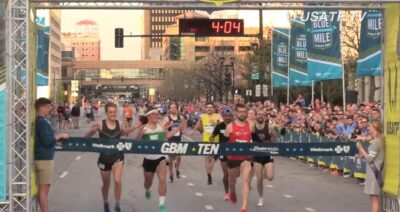 None of the runners in the field made a decisive move until 200 meters to go, when Medina, Branden Lasater and Hurt all pushed to the finish. Nick Harris and Jake Edwards also ran stride for stride with the lead trio, making it a finish sure to come down to the final meters.
At the finish, it was Hurt, Lasater and Harris, three abreast, seemingly all finishing in the same time, but it was Hurt being draped with the American flag, claiming his first national crown in 4:03.9.
Lasater and Harris finished second and third, both crossing the finish in 4:04.0, while Edwards and Herrera also broke 4:05 with fourth and fifth place performances in 4:04.5 and 4:04.9. All of the top ten finishers finished less than two seconds back from Hurt.
Rounding out the incredibly close top ten, David Elliot held off Mike Marsella for sixth, as the two finished 4:05.2-4:05.3. Joe Coffey closed well to grab eighth place overall in 4:05.7, while Medina ran to ninth in 4:05.4 and Julius Bor earned tenth in 4:05.8.
In the women's race, Hannah Fields and Shannon Osika led the race early, establishing the pace and maintaining relaxed forms up front.
As the field moved through the street of Des Moines, Fields and Osika continued to set the tone, with nearly ten women in the lead pack as they moved through the halfway point.
As the runners moved into the third quarter mile, Fields, Osika, Heather Kampf, Anna Shields and Hiltz established themselves as the clear five, pulling away from the rest of the field.
With just over a quarter mile to go, Kampf, who has claimed three USATF 1 Mile Road Championship titles, shot to the lead and started her drive to the finish. Kampf kept her lead until 200 meters to go, when Hiltz was able to pull up on her shoulder and make her own move, one that wouldn't be covered by anyone else the rest of the way.
Article continues below player.
Hiltz continued to pull away, stride by stride, ultimately crossing the finish with a joyous smile on her first, claiming her first national title in 4:29.7.
Kampf maintained form over the final stages of the race, earning yet another top three performances, grabbing second in 4:31.4. Fields ran a great race to nab third in 4:32.2, while Osika and Shields earned fourth and fifth in 4:33.4 and 4:36.4.
Behind the lead five, Rebecca Mehra closed well to easily beat the rest of the field, finishing sixth in 4:38.3. USATF Running Circuit regular Maddie Van Beek earned a seventh place finish in 4:40.6, just ahead of Alex Wilson, who placed eighth in 4:40.8. Grace Barnett placed ninth overall in 4:41.7, while Ashley Stinson claimed tenth in 4:42.9.
The next stop on the USATF Running Circuit is the USATF Half Marathon Championships, which takes place on May 5 in Pittsburgh, hosted by the UPMC Health Plan Pittsburgh Half Marathon.
Results Below
Men's Results 
 1. Tripp Hurt              4:03.9
 2. Brandon Lasater         4:04.0
 3. Nick Harris             4:04.0
 4. Jake Edwards.           4:04.5
 5. Daniel Herrera          4:04.9
 6. David Elliot            4:05.2
 7. Mike Marsella           4:05.3
 8. Joe Coffey              4:05.7
 9. Kyle Medina             4:05.4
10. Julius Bor              4:05.8
11. Chad Noelle 4:07
12. Harun Abda 4:08
13. Jay Welp 4:13
14. Mike Brannigan 4:13
15. Will Leer 4:14
Women's Results 
 1. Nikki Hiltz             4:29.7
 2. Heather Kampf           4:31.4
 3. Hannah Fields           4:32.2
 4. Shannon Osika           4:33.4
 5. Anna Shields            4:36.4
 6. Rebecca Mehra           4:38.3
 7. Maddie Van Beek         4:40.6
 8. Alex Wilson             4:40.8
 9. Grace Barnett           4:41.7
10. Ashley Stinson          4:42.9
11. Savannah Camacho Colon - 4:46
12. Marisa Howard - 4:50
13. Megan Rollland - 4:50
14. Therese Haiss - 4:57
*Note. Results 1-10 come from Runnerspace. Results 11+ came from the Grand Blue Mile website. You might want to subtract one second for the 11-15 men's times as the top 10 men's time were all faster than the Grand Blue Mile times.
*Full Elite Men's Race Video *Women's Video Videos only avaialable to subscribers of USATF.tv.
About the USATF Running Circuit
The USATF Running Circuit is a USATF road series featuring USATF championships from one mile through the marathon and consistently attracts the best American distance runners with more than $500,000 to be awarded in total prize money. A total of $25,000 in prize money will be awarded at the USATF 1 Mile Road Championships.
The first ten U.S. runners earn points at each USATF Running Circuit race. For the USATF 1 Mile Road Championships, scoring is set as 15 for first, 12 for second, 10 for third, 7, 6, 5, 4, 3, 2 and 1, with those earning the most points receiving prize money at the end of the series.
The mission of the USATF Running Circuit is to showcase, support and promote U.S. runners. Since its inception in 1995, the USATF Running Circuit and its races have provided over $7 million to U.S. distance runners.
Contributed by Scott Bush