London Marathon Preview: The Greatest Field in Women's Marathon History Set to Battle in 2019
By Jonathan Gault
April 25, 2019
LONDON — The 2019 Virgin Money London Marathon features the greatest female marathon field ever assembled. That we know.
What we don't know is who will win. In the men's race, there is a clear favorite in Eliud Kipchoge. In the women's race, there are four women who would be clear favorites in any other marathon in the world — except all of them are running the same one on Sunday. Picking between them is no easy task. Do you go with Mary Keitany, the three-time London champion and the greatest marathoner of her generation? What about the red-hot Brigid Kosgei, the Chicago champion who has been destroying half marathon fields in 2019? How about defending London champion Vivian Cheruiyot? Or Gladys Cherono, who ran faster than all of them last year to set the course record of 2:18:11 in Berlin?
Article continues below player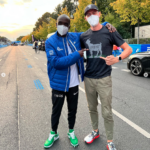 Kipchoge loves the 1:59:40 Shirt Get Yours Today
Shirts are $10 off if he breaks the world record and you order today.
Packed behind them are women like Roza Dereje (2018 Dubai champ) and Birhane Dibaba (2018 Tokyo champ), contenders in any other major but relative afterthoughts in London. The quality in this field is staggering. And the winning time should be fast: the number that's been talked about for the first half split is 68:30, and only one woman in history (Paula Radcliffe) has maintained that pace for an entire marathon.
I spoke to several of the top contenders in London this morning. I can't promise that you will know who will win after reading this article, but you will have a better idea of what to expect on Sunday. Let's run through the "Big Four" before briefly addressing some of the dark horses.
Mary Keitany — Kenya, 37 years old, 2:17:01 pb (2017 London), 64:55 half
Last two marathons: 5th 2018 London (2:24:27 pb), 1st 2018 New York (2:22:48)
Prep race: none
If you go by past results, Keitany should be the woman to beat here. She's the fastest woman in the field — the second-fastest ever — thanks to her 2:17:01 here in 2017, and her win rate in majors is unparalleled: seven victories in 14 starts, all of them majors. That number may not sound as impressive when you compare it to what Kipchoge has done on the men's side, but that's not fair to Keitany — a 50% win rate in majors is ridiculous, especially considering six of those races have come in London, which attracts more talent than any other marathon.
Keitany is coming off one of the most impressive victories in marathon history in New York in November, blasting her second half — Central Park hills and all — in an unreal 66:58. The one concern is that she did not run a half marathon during her London buildup — something she's done in five of her previous six London appearances. The only other time she didn't run a half before London, in 2016, Keitany wound up with her worst marathon performance of her career, taking 9th in 2:28:30.
Keitany said today that the reason she didn't run a half in 2019 is that it took her longer to recover than usual from New York in the fall.
"Last year, I think I ran very fast in half of the race in New York and New York is not an easy course," Keitany said. "It's hilly. I wanted to get enough recovery, so that's why I canceled the half marathon, so I can get better recovery for training for the marathon."
It was a chastened Keitany that I spoke with today. Last year, Keitany's aim was to break Paula Radcliffe's 2:15:25 world record, but that went disastrously as Keitany went out too fast (67:16 for the first half) and faded in the heat, running her second half in 77:09 to finish 5th in 2:24:27. Keitany admitted that she made a mistake in going out too fast in 2018, and she committed to following the rabbits on Sunday at 68:30 pace. She said that Radcliffe's record is no longer a goal of hers.
"2:15 is not in my mind anymore," Keitany said. "We [tried to break it with male pacers] last year, but we did not come with a good result. It's enough with me."
Keitany may not be talking big this year, but she has shown that she can reach a level that no one else in this field can. Whether she can reach that level on Sunday remains to be seen.
Vivian Cheruiyot — Kenya, 35 years old, 2:18:31 pb (2018 London), 66:34 half
Last two marathons: 1st 2018 London (2:18:31), 2nd 2018 New York (2:26:02)
Prep race: 66:34 for 1st at Lisbon Half on March 17
Cheruiyot and her coach/agent Ricky Simms were very optimistic when I spoke to them today. Far more optimistic than you'd expect for a woman who finished over three minutes behind Keitany in New York in her last marathon — a result they viewed as an incredible performance for Cheruiyot.
Their reason for optimism? Cheruiyot was nowhere close to 100% when she ran New York. She picked up a hamstring injury after the Great North Run last fall and missed a huge amount of training as a result — for over a month before the race, she was limping around and only running twice or three times a week. Simms had an email ready to go to the New York organizers to pull out of the race, but they decided to give it a go anyway, even though Cheruiyot figured she would only finish in eighth place. She was finally able to resume training two weeks before the race, and she tried to "cram" for the marathon as one would for a test, fitting in several tough sessions in a last-gasp attempt to steal some fitness.
Thus, she and Simms were delighted when she managed to run 2:26:02 for second (with a 70:12 second half).
And unlike ahead of New York (or London last year, where Cheruiyot was hoping for third behind Keitany and Tirunesh Dibaba), Cheruiyot expects to win in London and comes in on the strength of her best marathon buildup yet. Simms said that Cheruiyot has been running higher volume and running 3-4 seconds faster per rep in mile repeats and that she's fitter than she was before 2018 London. Cheruiyot also ran a half marathon pb of 66:34 in Lisbon last month, though Simms estimates she could have run a minute faster given that she didn't start pushing the pace until late in the race.
Last year in London, Cheruiyot hung back and went through halfway in 68:56, which allowed her to run down Keitany and Dibaba over the second half. This time, the pacers are supposed to come through in 68:30, which Cheruiyot plans to go with. But if someone tries to go faster — as Keitany did in 2017 — don't expect Cheruiyot to automatically follow.
"I'm running as Vivian," she said. "I'm running my own race."
Brigid Kosgei — Kenya, 25 years old, 2:18:35 pb (2018 Chicago), 65:28 half
Last two marathons: 2nd 2018 London (2:20:13), 1st 2018 Chicago (2:18:35)
Prep races: 65:50 for 1st at Houston Half on January 20; 65:28 for 1st at Bahrain Night Half on March 15
Kosgei enters London riding a five-race win streak, which began with a dominant victory in Chicago in October — her first in a WMM event. She tacked on a half marathon win in Kenya in November and a 29:54 downhill 10k in Madrid on New Year's Eve to close out 2018 before coming out firing with two HM pbs in 2019: 65:50 to win Houston in January and 65:28 to win in Bahrain on March 15.
The times, though fast, weren't as impressive as who she beat, and by how much. In Houston, Kosgei won by 58 seconds over Fancy Chemutai (64:52 pb), the second-fastest half marathoner of all time and Ruti Aga, who won Tokyo six weeks later. In Bahrain, she beat Ruth Chepngetich (who won Dubai in 2:17 in January) by 41 seconds and world half marathon champion Netsanet Gudeta by 81. She's been blowing away studs left and right.
Those results have given Kosgei has plenty of confidence — she thinks she's in PR shape, better than she was before Chicago last year. She said that breaking 2:18 is "not hard," adding, "it's easy for me to run 2:17."
Gladys Cherono — Kenya, 35 years old, 2:18:11 pb (2018 Berlin), 66:07 half
Last two marathons: 4th 2018 London (2:24:10), 1st 2018 Berlin (2:18:11)
Prep races: 67:37 for 6th at Houston Half on January 20
Cherono hasn't been running the marathon as long as Keitany, but her win rate is the same as she's won three of her six starts over 26.2 miles. The difference is that unlike Keitany, who has spread her victories between London and New York, Cherono has never won outside of Berlin, claiming the title in the German capital in 2015, 2017, and 2018. The latter was her most impressive result to date, clocking a course record of 2:18:11, the fastest time by any marathoner in 2018.
That makes Cherono — the only one of the Big Four that I didn't talk to today — formidable, but she brings more questions than the others considering her prep race — just 6th in Houston, almost two minutes behind Kosgei — did not go particularly well. That, and her relative lack of success outside of Berlin (5th Boston in 2017, 4th London last year) means she won't come in as heavily favored as the three women above her on this list, but she remains a formidable competitor.
Other names to know
Roza Dereje, Ethiopia (2:19:17 pb): Dereje broke the course record in Dubai last year before it was lowered again this year and finished second in Chicago last fall, over two minutes behind Kosgei. She enters in good form, having won the Barcelona Half in February in 66:01, but even running 2:18 against this field may not be enough to win. Dereje was ranked #4 in the World in the LRC rankings.
Birhane Dibaba, Ethiopia (2:19:51 pb): Another woman who broke 2:20 last year, Dibaba clocked 2:19:51 to win Tokyo before dropping out in Chicago. She too comes in on the strength of a HM win, though the time (71:31 at Rock 'n' Roll New Orleans on February 10, a race she won by a second) was nothing to write home about.
Haftamnesh Tesfay, Ethiopia (2:20:13 pb): The 24-year-old Ethiopian ran 2:20 in her first two career marathons last year (Dubai and Frankfurt), but if she couldn't win either of those, we don't see how she'll win London.
Tadelech Bekele, Ethiopia (2:21:40 pb): Bekele was third last year in London and has won Amsterdam the last two years. If you're looking for a dark horse, she is it.
Yuka Ando, Japan (2:21:36 pb): Ando's 2:21:36 debut at 2017 Nagoya was the fastest ever by a Japanese woman and was the fastest by a Japanese woman since 2005. But she was only 17th at Worlds that year and just 3rd in Osaka, her only marathon of 2018.
Linet Masai, Kenya (2:23:46 pb): Just fifth in her debut in Amsterdam last year, Masai is a long shot, but she is worth mentioning as she's a former world champion on the track (she won the 10,000 in Berlin in 2009).
Of course, there are two high-profile Americans running London as well in Molly Huddle and Emily Sisson. Neither of them will win the race, but don't worry, I haven't forgotten about them. I sat down with both of them in London and will have a separate article on them coming soon. Stay tuned.