Olympians Jordan Hasay, Andrew Lemoncello and Malindi Elmore Win St. Patrick's Day Races in Portland as Do Lauren Fleshman and Jesse Thomas
Portland Shamrock Run turns the City of Roses Green
American distance star Jordan Hasay won the 15k; Scottish Olympian Andrew Lemoncello swept the 15K and 5K races; Husband-and-wife duo Jesse Thomas and Lauren Fleshman take half-marathon titles; 102-year-old Patrick Young becomes oldest finisher in event's 41-year history
Press Release
March 18, 2019
PORTLAND, ORE – With picture perfect weather 20,000 runners and walkers turned the City of Roses green as they celebrated St. Patrick's Day at Shamrock Run Portland, Oregon's largest running event, and one of the largest races of its kind on the West Coast.
American distance running star and Portland local Jordan Hasay won the women's 15k in 51:34. Hasay, who is prepping for the April 15 Boston Marathon, is healthy again after withdrawing from her last two marathons due to injury.
"It was nice to have a little fun out there today," said Hasay, the second fastest female marathoner in U.S. history. "I felt great and it was a nice hard effort. The 15k course has a few hills that were a perfect simulation for Boston and it's always a huge honor to break the tape in your hometown race."
Article continues below player.
Not to be overshadowed in the 15k, Scottish Olympian Andrew Lemoncello won the men's race (48:28) for his second victory of the day, having out kicked Tate Schienbein in a sprint finish in the 5k just an hour earlier. Schienbein prevailed in the men's 8k, clocking 24:15 for the 4.97-mile distance.
"I wouldn't normally do two races in one day, so this was a great opportunity," said Lemoncello, who recently moved to Portland. "The thing with Oregon you usually get to make excuses about races because of the conditions, but there are absolutely no excuses today, it was the most perfect weather you could have. It was a fantastic day."
Canadian Olympian Malindi Elmore was the women's winner in the 8k. Second place went to Lindsey Scherf (27:51) and Portland's Tara Welling, a two-time event champion and co-founder of RunDoyen Coaching, finished in third (27:57).
"It's a whole new perspective after having a baby, out there having the time to myself and I probably got a little carried away and ran harder than I expected," said Welling, a two-time National Champion running her first race since having a baby two months ago. "This race is awesome just being in Portland we have a lot of good women and men runners and I knew it was going to be a tough field, but it was a lot of fun to be out here again."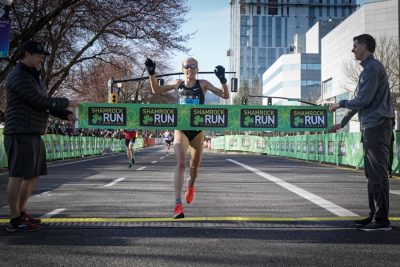 In the half-marathon event, husband-and-wife duo Jesse Thomas and Lauren Fleshman emerged victorious in their races. Thomas, a professional Triathlete, broke away from a large pack to win with a time of 1:08:06. Fleshman, a two-time U.S. 5,000m champion, was the first woman to cross the finish line in 1:21:44.
"I had no idea what to expect as this was the first "running only" race I've done in 8 years," said Thomas, who is training for the Eugene Marathon in April. "We had an awesome pack for the first six miles and I just tried to tuck in with the guys. For Portland, Oregon in the middle of March the weather was unbelievable and I really liked the course, with the out and back by all the spectators and then sharing the road with the 15k runners cheering for you. It was great and you're always happy when you have a good day."
Amongst all the notable names and incredible performances, the day's biggest happening might have come when 102-year-oldPatrick Young crossed the finish line. Young, a Portland resident who missed the 2018 event because of an illness, completed the 4-mile Shamrock Stride in celebration of his birthday with his son from Southern California.
"If I can do it, anyone can do it," said Young, wearing a kilt and using a walker to get across the finish line. "This event is a great Portland tradition, and I hope to be back next year."
The 41st annual Shamrock Run drew participants from 12 countries and 44 states. Over 190 teams participated, while another 15,000 spectators cheered on runners and walkers. 3,000 runners braved the Terwilliger hills to participate in the Shamrock Half Marathon, while thousands of other attendees participated in distances ranging from the one mile Leprechaun Lap for kids 10 and under, to the 15k and a variety of distances in between. Top finishers in each event category won their weight in Widmer Brothers Brewing gift certificates.
Weekend festivities kicked off Friday with a two-day Fitness Fair at the Oregon Convention Center. Participants picked up race materials on-site and also enjoyed free giveaways from sponsors and community partners, including a Friday happy hour hosted by Widmer Brothers Brewing.
Doernbecher Children's Hospital Foundation is the event's beneficiary. The Hospital Foundation has partnered with Shamrock Run for over two decades; during this time Shamrock Run has donated over $550,000 in event proceeds to help fuel Doernbecher's mission.
The 2020 Portland Shamrock Run is scheduled for Sunday, March 15. A limited presale is available online through Sunday, offering the lowest registration prices of the year. For more information, visit ShamrockRunPortland.com.
Race Results – 41st Shamrock Run Portland
Place, Name, Hometown, Age, Time
Half Marathon Men
1. Jesse Thomas, Bend, OR, 39, 1:08:06
2. Chris Yates, Hillsboro, OR, 30, 1:08:33
3. Sage Canaday, Boulder, CO, 33, 1:09:06
Half Marathon Women
1. Lauren Fleshman, Bend, OR, 37, 1:21:46
2. Lyndy Davis, Portland, OR, 29, 1:22:50
3. Faith Buckley, Portland, OR, 47, 1:28:09
15K Men
1. Andrew Lemoncello, Happy Valley, OR, 36, 48:25
2. Jesse Joseph, Portland, OR, 23, 49:17
3. Zac Garrard, Portland, OR, 24, 49:45
15k Women
1. Jordan Hasay, Portland, OR, 27, 51:31
2. Carissa Galloway, Portland, OR, 28, 55:00
3. Sallie Post, Portland, OR, 31, 55:52
8k Men
1. Tate Schienbein, Portland, OR, 24, 24:15
2. Alex Cameron, Portland, OR, 36, 24:31
3. Patrick Reaves, Portland, OR, 34, 24:44
8k Women
1. Malindi Elmore, Canada, 39, 26:20
2. Lindsey Scherf, High Falls, NY, 32, 27:51
3. Tara Welling, Portland, OR, 29, 27:57
5k Men
1. Andrew Lemoncello, Happy Valley, OR, 14:44
2. Tate Schienbein, Portland, OR, 24, 14:44
3. Danny Martinez, Portland, OR, 24, 14:57
5k Women
1. Lorilynn Bloomer, Portland, Or, 46, 18:22
2. Katherine Michno, Brooklyn, Ny, 31, 18:35
3. Lauren Elgee, Portland, Or, 27, 18:40
Talk about the race on our world famous messageboard. MB: Jordan Hasay Wins St. Patrick's Day 15k in 51:31 (2:25:04 marathon pace) .