Laura Muir Destroys Konstanze Klosterhalfen Over Final 200 to Retain European Indoor 3000m Title
March 01, 2019 to March 03, 2019
By Jonathan Gault
March 1, 2019
What was, on paper, one of the most competitive races of the 2019 European Athletics Indoor Championships instead turned into a coronation for Laura, Queen of Scots.
Running in front of a partisan home crowd in Glasgow, Laura Muir used a spectacular close, running her final 200 meters in 28.32 and successfully defend her title in the 3,000 meters in a championship record of 8:30.61. In the process, she crushed the Wanamaker Mile champion, Germany's Konstanze Klosterhalfen, who ran a respectable 8:34.06 but was utterly helpless on the last lap.
Article continues below player
After sitting on Klosterhalfen for the second half of the race, Muir took the lead at the bell, and her acceleration was a sight to behold. Once she was around Klosterhalfen, the gap between the two runners began to grow exponentially, and what was expected to be a close race was over midway down the back straight. But even then, Muir would not let off the gas, powering through the line to take down Klosterhalfen's world leader of 8:32.47 as well.
Muir covered her final 1500 meters in 4:05 flat, a time that, when coupled with Muir's 28.32 final 200, would be enough to win most 1500 races on the planet. And making the performance all the more impressive was the fact that it was Muir's second race in the span of two-and-a-half hours; she ran 4:09 to qualify for the final of the 1500 earlier in the day.
Klosterhalfen, who had fresh legs after opting out of the 1500, was content to sit behind leader Eilish McColgan of Great Britain in the race's early stages. But, correctly fearing Muir's kick, Klosterhalfen tried to take the sting out of her opponent's legs by hammering the final mile. She took the lead at 1400 meters and dropped a 66.17 for the next 400 meters, but would need to do more than that to drop Muir.
She could not, slipping to 67.51 for her next 400, and though Klosterhalfen did manage to pick the pace up to 32.20 for the penultimate lap, that merely served as a warmup for Muir's last-lap sprint.
Great Britain's Melissa Courtney grabbed the bronze in a personal best of 8:38.22 to cap a strong indoor campaign that included a win at the IAAF World Indoor Tour stop in Karlsruhe.
Muir will return to the track on Sunday evening for the 1500 meters, and after today's race, it seems a formality that the Brit will complete a second consecutive 1500-3k double.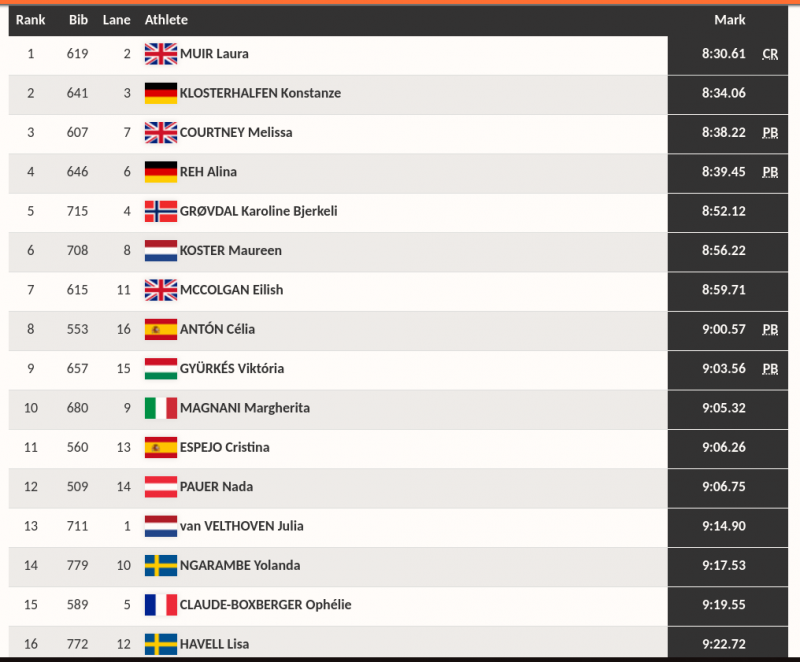 Quick Take: Muir's close was something else
Muir's best event is the 1500, and while she has decent 800 speed (she was the British champ last year and owns a 1:58.69 pb), when she's running against other 1500 runners, she's not known for her devastating kick. Last year at the Diamond League final, she made sure to gap Shelby Houlihan before the bell, and though she only closed in 30.09 for her final 200, she still held on to win in 3:58.49.
Based on today, however, it appears that Muir's kick has improved. Exactly one year ago, Genzebe Dibaba won World Indoors in 8:45.05 with a 61.62 final 400 and 30.44 last lap (Muir was third in that race, .73 behind). Muir's winning time today was almost 15 seconds faster, and her last 400 (60.20) and 200 (28.32) were significantly faster as well. Though Dibaba's final 1k was faster than Muir's was today (2:37.43 vs. 2:41.54), it seems clear that Muir, who is no longer balancing veterinary school with professional running, is in better shape than she was this time last year.
Last year, Muir showed stronger tactics and awareness of her body's limits. If she has improved her kick as well, that may be the final piece that takes the 25-year-old Muir to her first world title in Doha. But that is still over six months away.
Talk about Muir's great race on our world famous fan forum / messageboard. MB: RACE OF THE DAY at 4:40 p.m. ET: Muir vs. Koko in 3k at Euro Indoors / Official 2019 Day 1 Euro Discussion Thread.