Kemoy Campbell's Brother Gives Update on His Condition: "The Doctors Are Some of the Best in the World"
By LetsRun.com
February 11, 2019
Kemoy Campbell's brother issued the following statement earlier today via social media on his brother's condition.
Thank you for to everyone for your thoughts and prayers for Kemoy. We really appreciate all of the love and support we have been getting. Kemoy's condition has not changed much. He is still sedated so that his body can rest. The doctors are some of the best in the world and are keeping us consistently updated. If there is an appropriate time and we know anything further, we will issue another statement. Thank you for respecting Kemoy's privacy throughout this difficult time.
Article continues below player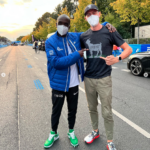 Kipchoge loves the 1:59:40 Shirt Get Yours Today
What a legend!
Campbell collapsed while pacing the men's 3000 meters at the Millrose Games in New York City on Saturday and left the track on a stretcher after CPR was performed on him.
In the YouTube video [embedded below] where his brother issued the statement, his brother also said, "My brother is in the same condition. Nothing has really changed. The doctors are doing the best they can. They're doing the best they can to get him back on track."
Kemoy's brother also encouraged people to post positive things on social media saying, "If you're going to post, post something good and leave it like that." He also encouraged people to stop posting "negative" things as well and called out one YouTube video in particular.*
Video with statement below.
https://www.youtube.com/watch?v=sTbrz5_Q-YU
The day before, he had another YouTube video which is below where he said on Kemoy, "He is doing quite fine… The doctors are doing the best they can. As of now, he is doing good. He's on recovery right now."
https://www.youtube.com/watch?v=SFFmPUkDf2Q
*There is a third video on his brother's YouTube channel, where he encouraged people to report this sick YouTube video which was originally titled "KEMOY CAMPBELL DIES LIVE T.V." The video has now been retitled, "KEMOY CAMBELL Collapses Unconscious LIVE T.V." but we encourage you all to report it to YouTube.
Discussion: More important than Millrose results, if anyone connected to Kemoy or his group can post updates on his condition please do