Was the Inaugural Abu Dhabi Marathon Course Short? I Think It Was
At a Minimum, The 5k Segments Were Not Measured Correctly
by Robert Johnson
December 7, 2018
12/17 Editor's note #2: We still believe the course is short and our latest beliefs on this can be found here.  The video in the editor's note below was incorrect.
Editor's note: Since publication, Robert Johnson has found video proof that he believes strongly shows the course was not run as measured and was short. Read all the way to the bottom or go here for the video.
The inaugural ADNOC Abu Dhabi Marathon is in the books. As a rare marathon that was shown during the evening in the US (9 p.m. ET start, 6 a.m. local), it was a lot of fun to watch. There was a big purse ($100,000 for the win), some big names, the coverage featured no commercials, the shots of the Abu Dhabi skyline were spectacular, and the end of the men's race was wildly entertaining, but having thought about it a little bit, I don't believe what I saw was a full marathon.
I believe the course was short.
Article continues below player.
The splits for both the men's and women's winners make no sense.
Running a 2:04:04 marathon isn't easy. Negative splitting a 2:04:04 on a record-eligible course in 70-degree temperatures with a dew point in the 60s while running a huge PB as an experienced marathoner is next to impossible. Yet we are supposed to believe that happened in both the men's and women's races.
Weather.com said the temp was 72 at 6:37 a.m. (AccuWeather said it was 68) with the humidity at 70% and the dew point at 62. That's at least 10 degrees higher for both temperature and dew point than what is ideal.
Update at 10:00 am ET: Fifteen hours after the race, I've found the recorded weather on WeatherUnderground, and the weather doesn't look to be quite that bad. It's reporting a temperature of 66 at the start and 68 at the finish (it's possible it was 70 at the finish depenidng on how you interpret the graph), with a dewpoint of 57 for the Abu Dhabi International Station.
Yet I'm supposed to believe that men's winner Marius Kipserem of Kenya, who was running his 16th career marathon tonight and came in with a pb of 2:06:11, went 62:35-61:39 to run 2:04:04?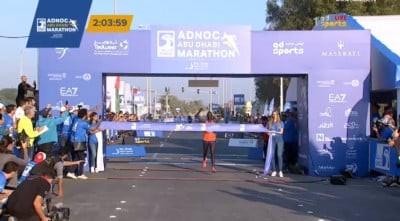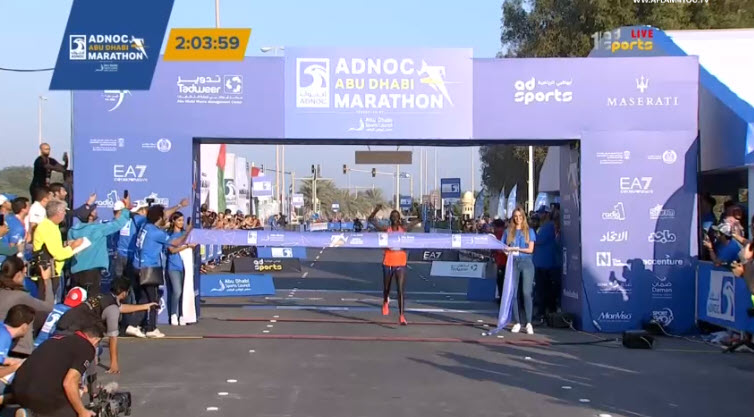 And in the midst of that second half, which unlike the first half was run in the sun (the race started locally at 6 a.m. in darkness) and without rabbits for most of it, he ran a 13:55 5k between 30 and 35k (that's 1:57:27 pace)?
No, I'm not believing that.
(Men's recap here: LRC Marius Kipserem Upsets Half Marathon WR Holder Abraham Kiptum In 2:04:04 At Inaugural Abu Dhabi Marathon, But Was The Course Short?)
For starters, I watched the race online and it certainly didn't look like they were hammering between 30 and 35k. And the 13:55 split makes zero sense. 13:55 is easily the fastest split in the second half of a marathon or on a flat marathon course (the lead men did go out in 13:48 for the first 5k this year in London, but that featured a big downhill while Abu Dhabi is flat). For comparison's sake, Eliud Kipchoge's remarkable WR of 2:01:39 is 14:24.9 5k pace.
Show the following splits to a non-runner and ask them what jumps out at them.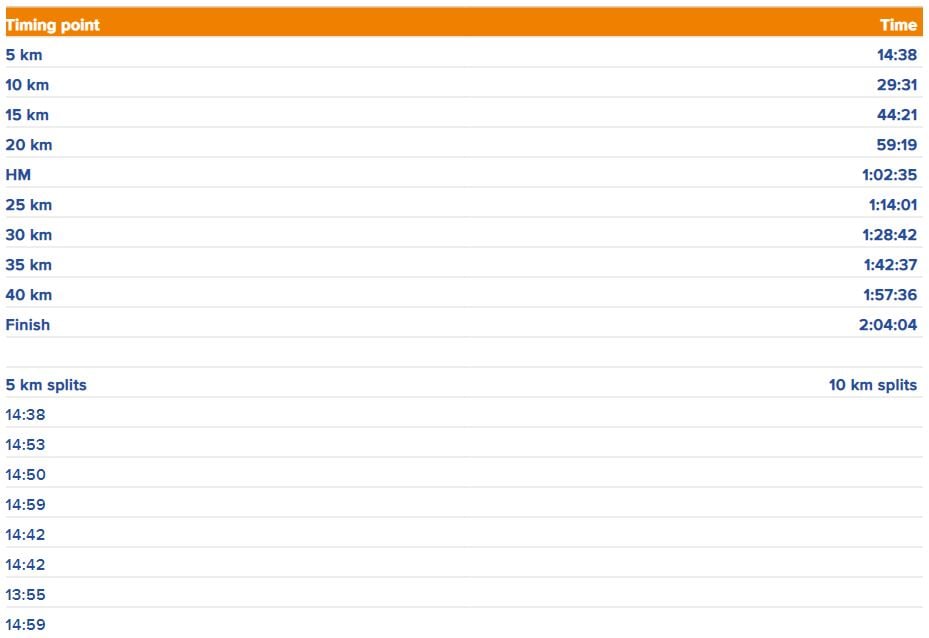 The 13:55 defies logic.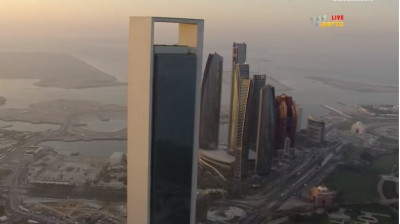 And the similarly bizarre women's splits basically prove my argument that the course was short.
According to the race timing website, Ethiopia's Ababel Yeshaneh also ran a negative split with a ridiculous 5k segment between 30 and 35k to win in 2:20:16 (previous pb of 2:33:10, but that was before she got really good at running).
The race's website had Yeshaneh on 2:20:42 pace at 20k. Since her winning time was 2:20:16, that would mean she ran something like 70:21-69:55. Yet another negative split in warm conditions.
And the race's website says she ran a laughable 30 to 35k split of 15:55 (that's 2:14:19 pace). No, I'm likewise not believing that.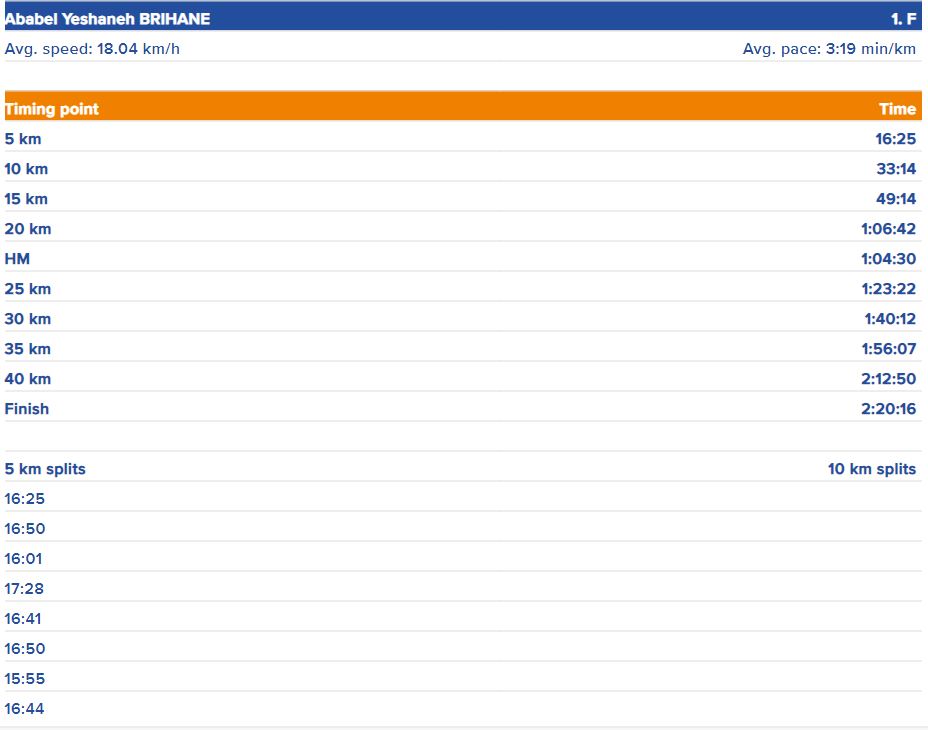 Occasionally in a race, you'll see one intermediate segment be short but normally the next one is long so they average out to be correct but that's not what happened here.
So go ahead and argue that all of the splits at the beginning of the race were slightly long and the 5k between 30 and 35k was short, which means the whole thing could still be the proper 42.2k, but I think that's highly unlikely.
I'm willing to bet big money that the course was short.
Update at 10:00 am ET: Helmut Winter, who often works on setting the pace car and recording the splits for the WR attempts in Berlin, has written me an email saying that it's possible a coastal breeze made the 30 to 35k segment wind-aided as a coastal breeze picked up big time once the sun came up. I hadn't considered the wind because when I looked at Weather.com 40 minutes into the race it showed a wind of 2 mph. I guess it's possible but I've found the reports of a weather station right at the finish of the race and they aren't showing a big wind. Plus the 30 to 35k segment is largely the same segment that they ran from 35 to 40k but in the opposite direction, so you'd think the other section would be way slow due to the wind.
Update at 12:12 pm ET: Thanks to a tip from LetsRun visitor by the name of "Hawk Eye," I've produced a video proving the course was short. Just after 34k, the runners did a 180-degree turn instead of continuing straight and coming back via a roundabout on 20th Street.  This video explains it all, but based on the 34k split, it looks like they cut off roughly 53 seconds as they were running 14:48 5k pace between 30 and 34k.
Update on 12/18: Ignore the comments above. The course is still short but this explains why: German Expert Believes The Abu Dhabi Marathon Was Between 120 and 130 Meters Short
---
Did you run in the race yourself? Do you think it was short? Email us. Tell us whether you think it's short on our world famous messageboard/fan forum below:
MB: Length matters: Here's why I believe the Abu Dhabi course was short
Read our race recap of the men's race below:
LRC Marius Kipserem Upsets Half Marathon WR Holder Abraham Kiptum In 2:04:04 At Inaugural Abu Dhabi Marathon, But Was The Course Short?