2018 LRC World & US Rankings, W 800: Caster Semenya & Ajee' Wilson Come Out On Top Again
By LetsRun.com
December20, 2018
As 2018 draws to a close, it's once again time to publish the fifth annual LetsRun.com world and US rankings. From now until the end of the year, we'll be ranking the top 10 men and women in the world (plus the top five Americans) in the 800, 1500/mile, 3000 steeplechase, 3,000/5,000, and marathon.
Since these rankings are obviously subjective, we'll lay out the criteria we're using for them:
An emphasis on performance in big races. Obviously there was no global outdoor championship in 2018, but meets like the Diamond League finals, World Indoors and, in the case of the US rankings, USATF Championships, will factor heavily in the rankings. Performance in regular-season Diamond League meets is also an important factor.
Season-best times matter, and if an athlete has a bunch of fast performances, they're more likely to be ranked highly.
Runners who specialized in one event will be considered for other events but can be penalized in the rankings for not running enough races.
Indoor races will be considered and can help an athlete's ranking.
LRC 2017 women's 800 rankings * LRC All 2018 Year-End Rankings * LRC 2018 World Indoors 800 Recap Ajee Wilson Puts Up a Strong Fight, but Francine Niyonsaba Remains Perfect Indoors at 800
Women's 800 World Rankings
1. Caster Semenya • South Africa • 27 years old • 1:54.25 sb (#1) • Diamond League champion • African champion • Commonwealth champion
DL results: 1st Oslo, 1st Paris, 1st Monaco, 1st Zurich (DL final)
Article continues below player.
For the third year in a row, Semenya went undefeated in the 800 meters. And though there was no global championship to cap it off, this was her most impressive year yet as she broke 1:56 five times and broke 1:55 three times (after never having broken 1:55 prior to 2018). Only one woman in history had ever accomplished either of those feats: Pamela Jelimo, who broke 1:55 four times and 1:56 eight times during the 2008 season.
One of the reasons Semenya ran faster in 2018 was that, more so than in previous years, she chose to cut loose and chase times rather than solely concentrating on wins. At the Diamond Leagues in Paris and Monaco and the Continental Cup in Ostrava, Semenya — running without a pacemaker — went out hard from the gun and was rewarded with the three fastest times of her life, including a sparkling 1:54.25 pb in Paris that ranks her fourth on the all-time list. For much of her career, Semenya has faced criticism for "sandbagging" — she made winning look so easy that some thought she was intentionally holding back. Maybe a (very fast) pacemaker could have helped her this year, but the Semenya we saw in 2018 was one that pushed herself to her limits.
The question now becomes: have we seen the last of this version of Caster Semenya? The IAAF announced that it will be implementing new eligibility regulations for the female classification that include testosterone limits for women in events between 400 and the mile (the events that Semenya just so happens to run). Semenya challenged the ruling, with a decision due by the Court of Arbitration for Sport due in March. That decision will determine the future of the women's 800, because it has become clear over the last three years that, as things stand, no non intersex or transgender woman is beating Caster Semenya.
2. Francine Niyonsaba • Burundi • 25 years old • 1:55.86 sb (#2) • World Indoor champion • African champs silver
DL results: 3rd Pre, 2nd Oslo, 2nd Paris, 1st Lausanne, 1st Rabat, 2nd Monaco, 6th Zurich (DL final)
In 2016 and 2017, Niyonsaba was almost as big a lock as Semenya: if Semenya was in the race, Niyonsaba would finish second. And if Semenya was not in the race, Niyonsaba would win. That's the way it went in 17 of her 18 800m starts across those two seasons. In 2018, however, Niyonsaba showed a hint of vulnerability. Though she repeated as World Indoor champ, holding off a spirited challenge from Ajee' Wilson — Niyonsaba's winning time of 1:58.31 was the fastest indoors since 2011 — she lost to Wilson at Pre (her first ever defeat to Wilson in an 800) and was a disappointing 6th at the Diamond League final in Zurich. That said, Niyonsaba was still a clear pick for our #2 spot thanks to her World Indoor title, her fast times (twice under 1:56; Semenya was the only other woman to dip under that barrier), and DL wins in Lausanne and Rabat.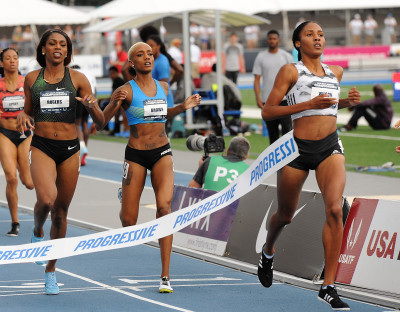 3. Ajee' Wilson • USA • 24 years old • 1:56.45 sb (#4) • World Indoor silver • US Outdoor champion • US Indoor champion • NACAC champion
DL results: 2nd Pre, 3rd Paris, 2nd Lausanne, 4th Monaco, 2nd Zurich (DL final)
Under another set of rules, Wilson would be wrapping up her second consecutive year as World #1. But under the current set of rules, she has had to settle for being towed to fast times in Diamond Leagues and building a case as the greatest American half miler of all time. She repeated as US champion indoors and out, holding off challenges from Raevyn Rogers both times, and generally performed as well as one could have hoped on the circuit, breaking 1:58 six times on the year — the most ever by an American. She also grabbed a second World Indoor silver to go with the one she earned in Portland in 2016.
Like Semenya, Wilson's 2019 season will likely be determined by the CAS ruling on the IAAF's new eligibility regulations. Should CAS rule against Semenya, the rules will also apply to Niyonsaba, and Wilson becomes the presumptive favorite for Worlds (remember, Wilson was 3-0 against Semenya in 2013 and 2014 before the IAAF suspended its hyperandrogenism guidelines in 2015). But should the CAS rule in Semenya's favor, it's hard to see a way past her in Doha.
LRC 2018 USA Outdoors 800 Recap Ajee Wilson and Clayton Murphy the Class of US 800m Running Win 2018 USATF Titles
4. Natoya Goule • Jamaica • 27 years old • 1:56.15 sb (#3) • Commonwealth bronze • World Indoor semifinalist • NACAC silver
DL results: 5th Paris, 2nd Rabat, 3rd Monaco, 2nd London (non-DL), 3rd Zurich (DL final)
Goule, a three-time NCAA champion at LSU and Clemson, broke out in a big way this year at age 27. Still training under college coach Mark Elliott, Goule upped her mileage in the winter of 2017-18 and it paid off with the finest season of her career. Entering the year with a PR of 1:59.38, Goule ran almost that fast indoors (1:59.86) before breaking 1:59 for the first time to earn a bronze at the Commonwealth Games. Goule followed that up with another PR (and Jamaican national record) of 1:57.69 in Paris in June and yet another national record of 1:56.15 in Monaco in July. That time, plus her third-place finish at the DL final, gives Goule the nod for the #4 spot in our rankings, just ahead of Ethiopia's Habitam Alemu, against whom Goule was 2-1 in 2018.
While Goule did have a better seasonal best than Wilson thanks to her 1:56:15 clocking in Monaco (where Wilson ran 1:56.45), we had zero thought of ranking Goule #3 over Wilson as that loss in Monaco was Wilson's lone loss to Goule this year whom she beat in 8 of their 9 competitions this year.
5. Habitam Alemu • Ethiopia • 21 years old • 1:56.71 sb (#5) • 4th at World Indoors • African champs bronze
DL results: 4th Pre, 3rd Oslo, 4th Paris, 3rd Lausanne, 5th Monaco, 4th Zurich (DL final)
There was little to separate Goule from Alemu as both were very consistent on the DL circuit and both broke national records (in Alemu's case, her 1:56.71 in Monaco lowered her own mark of 1:57.05 set last year). Alemu did perform better than Goule at World Indoors — Alemu was fourth, while Goule failed to make the final — but they were close to equal at that meet in actuality. Both women were drawn in heats with a clear favorite (Ajee' Wilson for Alemu, Francine Niyonsaba for Goule), and while both women finished second, Alemu's time of 2:02.18 made her the last woman into the final while Goule's time of 2:02.49 left her on the outside looking in.
6. Raevyn Rogers • USA • 22 years old • 1:57.69 sb (#7) • 5th at World Indoors • US Outdoor runner-up • US Indoor runner-up • 4th at NACACs
DL results: 7th Pre, 5th Lausanne, 7th Monaco, 5th Zurich (DL final)
Having won five NCAA titles and having set the NCAA record, Raevyn Rogers passed up her senior year at Oregon this year to turn pro as she felt she had nothing left to accomplish. and her decision was validated by a stellar 2018 season. She came closer to the indomitable Wilson at USA Indoors (just .14 behind) than anyone expected, and once she wrapped up her studies at Oregon (though she did not compete for the Ducks this year, she stayed in Eugene to complete her degree), she really came into her own over the summer, again giving Wilson a scare at USA Outdoors before heading to Europe, where she won at the Athletics World Cup, clocked a big pb of 1:57.69 in Monaco, and placed fifth in the DL final.
Still just 22, Rogers could be even better next year, especially since she'll be training with Wilson and Charlene Lipsey full-time under coach Derek Thompson. It would not be a surprise to see Rogers challenge Wilson for American supremacy — and if Semenya, Niyonsaba and Wambui are neutralized by a court order — perhaps the world title? — in 2019.
7. Margaret Wambui • Kenya • 23 years old • 1:58.07 sb (#11) • Commonwealth silver • 3rd at Kenyan champs
DL results: 6th Pre, 4th Lausanne, 4th Rabat, 11th Monaco
With just a 1:58.0 sb, the Olympic bronze medalist was not nearly as good this year as she was in 2016 and 2017 during which she broke 1:57 both years, but she did break 2:00 six times and finished fourth in two Diamond Leagues. Her most impressive result was a silver at the Commonwealth Games back in April, where she earned silver — without a coach — beating Goule in the process and losing only to Semenya. Unfortunately for Wambui, her other forays at the major championships did not go well as she was DQ'd for a lane violation at World Indoors (where she would have made the final) and wound up dropping out at the African champs. Now reunited with former coach Sam Maina — from whom Wambui was separated the last two years as she switched from Kenya Defence Forces team to join Kenya Prisons — she could return to her medal-winning form in 2019 though, like Semenya and Niyonsaba, she'll be waiting eagerly on the impending CAS decision in March.
8. Rababe Arafi • Morocco • 27 years old • 1:57.47 sb (#6)
DL results: 3rd Rabat, 6th Monaco, 8th Zurich (DL final)
You could make the case for a few women in this spot. Arafi focused more on the 1500 in 2018 — she was eighth at World Indoors and earned silver at the African champs — but ran fast enough (1:57.47, 1:58.84, 1:59.20) when she did run the 800 to crack our top 10.
9. Nataliya Pryshchepa • Ukraine • 24 years old • 1:59.58 sb (#21)
DL results: none
Pryshchepa was the European champion, defeating a solid field to earn the crown in Berlin, and ran a season's best of 1:59.58 to take fourth at the Continental Cup in Ostrava. She didn't do much beyond that, but that win at Euros gets her into the top 10.
10. Emily Tuei • Kenya • 32 years old • 1:58.04 sb (#9) • Kenyan champion • 7th at Commonwealths • African champs semifinalist
DL results: 7th Paris, 5th Rabat, 10th Monaco
It was very close between the US's Ce'Aira Brown and Tuei for the #10 spot as both ran in the 1:58s three times, but we gave Tuei the edge as she won the Kenyan champs while Brown was just third at USAs (albeit against tougher competition). However, Tuei ran poorly in her biggest races — she was just seventh at the Commonwealth Games and did not make the final at the African champs — so one could just as easily make the case that Brown should occupy this spot.
U.S. Rankings
1. Ajee' Wilson (see above)
2. Raevyn Rogers (see above)
3. Ce'Aira Brown • Hoka NJ*NY TC • 25 years old • 1:58.01 sb (#8) • 3rd at USA Outdoors • 4th at USA Indoors 
DL results: 1st London (non-DL)
Brown enjoyed a breakout year under Frank Gagliano's NJ*NY Track Club, dropping her PR from 2:00.84 to 1:58.01 and finishing third at USAs (unfortunately, with no team to make). She also looked impressive in winning her Diamond League 800 debut in London (although that was not a DL points race) and may have been able to go even faster had she been able to find her way into legit Diamond League fields (she won her final two races of the season, both in PRs, but did not race after July 25).
4. Kaela Edwards • adidas • 25 years old • 1:59.68 sb (#5 in US) • 3rd at USA outdoors • 4th at USA indoors
DL results: none
Charlene Lipsey's three fastest times were all better than Edwards' 1:59.68 sb, and they were 2-2 against each other head-to-head in 2018. But considering Edwards beat Lipsey at both USA Indoors and USA Outdoors, there's no way we can rank her lower than Lipsey. The success of Aisha Praught Leer and Edwards — who shaved over two seconds from her PR in 2018 (2:01.97 to 1:59.68) — served as proof that Joe Bosshard can coach more than just his wife Emma Coburn and helped contribute to the expansion of what is becoming a strong group out in Boulder.
It's interesting to remember that the 800 was not Edwards' best event in college — she was the NCAA mile champ in 2016 — but she chose to focus on it in her first full year as a pro in 2018 and it worked out nicely.
5. Charlene Lipsey • adidas • 27 years old • 1:58.05 sb (#4 in US) • 5th at USA Outdoors • 6th at USA Indoors
DL results: 5th Pre, 6th Paris, 9th Lausanne, 8th Monaco, 9th Zurich (DL final)
Lipsey fell back to earth a bit in 2018 after a dream 2017 season that saw her go from irrelevant to 1:57 and the World Championship final. But the gains that she made under Derek Thompson in 2017 did not completely disappear, and though she battled injury early in 2018, she still managed to run 1:58 three times and finish fifth at USAs.
---
LRC 2017 women's 800 rankings * LRC All 2018 Year-End Rankings * LRC 2018 World Indoors 800 Recap Ajee Wilson Puts Up a Strong Fight, but Francine Niyonsaba Remains Perfect Indoors at 800