Catching Up With U.S. Stars Matthew Centrowitz & Paul Chelimo Ahead of Saturday's USATF 5K Champs
By Jonathan Gault
November 1, 2018
NEW YORK — The 2018 USATF 5K Championships will be held tomorrow on the streets of New York, and two of the biggest stars in American distance running will be squaring off in Matthew Centrowitz and Paul Chelimo. (Full fields here)
The two men have a lot in common. Both own Olympic medals. Both won national titles in Des Moines in June. And both earned long-awaited wins at a Diamond League meet in London in July (although Matt's win wasn't in a Diamond League event). Now they will be rivals on Saturday in a race that will conclude in Central Park, using the same finish line as Sunday's marathon.
Article continues below player
We caught up with Centrowitz and the always-entertaining Chelimo ahead of the race. Here's what we learned.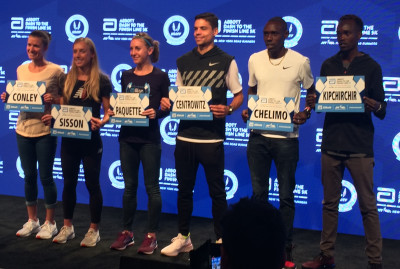 1) Matthew Centrowitz says he is living in Seattle "indefinitely"
Centrowitz moved from Portland to Washington, D.C., back in January, but is now living in Seattle "indefinitely." Centrowitz's best friend, Chris Kwiatkowski, with whom he was living in D.C., was hired as an assistant coach under Andy Powell (Kwiatkowski and Centrowitz's college coach at Oregon) at the University of Washington, and Centrowitz felt that it would be a great opportunity to train in Seattle, which has a world-class 307-meter indoor track and is close to Nike HQ in Beaverton.
Centro even said that the rainy weather is a plus as it prevents him from overcooking it early in his training.
"I think [it] is a blessing in disguise," Centrowitz said. "[It] allows you to put a cap on some of the faster stuff just because you can't turn over too fast in 40-degree, damp weather."
Centro said he's close to Powell, but Powell doesn't have much input on his training other than occasionally holding a stopwatch or letting Centrowitz hop in with his college guys from time to time.
As for Saturday's race, Centrowitz said that he's just looking to be competitive, which could be tough. He noted that his last 5k — on the track at Payton Jordan last year — was tougher than he expected it to be (he ran 13:48 to finish second in the B heat) and has only run one road 5k before, finishing 7th at the US champs in 2014 in 14:04.
After the race, Centrowitz is sticking around New York to do some commentary for the marathon broadcast on ESPN2.
2) Paul Chelimo says he's "still in shock" after the superfast Brussels 5k
On August 31, Chelimo ran a 5,000 personal best of 12:57. It was also the farthest he's finished from the front of a 5k in over two years, as he was 14 seconds back of winner Selemon Barega, who ran 12:43 (Hagos Gebrhiwet ran 12:45 in second and Yomif Kejelcha ran 12:46 in third).
Two months later, Chelimo has mixed feelings on the race. He was glad to finally break 13:00 for the first time, but admitted, "if I didn't break 13:00 in that race, that would be the worst race of my life."
We asked Chelimo whether he was confident that those guys ran those times clean. He said that he judges athletes by the graph of their performances.
"Running is all about the graph," Chelimo said. "If you have a graph that is going up and down, up and down, up and down, crazy like crazy, something is weird. But if you have a graph that you're progressing, your PB's not that crazy, it should tell you something about your fitness type…If anyone has a crazy graph, I don't believe it, that's all I can say. You go check, go do your research and check the graphs."
Speaking about the race on Saturday, Chelimo was far more confident than last year, when he finished fourth, losing to the likes of Tommy Curtin and Kirubel Erassa. Chelimo said that he took more time off after the track season last year (he took only one week this year) and is fitter this time around.
"Last year when I came, I was out of shape," Chelimo said. "…I can't come here for two years in a row and not win the race. If I don't win this year, guaranteed, I ain't gonna show up next year."
3) Paul Chelimo says some crazy things (which is good for track & field)
Chelimo is always good for a sound bite (or a hilarious tweet) and said that he thinks track & field needs more people like that if it is to become more popular.
"If we just keep winning races and don't do anything and don't do media, we don't do anything, that really hurts track and field," Chelimo said. "But we have fun people, we have people that can have fun and enjoy, people that the fans can see and also want to watch a race."
We asked Chelimo for his prediction for the men's marathon on Sunday, and he revealed that he possesses a rare gift: he can tell if someone is fit just by looking at them. The fittest guy in New York, according to Chelimo? Geoffrey Kamworor.
"I just saw him today, I can see the man is in shape," Chelimo said of the reigning NYC champ. "I can tell. Like really I just saw his facial features, I saw him, the way he looks like and trust me, I can know."
Chelimo also told us who wasn't looking fit.
"Take this from me, I look at Matt [Centrowitz], he has no chance," Chelimo said. "This is not a mile, it's a 5k, so I have the confidence."
Chelimo wanted to make clear afterwards that he was joking, but said there is nothing wrong with a little pre-race trash talk.
"I'm not worried about if someone says I talk too much crap," Chelimo said. "As long as I back it up with races and winning races, it's fine."
Paul Chelimo interview
Matthew Centrowitz interview
Emily Sisson interview, she's getting ready for spring marathon debut
Sisson is known for being in Ray Treacy's Providence group, but said she now spends most of her time in Arizona, either Flagstaff (high altitude) or Scottsdale (low altitude). She's starting to gear her training for a spring marathon debut.