Tirunesh Dibaba Plans to Chase World Record at 2018 BMW Berlin Marathon
By Jonathan Gault
September 14, 2018
Eliud Kipchoge is not the only person who will be chasing a world record in Berlin this weekend.
While much of the coverage of Sunday's Berlin Marathon has centered around Kipchoge, who will attempt to erase Dennis Kimetto's 2:02:57 from the record books, Ethiopia's Tirunesh Dibaba also has her eyes on Paula Radcliffe's 2:15:25 women's world record from 2003.
Article continues below player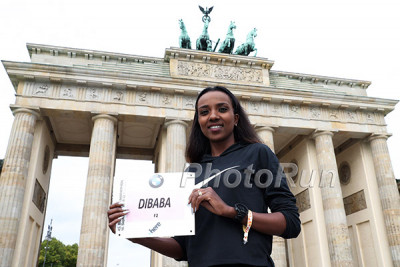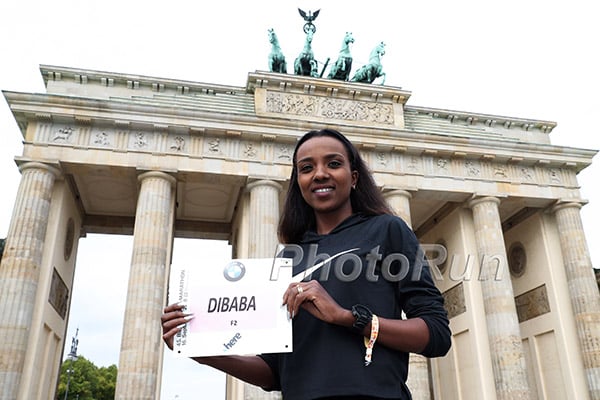 Dibaba's agent Mark Wetmore told LetsRun.com that her plan is to go out at or slightly behind world-record pace, though he noted that it is dependent on how Dibaba is feeling on the day. In her last marathon in London in April, Dibaba was determined to follow Kenya's Mary Keitany no matter the cost. On an unseasonably warm, sunny day in London (temps rose into the 70s Fahrenheit), Dibaba went out in 31:46 (2:14:03 pace) and but wound up falling off the pace by 10 miles and eventually dropped out.
This time around, Wetmore says, Dibaba wants to go out hard, but avoid a scenario in which she costs herself a chance at a fast time (and the win) by running too fast early in the race. Ideally, Wetmore says, she would be controlled enough at the halfway point that she is still feeling good but fast enough that she could challenge Radcliffe's world record with a fast second half.
"When she's run really well on the track, she's run well in the second half," Wetmore says. "But after London, she wants to put herself in a position where she's very fast, but not deep in the well."
Still, going out on anything close to world record pace is a risk, even for a woman whom many consider to be the greatest female distance runner of all time. But Wetmore says that Dibaba believes now is the time to take that risk.
"Obviously it's high risk to go out at that pace, but she sees this as her one opportunity to do it," Wetmore says. "She felt, just looking at 2019 and 2020, this was the one year that she was going to be able to run Berlin, because of [the 2020] Tokyo [Olympics] and maybe because of [the 2019 World Championships in] Doha. And Berlin is one of those races that I think every elite athlete just wants to have a go at it. Because this course, in many ways, is the standard of how fast you are able to run. I think she thinks she can run fast in Chicago and obviously London was fast [in 2017, when Dibaba ran 2:17:56]. But Haile Gebrselassie had mentioned how fast Berlin is. And I think she hears that great track athletes that have been successful in fast track races like she has, they can do well here."
Indeed, Gebrselassie, like Dibaba a legend in their native Ethiopia, found great success in Berlin, winning the race four straight times from 2006-2009, including world records in 2007 and 2008. Both Gebrselassie (two Olympic golds, four World Championship golds) and Dibaba (three Olympic golds, five World Championship golds) have stellar track resumes, and while this will be Dibaba's first crack at Berlin, she has already put together an impressive marathon career: her 2:17:56 pb makes her the third-fastest woman ever, and last year won the Chicago Marathon in 2:18:31 — the sixth-fastest time ever by a woman.
Back in 2014, American Shalane Flanagan made a similar decision to Dibaba's, passing up bigger paydays from American marathons to chase Deena Kastor's American record in Berlin. Though Flanagan came up short of Kastor's record, she clocked a time of 2:21:14 that remains her personal best to this day. Dibaba likely would have commanded a hefty appearance fee from Chicago, where she is the defending champion, but, like Flanagan, decided to test herself in Berlin.
It is certainly conceivable that Dibaba, 32, can run faster than her current personal best considering stomach problems cost her about 20 seconds in that race (she stopped to dry-heave with two miles to go). Dibaba will have a personal male pacemaker, Abdi Ali, who has spent the last few weeks training with her in Ethiopia, and the weather forecast (temps in the high-50s/low-60s, partly cloudy, 6 mph winds per Weather.com) looks pretty good for running fast.
World record attempts can fizzle — one need look no further than Keitany and Dibaba in London this past spring — but it is clear that Dibaba came to Berlin to test her limits. Exactly where those limits reside will be revealed on Sunday.