Meet the Guy Who Picked Both Des Linden and Yuki Kawauchi to Win The Boston Marathon
Guy picks both Boston winners, another guy finishes in top 3 in both Boston and London contests, former head of Brooks sports marketing Jesse Williams wins adidas sub 2 shoes
by LetsRun.com
May 8, 2018
Now that the spring marathon season has largely come to an end, it's time to meet the big winner of the spring season.
Sorry Des Linden and Galen Rupp. It's LetsRun.com visitor Freddy Garcia.
In our $200,018 Running Warehouse Boston Prediction Contest, Garcia picked both longshot champions, Des Linden and Yuki Kawauchi to win. For doing that, he not only won the contest, a $100 Running Warehouse gift certificate, and the much-anticipated adidas sub 2 shoe, but eternal bragging rights.
Who is Freddy Garcia?
Freddy is a married 39-year-old father to an 8-year-old boy and twin 4-year-olds (boy and girl). In addition to having twins (a very good thing at LetsRun.com), he's a huge Dallas Cowboys fan (also a very good thing). He's also passionate about Bon Jovi and University of Michigan athletics, but first and foremost he's a running lifer.
A daily LetsRun.com visitor, Freddy trained with Olympian Gabe Jennings at a UW Madison running camp, his father-in-law is Mike DeWitt, the coach at University of Illinois-Springfield, his own collegiate coach, Lucian Rosa, ran for Sri Lanka in the 1972 Olympics (and was profiled on LetsRun.com), his roommate Pat Frascone was the 2002 NCAA DIII indoor 5k champ. Freddy himself ran for the University of Wisconsin-Parkside before transferring to UW-Whitewater. Now he's an educator who coaches cross country and track at his alma mater, Kenosha Tremper High School in Wisconsin.
As for Freddy's improbable picks, he just wasn't going for the total longshots. He had a little strategic thinking going on and then the day of the race decided Des would survive the weather better than Shalane Flanagan and he was right. He wrote us:
Article continues below player.
 "On the men's side I thought Galen Rupp was going to win, but for the sake of the contest I picked Yuki because I didn't think anyone was really giving him a shot. For the women I initially picked Shalane Flanagan to win but I was hoping Desi could pull it off. Early Monday morning, when I saw how terrible the weather was, I decided to change my picks and I chose Desi because I know how bad the weather has been in the midwest and I felt that in her previous Boston's she has run the course better than anyone else. I picked an American sweep knowing that Shalane and Molly Huddle are also tough runners, but I felt that Desi's Boston expertise gave her the edge. The weather also gave me more confidence that Yuki could pull it off based on his phenomenal New Year's race.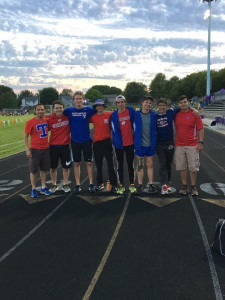 "While watching the race, when Daska and Kirui pulled off their gloves I thought that would come back to haunt them later in the race. Seeing Desi catch Daska and pull away was pretty exciting but seeing Yuki in 2nd with less than 5K to go got me pretty amped. When he caught and dropped Kirui I thought that there was a good chance that I could win this contest and low and behold it happened. But regardless of winning the contest, I was very inspired by both of these athletes and all of those who competed at Boston this year. I managed the heat in 2012, but I don't think I could have handled the brutal cold."
Freddy also writes that a few years ago he won a prediction contest at another running website where he was promised signed spikes from a former legend of the sport as a prize. All he got was a t-shirt instead. Freddy, we promise you will get your adidas sub 2 shoes and gift certificate. Running Warehouse and LetsRun.com will not let you down.
Masters Ace Jeremy Brown Finishes 2nd in Boston Contest, 3rd in London
Maybe as impressive as Freddy picking both Boston winners correctly is the performance of 41-year-old Jeremy Brown, who is a professor of modern Chinese history at Simon Fraser University in British Columbia, Canada.
Jeremy finished second in the Boston contest and then third in our London prediction contest. Jeremy lives on top of Burnaby Mountain, which is a 10-minute walk from his office. He's from Iowa, ran two years in college at Lewis & Clark, and then quit running competitively for nearly two decades (he tried to run while studying abroad in Harbin, China but the pollution and black ice on the streets were too bad).
Now in "large part" because of "the Letsrun community pointing (him) toward smart training plans" Jeremy is racing competitively again. At age 41, he says he's not running that fast, but we beg to differ, as he's bettered his lifetime PBs in every distance except 800 within the past two years. He says BC is great for masters runners.
Jesse Williams, Former Head of Brooks Sports Marketing, Finishes 3rd in Boston Contest
The third placer in the Boston contest is a familiar name. It's Jesse Williams — yes, the Jesse Williams who was the head of sports marketing at Brooks for 13 years. Jesse's living in California now and about to launch a new business. He naturally picked Hansons-Brooks athlete Des Linden for the win and was rewarded. We think it's fair to say without the support of Brooks through the years, Des Linden doesn't win Boston. And the good thing with Jesse no longer working at Brooks is he can try out the new adidas sub 2 shoes.
Jeremy gets a pair of adidas sub 2 shoes as well for finishing second in the Boston contest. He also won a pair of New Balance 1400 v6 for the London contest, but we'll recap that in a separate article.
Thanks to all those who played and a big thanks to Running Warehouse for sponsoring the contest. Remember, they are the leaders in online running for a reason. They know their stuff and have free shipping both ways. If you need a pair of shoes, click here.