Big Prize Money, Big Charity Donation, But No Drug Testing: What's Up With Chip Gaines' Silo District Marathon?
By Jonathan Gault
May 8, 2018
When she received the link two weeks ago, Betsy Saina thought it was too good to be true. It had been three years since she had seen her sister, Mildred, and Saina had been planning a visit. And now here was a message from Mildred telling her about a new race, the Silo District Half Marathon, offering big-time prize money — $10,000 for the win. The best part? The start of the race was a 10-minute drive from Mildred's house in Waco, Texas.
Though the race would take place on May 6 — just four weeks after Saina ran 2:22:56 to win the Paris Marathon — the chance to visit her sister and win some serious dough in the process intrigued Saina, a 69:17 half marathoner who finished 5th in the 10,000 meters at the 2016 Olympics for Kenya. She searched the race website for a way to add herself to the elite field, but could only find a phone number for general inquiries. Saina called it, and found out that, despite the five-figure payout, she could not join the elite field because the elite field did not exist. She was welcome to sign herself up for the race, but she would have to pay the entry fee — $161, including tax — and cover all travel expenses herself.
Article continues below player
Saina, 29, was still considering running the race, particularly when she learned that all profits from the race would go toward the Brave Like Gabe Foundation, a charity founded by pro runner and cancer patient Gabe Grunewald that supports rare cancer research. But before Saina plunked down the entry fee, she wanted a better idea about her chances at victory. So she called the number again to find out who else was running.
"They were like, We don't know," Saina said. "It's just like they have no idea…they didn't care who is coming to run it…It was really ridiculous. I've never seen a race that they put $10,000 in [prize money] and there's no elites. Nobody even knew my name."
Still undecided on the race, Saina booked her flights to Texas anyway in order to visit Mildred. Finally, on Friday, two days before the race, Saina decided she would do it. There was only one problem. The half marathon was sold out. But, a staffer told her, if she signed up for the full marathon, she could exchange the bib for a half marathon one when she went to pick it up. So when Saina went to pick up her bib, she got in the half marathon line and, presto! She was in the half marathon field.
Saina had taken two weeks off after Paris and, save for one fartlek session, had done barely any serious training since the race. As a result, she entered the race with two plans. She would go out with the leaders. If the pace remained hot, she would back off and treat the race as a 13.1-mile long run. But if it looked as if she could win the race — and the $10,000 — by treating it as a long tempo, she would try to do that instead. So as race day dawned in Waco, mid-50s and muggy, Saina scanned the start line for familiar faces. She found a couple, but no one close to her level.
I think I can get away with this, Saina thought to herself.
The gun went off and Saina looked around the lead pack. It wasn't a dream. It really was going to be that easy.
"We're running 3:50s [per kilometer, 1:20 half marathon pace]," Saina said. "Who does that? There's $10,000 on the line. And I was like, well this is great."
Saina picked it up, cruised through the finish in 1:11:48 — 15 seconds ahead of runner-up Vicoty Chepngeno and slower than Saina's pace for the full marathon in Paris — and picked up a cool 10 grand. Speaking the day after the race, Saina had two concluding thoughts.
"This is my first race in life paying the registration fee to start the race. And this is my easiest money to win ever in my life."
Big money…
The Silo District Marathon, Half Marathon, and 5K did not exist until this year. The race's origin dates back to October 2017, when Grunewald bumped into Chip Gaines, who stars in the HGTV show Fixer Upper with his wife Joanna, in Central Park. Grunewald is a fan of the show and told him about her running background and how she had continued to race throughout the 2017 season despite battling adenoid cystic carcinoma. Inspired by her story, Gaines decided that he would run a marathon, and took on Grunewald as his coach. And rather than run an established race, Gaines decided to stage his own race in his hometown of Waco. The Silo District Marathon was born.
Gaines, 43, wound up completing the race — while wearing a tool belt — in 5:21:54, while Grunewald won the 5K in a modest 19:46. In all, 3,150 runners signed up for the 5K, 2,150 for the half marathon, and 750 for the marathon with the races raising $250,000 for the Brave Like Gabe Foundation. And Saina was not the only athlete with Olympic ties to win in Waco; Kenya's Julius Keter — grandson of 1968 Olympic 1500 champion Kip Keino — won the men's marathon in 2:16:20, taking home $15,000 in the process.
In all, between the marathon and half marathons, Silo District paid out $88,000 — a staggering total for a first-year race with no professional fields. In the marathon division, the base compensation for the first- through third-place finishers was comparable to the Volkswagen Prague Marathon, an IAAF Gold Label Race held on the same day with nearly 10 times as many entrants.
| | | |
| --- | --- | --- |
| Place | Silo District Marathon prize money | Prague Marathon prize money |
| 1st | $15,000 | $17,850 |
| 2nd | $7,500 | $8,925 |
| 3rd | $4,000 | $5,950 |
Prague wound up paying out more money overall as Prague paid the top 10 finishers and the first- and second-place finishers in both the men's and women's races earned significant time bonuses, but the comparison between the third-placers in each race was interesting. In Prague, Stephen Chemlany and Amane Gobena earned $5,950 each for running 2:09:42 and 2:27:43, respectively. Meanwhile, in Waco, Christopher Chipsiya and Ladia Albertson-Junkans earned $4,000 each for running 2:18:41 and 2:41:52 (and both could have run significantly slower as fourth place was 2:22:10 on the men's side and 2:46:23 on the women's).
The total purse of $88,000 was also larger than that of the Lilac Bloomsday Run, also contested on Sunday, a well-known 12K road race in Spokane, Washington, that attracted Ethiopian road racing stars such as Jemal Yimer (59:00 half marathon), Buze Diriba (14:50/31:33 on the track), and Mamitu Daska (third at last year's New York City Marathon).
How did Silo District pull together the funds to offer such a large purse, and why did they care about attracting the pros? The why is harder to answer than the how as race organizers declined to comment. John Marsicano, a PR representative of Magnolia, the Chip and Joanna Gaines-led company that staged the race, declined all comment other than to confirm the number of entrants and the amount of money raised for charity. Magnolia also declined to make anyone else involved with the race available for comment. But looking at entry fees alone ($150 for the full, $135 for the half, and $45 for the 5k), they would have brought in $544,500 and Gaines' celebrity status certainly helped attract sponsors — the race website lists Target as the official sponsor, as well as 15 additional sponsors.
…but no drug testing?
The Silo District Half Marathon represented a couple of firsts for Betsy Saina. Not only was it the first race in her life where she had had to pay the entry fee, but, according to Saina, it was also the first race of her professional career which did not conduct post-race drug testing. This struck Saina as odd.
"I saw the money and I knew for sure there would be drug testing," Saina said. "That was what I was assuming anyway, because who would pay you $15,000 or $10,000 without drug testing?"
Neither Saina nor any of the other athletes who received prize money were drug-tested even though initially, Magnolia had stated that there would be drug testing at the race.
On March 23, more than six weeks before the race, the Magnolia Market Facebook account responded to a question from local coach Gary Brimmer by confirming that there would be drug testing.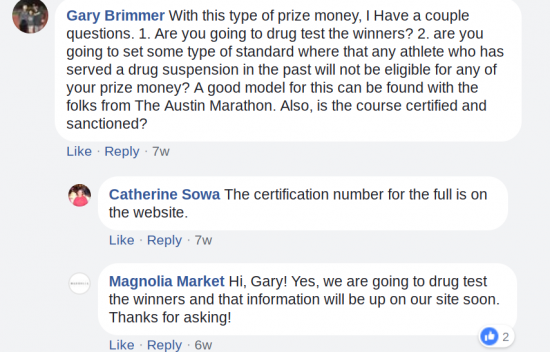 On Twitter, athlete management firm NES Elite also said that it had been told there would be drug testing at the race.
This makes me furious! I spoke with organizers before and was given multiple assurances of testing. ?

— NES ELITE (@NES_ELITE) May 7, 2018
But neither of those statements match the Silo District website, which reads: "While Silo District Marathon is not enforcing drug testing at this time, we are a certified and USATF sanctioned race. We reserve the right to drug test if we deem necessary."
Perhaps predictably, the race attracted multiple athletes who have served doping bans, including Ethiopia's Alene Reta, who won $10,000 by winning the men's half marathon in 1:03:30, and American Mary Akor, who finished fourth in the women's marathon in 2:46:23.
Few people know more about American road racing than David Monti, editor and publisher of Race Results Weekly and a race consultant for numerous road races, including the TCS New York City Marathon. But Monti, like most of the running world, only learned about the Silo District race recently.
"This is a great example of how athletes who aren't clean can exploit loopholes," Monti said. "Nobody has heard of the race. [But Alene Reta] has heard of it.
"If you're going to be in the professional end of the sport, you have to take some responsibility so that you're safeguarding clean athletes and safeguarding your event from people who would take advantage of you. And it seems like they didn't really think about it."
Monti estimated that it for a race of its size, it would have cost around $5,000 to $6,000 to conduct drug testing, but that number could be lower depending on the number of athletes tested. Major marathons such as New York or Chicago generally test 10 men and 10 women, but for a smaller race such as Silo District, which only pays the top three finishers, that level of testing would not be required. One test, including blood testing, runs $500. Add in the travel expenses of the USADA tester and "you could have an adequate program and claim you have drug testing for $2,000," according to Monti.
And in a race like this, even the threat of drug testing could be enough to scare certain athletes off. At Silo District, Saina said that it seemed as if many of the athletes in the field knew that there would be no post-race drug testing.
"If they would have said before the start of the race, even by lying to the athletes, saying 'Okay, we have drug testing right after you cross the line,' I'm pretty sure people would have pulled out of the race right away," Saina said.
And so if the race — which, again, raised $250,000 for cancer research — is to return for a second edition in 2019, it is clear to the athletes what needs to change.
"I wish that we were tested," wrote Ryan Dohner, who finished second in the men's half marathon behind Reta, in a tweet. "The event itself was great, but with the amount of prize money given, they did need to test."
"The race organizers are really amazing, they are great people, but I think they are not aware of the athletes," Saina said. "Maybe they think everybody is clean? Some people [don't] understand about the running world so I think that's the reason why they just throw that money out, assuming. It's good to put a race out there for everyone but then drug-testing could have been a huge support for them to make sure that clean people will take the money."