17-Year-Old Jakob Ingebrigtsen Destroys Paul Chelimo and Matthew Centrowitz to Win Payton Jordan 1500m
by LetsRun.com
May 3, 2018
17-year-old Jakob Ingebrigtsen of Norway crushed the field the final 200m to win the Payton Jordan 1500m in a new PB of 3:39.06, beating Olympic 5000m silver medallist Paul Chelimo (2nd in 3:40.16) and Olympic 1500m champion Matthew Centrowitz (6th in 3:40.74) in the process. Ingebrigtsen beat Chelimo by roughly 8 meters as the 17-year-old not only stunned the field, but he absolutely dominated the final lap.
Ingebrigtsen's win was the highlight of the meet, but his brother Henrik won the 5000m, Sara Vaughn continued her great story by winning the 1500, and Shadrack Kipchirchir won the 10,000m.
First a recap of the 1500.
The rabbits took the field through a modest opening 700 of 1:42.0 and the pace would slow the next lap, but the field was content to let the rabbits have a gap on them. Rabbit Daniel Herrera stayed in until 300m to go and had a gap on the field at the bell (2:42.72) as Stanford runners Grant Fisher and Sean McGorty led the chase with Chelimo. Ingebrigtesen, who had been second to last with 2 laps to go, moved up into 5th at the bell.
Ingebrigtsen struck on the backstretch with just over 200m to go, passing Paul Chelimo on the inside and opening up a quick gap that he would only lengthen to the finish as he crushed many of America's best 1500m runners.
Article continues below player.
Ingebrigsten afterwards in the Flotrack tweet below said, "I was just waiting on the backstretch for someone to kick and no one did so I had to go on the inside for the win because no one else would."
Big win for @JakobIng at Payton Jordan! pic.twitter.com/hzSppAkj2v

— FloTrack (@FloTrack) May 4, 2018
Race Video: Fan video of race here for non Flotrack Pro subscribers.
Quick Take: Move over Jim Ryun and Alan Webb and make some room for Ingebrigtsen 
Don't let the slow time for a rabbited race with pros fool you, this was a tremendous run by Ingebrigtsen. Some of the guys may have not brought their "A" game, but Jakob destroyed a very good field, beating everyone else by over a second, and ran nearly a second faster than he had in his life (previous best 3:39.92). Absolutely shocking that he won this race by so much. Ingebrigtsen already was the youngest person to go sub-4 in the mile, but now he enters the territory of Jim Ryun (3:55.3 for the mile as an 18-year-old) and Alan Webb (3:53.43 as an 18-year-old) in the talk of the greatest Western high school milers. (Age cheating in Kenya and Ethiopia makes it difficult to compare their exploits).
Jakob showed maturity beyond his years. Young collegians Grant Fisher and Sean McGorty went to the lead at the bell and got spit out the back the final lap by the pros, despite closing in 57 seconds. Jakob, meanwhile, crushed everyone.
QT #2: Ingebrigtsen's still the 3rd slowest 1500m runner in his family by 6+ seconds
Jakob comes from a tremendous running family. His older brother Henrik has won the European 1500 and run 3:31.46 while his middle brother Filip has run 3:32.43 and won the 1500m bronze at Worlds last year, so Jakob still has some catching up to do. Crazy to think they've both run more than 6 seconds faster than him.
QT #3: Where is the Matt Centrowitz of old?
Something is still off with Centro. The in-form Centro would dominate a modest paced race like this.
Results (splits below)
1 Jakob Ingebrigtsen Jrs Sports Management 3:39.06
2 Paul Chelimo U.S. Army 3:40.16
3 Eric Jenkins Nike OP 3:40.28
4 Colby Alexander Hoka One One/NJNY TC 3:40.42
5 Craig Engels Nike OP 3:40.45
6 Matthew Centrowitz Nike Oregon Project 3:40.74
7 Grant Fisher Stanford 3:41.24
8 Hiroki Matsueda Fujitsu 3:41.28
9 Sean McGorty Stanford 3:41.49
10 David Ribich Western Oregon 3:45.74
— DNF Daniel Herrera High Performance West
— DNF Michael Wilson New Mexico
Other Action
Women's 1500m Sara Vaughn Wins
The feel good story of Vaughn, the mom who made Worlds last year, continued as she got a comfortable win.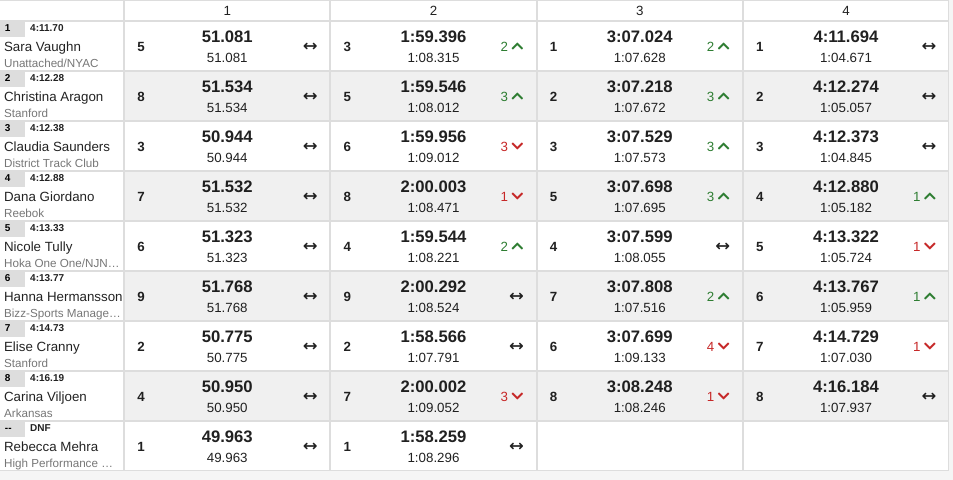 Men's 5000: Ingebrigtsen x2
Henrik Ingebrigtsen made it a great day for the family as he followed up his little brother's win in the 1500 with a win in the 5000. Riley Masters was only 6th at the bell but had a tremendous final lap to only lose by .005 to Ingebrigtsen. Justyn Knight had to settle for first collegian, coming up short of his 13:17.51 pr. Masters had run 13:17.91 in 2014 and this was quite the 5000 for Ingebrigtsen (previous PR 13:27.10 from 2015).
Women's 5000: Bahta Wins
Bahta had the best PR coming in (14:49) but didn't go as fast as some might have expected. Allie Ostrander was with the lead pack until she fell to the track in the final mile and would finish 18th. (click on image below for more results)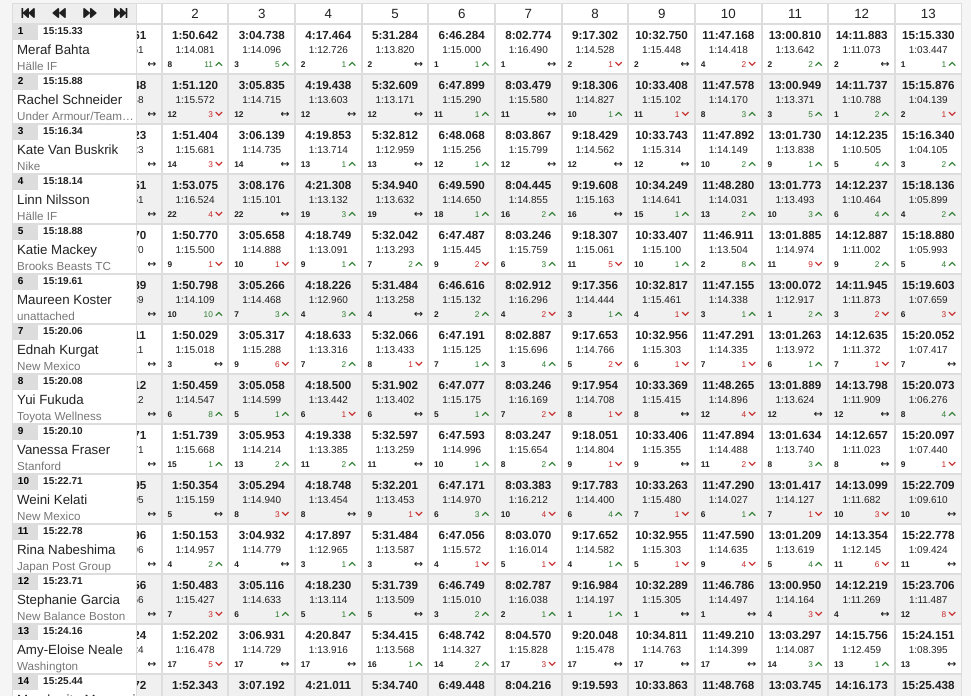 Men's 10,000
Shadrack Kipchirchir got the win. Suguru Osako dropped out with 6 laps to go.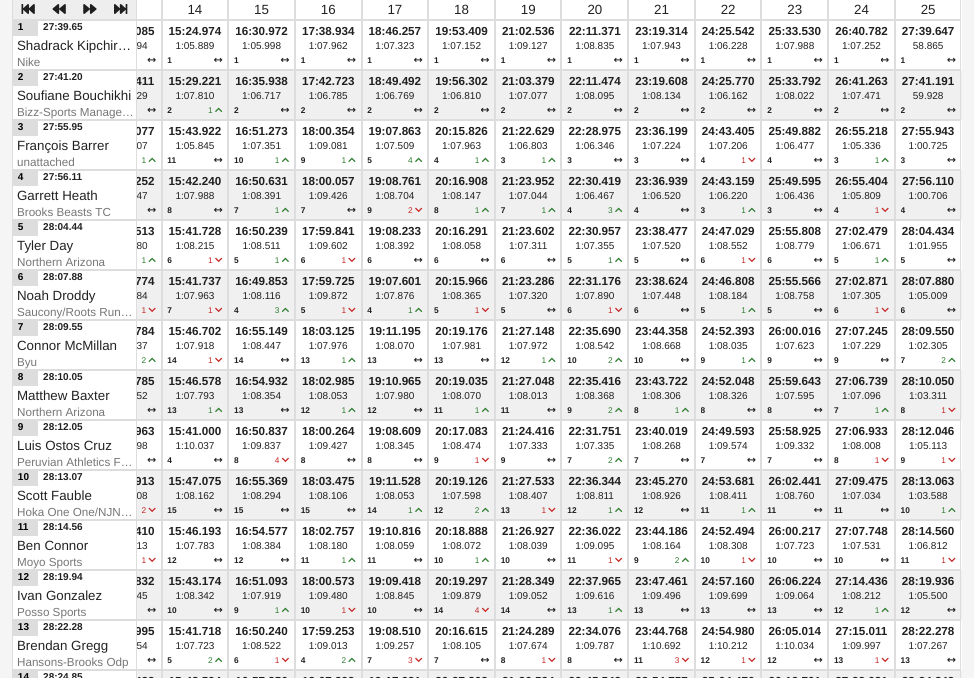 Women's 10,000
Jessica Tonn won.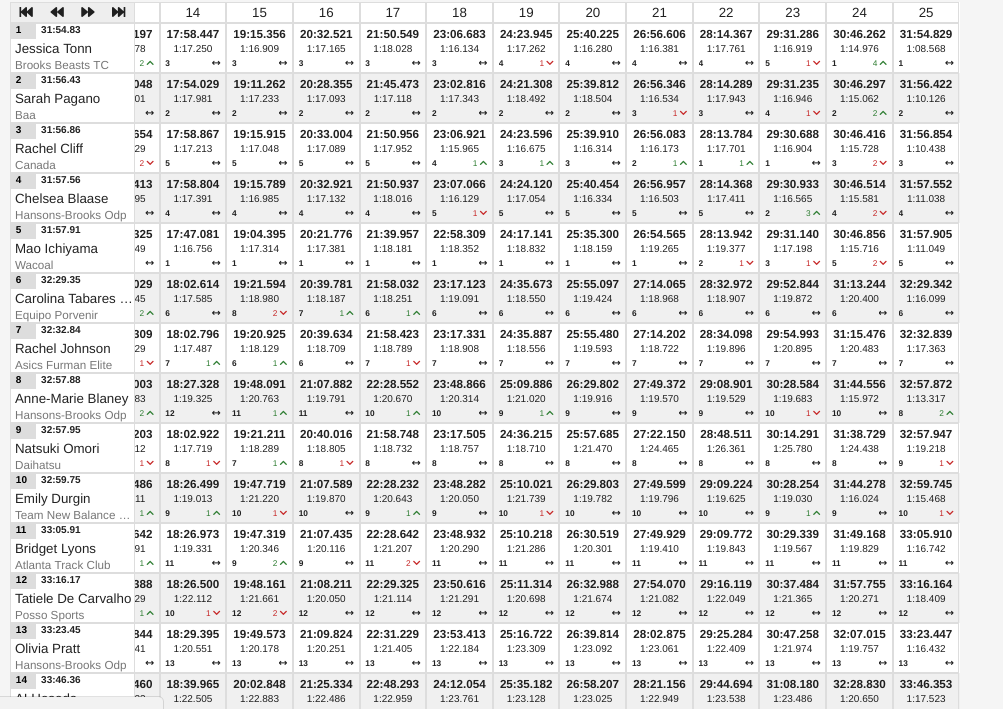 Men's 800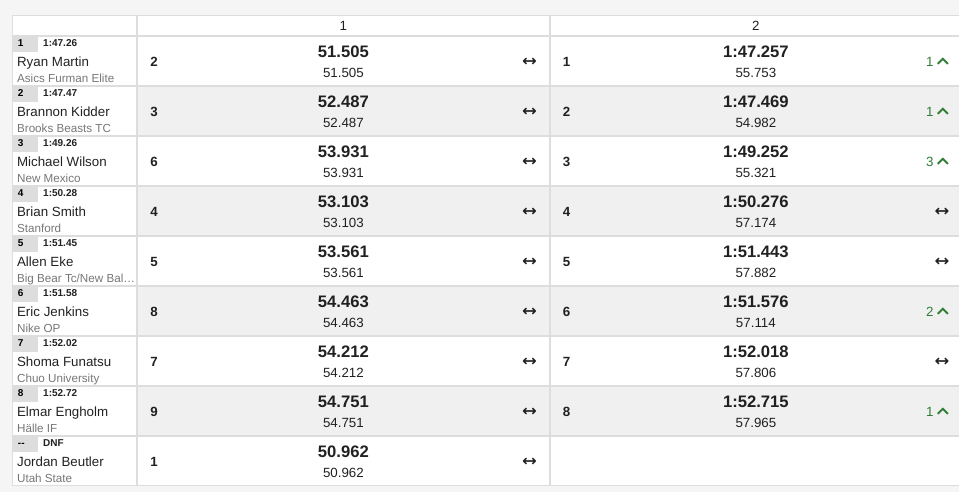 Women's 800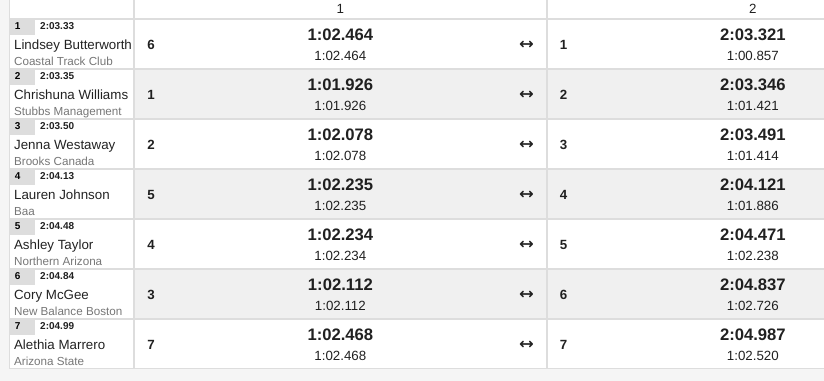 Men's Steeple
Women's Steeple
Great day for the Ingebrigtsens:
Jacob Ingebrigtsen smadret OL-mesteren – https://t.co/Lg5Mok3qCL https://t.co/GugbOFdjZI pic.twitter.com/EGEZjhDxuq

— TV 2 Nyhetene (@tv2nyhetene) May 4, 2018