A Marathon for the Ages in London? Eliud Kipchoge vs. Kenenisa Bekele Has the Potential to Be an All-Timer; Plus More From Men's Media Day
By Jonathan Gault
April 19, 2018
LONDON — Kenenisa Bekele and Eliud Kipchoge have waged some epic battles on the track during their storied careers. At the 2003 World Championships in Paris, an 18-year-old Kipchoge won one of the great races of all time, defeating Bekele (the greatest long distance runner ever) and Hicham El Guerrouj (the greatest miler ever). Five years later, Bekele turned the tables by producing arguably the finest 5,000-meter performance in history to defeat Kipchoge for the Olympic title in Beijing.
But so far, the two legends have yet to produce a defining marathon showdown. In three head-to-head encounters, Kipchoge has come out on top comfortably each time, defeating Bekele by 1:40 at 2014 Chicago, 3:31 at 2016 London and, most recently, winning 2017 Berlin in a world-leading 2:03:32, in a race that Bekele could not even finish.
Article continues below player
Individually, Kipchoge rips off essentially one exceptional marathon performance every time he goes to the start line as his marathon record now stands at nine victories from ten starts, with the course record in London (2:03:05) and the fastest 26.2-mile time ever by a human (2:00:25 at Breaking2 last year). However, it is Bekele who has the faster official personal best (2:03:03 from 2016 Berlin), and while Bekele has yet to bring his A game to any of his matchups with Kipchoge, he is one of the few men on planet earth, who at his best, has a chance to challenge the great Kipchoge at his best in the marathon.
With three days to go until the two men square off at the 2018 London Marathon, the air of anticipation is growing here in the British capital, and after talking to the protagonists today, it seems we could be in for a very special race on Sunday. Here's what I learned from men's media day today, beginning with the potential Bekele-Kipchoge showdown.
The Bekele Camp Is Very Optimistic About Sunday's Race
On paper, Bekele-Kipchoge IV has a chance to go down in history as one of the great marathon duels, but as we saw in Berlin last year (and London and Chicago before that), it's hard to get two athletes firing on all cylinders on the same day. Perhaps I should rephrase that, considering Kipchoge has run an outstanding race in all three of their encounters: it's hard to get Bekele firing on all cylinders in a marathon.
Speaking to Bekele today, he stressed that his health was a key factor in his victories in Paris (2014) and Berlin (2016).
"Health was very important," Bekele said. "I was healthy during those two buildups, my health was going well. Other races, I was struggling with injury, not 100% injury-free. To run with injury [in a] marathon is a challenge."
Indeed, Bekele's natural gifts are so great that if he can simply make it through a marathon buildup healthy, that is enough to produce a strong result. Each of the elite men at today's press conference were asked which technological innovation has benefited them the most throughout their careers. When it came time for Bekele to answer, he pondered the question for a few seconds, a bemused expression on his face, and rather than cite shoes or gear or gym equiment, he offered up just one word:
"Talent."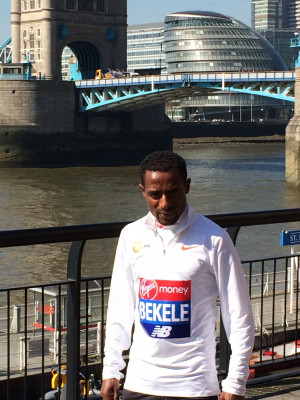 That has been the biggest factor in Bekele's success, particularly in the marathon, where he's run better than he is given credit for. Though Bekele himself said today that he felt that only two of his marathons had gone well (the two that he won), he is holding himself to the standard of the greatest distance runner of all time, where anything but victory is unacceptable. But his immense talent has carried him to some solid results in a few other marathons despite less than perfect buildups.
Especially notable were his two previous appearances in London. In 2016, he came into the race having missed almost all of 2015 with a calf injury yet managed a surprising 2:06:36 for third. Last year, despite an extremely abbreviated buildup (injuries from his fall at the Dubai Marathon in January persisted well into February), he ran 2:05:57 for second. After the race, his former coach Renato Canova, who drew up Bekele's training plan for the race, said that no other runner could have broken 2:10 off of Bekele's buildup, adding that Bekele's engine remains "at the top of the world" and that, with a good five-month buildup and good conditions, Bekele could run "near 2:01." For a marathon.
So naturally, the question in London today was whether Bekele is healthy, and the news sounds good. Before previous marathons, Bekele has stated that his training has not always been ideal — he said he was only 90% before 2016 London, 80% before 2016 Berlin (which may have been a little low, considering he ran 2:03:03), and 90% before Berlin last year. But today, Bekele said that he has been injury-free during this buildup, and when I asked him what changed between his 2017 Berlin buildup and this one, he used the word "health" or "healthy" four times and "injury-free" once (he also noted that he was eating healthier this time around).
I also managed to speak to Bekele's agent Jos Hermens today, who also spoke excitedly about Bekele's chances (for the record, Bekele and Hermens looked to be getting along well today even though it was reported in October that Bekele was "dismayed" with Hermens after Hermens told LetsRun.com that he believed Bekele needed to become more "professional" after dropping out in Berlin last year). Hermens noted that before the Berlin Marathon last year, Bekele only arrived on Friday, which was not ideal for a Sunday race as he had to deal with jet lag on Friday and media obligations on Saturday and that athletes often don't sleep well the night before a race anyway. This was also an issue for Bekele before Chicago in 2014, as noted here. But Bekele has been in London since Tuesday, and with his media obligations wrapping up today, he has two full days to rest up and sleep well before the race.
With regard to Bekele's business interests, such as his hotel and training center (which he said Mo Farah used a few times while he was training for London in Ethiopia) he said that it has not been difficult to balance them with training in this buildup as it's far from a full-time job — he generally spends 2-3 hours, three days a week, managing his businesses. (In case you're wondering, Kipchoge doesn't own any businesses but he does own a 60-acre farm in Kenya with 20 cows).
It is hard to know exactly what kind of shape Bekele is in as he ran no prep races and when I asked him for specific details about his training, the most he would offer was that he ran a "long run with [a] good time." Add in the unpredictable nature of the marathon and it would be wise not to 100% expect a supreme performance from him given his inconsistent previous performances at the 26.2 distances.
That being said, everything sounds like it has been going extremely well for Bekele and it must be remembered that he has finished 3rd and 2nd in London the last two years with two far worse buildups than the one he just put in. If his body holds up, he may finally be ready to challenge Kipchoge over 26.2 miles on Sunday.
Eliud Kipchoge Wants to Run a "Beautiful" Race on Sunday
The marathon is such a long race, and the buildup itself such a long process, that there are inevitably questions about almost every athlete's fitness before the start of every 26.2 mile race. But Kipchoge has become as close to a constant as is possible in the marathon. One of the reasons is that he has found a system that works under coach Patrick Sang and that system has remained mostly unchanged for most of Kipchoge's marathons, including this one.
Sang does not rely on the results of key indicator workouts to gauge how Kipchoge will perform on race day. Instead, he goes into each session with a specific effort level in mind — it might be 60% for one workout, 90% for another — and trusts that, taken collectively, those sessions will carry an athlete to his peak on race day, at which point he can unleash his full potential.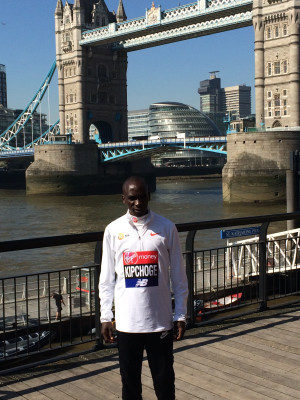 "If you can finish any session comfortably at the effort that we are targeting, that's a good indicator that we are on course," Sang said. "So we are not looking at a specific session to see, Are we there? It's a progression toward the goal."
Once again, Sang felt Kipchoge has checked all the boxes in this buildup and will be ready to go on Sunday. He was also optimistic about 2016 Chicago champ Abel Kirui, 35, who has been in his group for a year now, and said that he thinks under ideal conditions that Kirui is capable of lowering his 2:05:04 pb on Sunday.
"He has translated very well into our program," Sang said. "Last year before Chicago, he had a few challenges injury-wise, but he has developed well."
As for Kipchoge, the only item missing from his marathon resume is a world record, which he missed by just eight seconds the last time he ran London in 2016. I asked him how important was it for him to break it on Sunday.
"Sunday, I'm planning a beautiful race," Kipchoge said. "I can't give really insight on running a world record, but I hope to run a very beautiful race."
What does that mean?
"It means a race whereby all the fans will be satisfied and myself will be happy."
Kipchoge then noted that of all his races, he views Breaking2 as the most beautiful as he was able to do the "unthinkable" and run 2:00:25 — a time that far exceeded almost everybody's expectations.
Speaking of beautiful races, Kipchoge's training mate Geoffrey Kamworor just ran one of his own in Valencia at the World Half Marathon Championships. So who would win between them in a half marathon?
Kipchoge declined to answer, saying that he's concentrating on the marathon at the moment, but said that he hopes to one day pass the mantle of world's greatest marathoner on to his protegé.
"I hope Geoffrey will be me in future in marathon," Kipchoge said.
One other note about Kipchoge: it's just cool to listen to the guy talk. Whenever Kipchoge speaks, he is poised, considered, and wise; it seems as if every word that comes out of the his mouth could be framed and put on someone's wall. My favorite Kipchogeism from today came after he was asked why he tends to smile when he is hurting at the end of a race.
"A smile is what actually ignites my mind to forget about the pain. That's the beauty of a smile."
Could We See a 61:00 Opening Half?
We won't know exactly how fast the pacemakers will be going until later in the week, but asking around the meet hotel, the number I heard was 61:00, and Sang confirmed that that would have been the plan under ideal conditions. However, given the warmer than ideal temps in the current forecast with temperatures expected to be approaching 70 at the finish, that may be scaled back a bit.
In case it isn't obvious to you, 61:00 is fast. It's well under world record pace (61:28) and 11 seconds faster than the fastest ever halfway split in a marathon (not counting Breaking2), which came at 2016 Berlin. But given that Kipchoge ran 2:00:25 in Monza and 2:03:32 last year in Berlin despite cool, wet conditions, it's actually not unreasonable to think he could run something close to 2:02:00 in London under perfect conditions. The question is, how many others would be brave (or foolish) enough to go with him?
The Mercurial Guye Adola
There are more runners in the men's field than just Bekele and Kipchoge (Editor's note: We'll have a breakdown later in the week of the other studs but here is the list), and one of the best is Guye Adola, who is coming off the fastest debut marathon ever (2:03:46) in Berlin last year, where he took it to Kipchoge — Adola actually led the race with under 5k to go — before Kipchoge ultimately prevailed. Adola has run two prep races this year, and he competed well in both as he ran 60:15 for second in Houston in January (winning time in 60:01) and was 4th at the Riyadh Half in Saudi Arabia that featured a $266,650 first price on February 25 in 62:07 (winning time was 61:54). It was hard to tell what to make of Adola's explanation for the slow time in Riyadh as he said he struggled with the heat, but the high that day was only 75; meanwhile, Adola said he was really enjoying the London weather, and it was in the 80s today. Perhaps it was the humidity in Riyadh as it was over 80% in the morning that day according to Weather Underground.
After Berlin, Adola famously claimed that he only found out he was running four days before the race. While that's not quite true, it is a telling anecdote about Adola's approach to training, which is very much spur of the moment. While he's been signed up for London for some time — he was approached by the London organizers almost as soon as he crossed the finish line in Berlin — Adola does not like to be ruled by long-term goals as he is obsessive about listening to his body.
So while was committed to trying to run London, his coach Gemedu Dedefo said that Adola was only 100% decided about running London last month.
"Guye, he is not like the other athletes," Dedefo said. "He listen to body and decide[s] in last month. If his body [is] telling him he can run full marathon, he decide [to do it]."
So the very fact that Adola is here is a good sign, and Dedefo said his training has been similar to what he was doing before Berlin last year. But while most marathoners are by nature grinders, Adola is not. He can hammer out workouts with the best of them, but he trains very much by feel.
"If you compare with [training partners Tamirat Tola and Lemi Berhanu], Guye is a stranger boy, very stranger," Dedefo said ("different" may have been the word he was searching for). "He [does] not want to push crazy. Every time, he listen his body. He do[es] training comparing to his body. Not even if I tell him run this [specific workout] — if the body did not tell him to go, he did not do it…He do[es] what the body [is] telling him on the day.
We've embedded some videos from today's press event below. Talk about Bekele vs. Kipchoge on our world famous messageboard: So Bekele claims he is totally healthy – Can he take down Kipchoge in London?
***
Press conference videos: