Malcolm Richards (2:19:01) and Lindsey Scherf (2:40:55) Break Indoor Marathon World Records
Press Release 
NEW YORK, March 17, 2018 –  Both the men's and women's indoor marathon world records were broken for the third consecutive year on Saturday during the 3rd Annual Armory NYC Indoor Marathon World Record Challenge Presented by New York Road Runners.
Malcolm Richards, who broke the indoor world record in 2016 when he won the inaugural Armory NYC Indoor Marathon, reclaimed his title with a 2:19:01 time that surpassed 2017 champion Chris Zablocki's world mark of 2:21:48.
Lindsey Scherf, the 31-year-old long-distance sensation from nearby Scarsdale, NY and member of the Westchester Track Club, finished with a world-record time of 2:40:55 to top Finland's Laura Manninen's time of 2:42:30 set in last year's Armory NYC Indoor Marathon.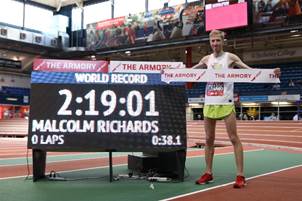 "I definitely felt strong the whole way, well almost the whole way," said Richards, a 35-year-old elementary school teacher who resides in San Francisco. "The last two miles were hard and that's how marathons go. In my mind I felt super, super good after 14 and 15 miles."
Nick Edinger finished runner-up with a 2:22:06 time followed by Brian Harvey (2:22:18), Eric Blake (2:22:35) and defending champion Chris Zablocki (2:29:13).
Article continues below player.
It takes 211 laps around The Armory's 200-meter banked track to complete 26.2 miles. Richards broke away from his four other competitors nearly 100 laps into the race and never looked back.
"Coming into today I was looking to run under 2:19," Richards said. "I wanted to come away from the halfway point looking to break the record and I had plenty of cushion left to break the record."
Allie Kieffer, the women's 2016 Armory NYC Indoor Marathon World Record Challenge champion and former world record holder, fired off the starting gun to begin the race.
Scherf built an early lead on Ireland's 50k national record holder and 2012 Olympian Caitriona Jennings and turned her attention quickly to the world record mark.
"I pushed the envelope to run against the clock rather than to run within myself," said Scherf, who shifts her attention to the Two Oceans Marathon's 56k ultra marathon in Cape Town South Africa in two weeks.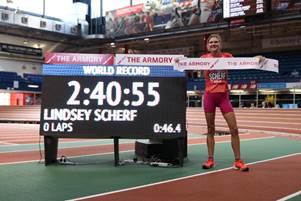 "It's a rare opportunity to be able to hold a record in anything," Scherf said. "It may not be the hardest record there is but any chance you have to get a record it's something to behold. I'm really proud of it. I had a lot of people here to support me.
"I thought this was going to be my most miserable marathon ever, but to be honest, because of the energy from the announcer, the music, my coach, my aunt and friends in the stands, this is actually my favorite marathon. This ranks among my top 5 accomplishments. It's right up there with my American Junior record for the 10k and my 25k national championship."
Both Richards and Scherf each received $3,000 for winning plus a $4,000 world-record bonus. Edinger and Jennings earned $2,000 each while Harvey won $1,000 for finishing third in the men's division.
In addition to the individual World Record Challenge, there are six "team" relay marathons during this weekend, concluding with two sessions on Sunday. Entered this year are 100 relay teams consisting up to eight runners per squad from the metropolitan and corporate community are competing in the Armory NYC Indoor Marathon 2018 Team Relay and vie for awards among numerous age groups, corporate, and family divisions.
Leading results were as follows. Talk about the race on the letsrun messageboard. MB: New indoor marathon world records set – 2:19:01 and 2:40:55.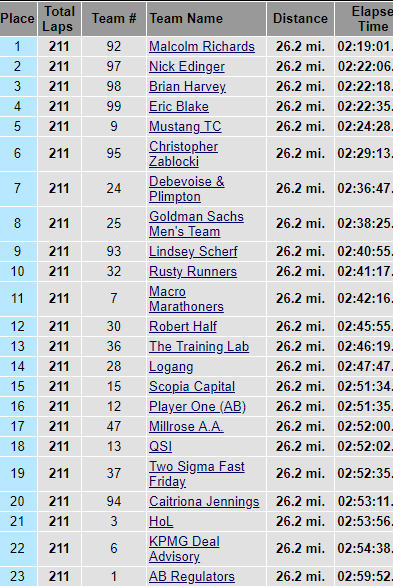 Proceeds from the indoor marathon benefit Armory College Prep and the Armory Foundation.
For more information about the NYC Armory Indoor Marathon Presented by New York Road Runners please click HERE.
Follow The Armory on Facebook, Twitter and Instagram at @armorynyc, or go to ArmoryTrack.com or Armory.NYC.
About The Armory Foundation
The Armory is a New York City non-profit institution, with the mission of "Keeping Kids on Track." Each season The Armory — the proud home of the NYRR Millrose Games — hosts more than 100 track & field meets and welcomes more than 180,000 athlete visits. Among its many youth sports and educational programs, including the acclaimed Armory College Prep program, The Armory runs the largest collegiate indoor track meet with the Dr. Sander Invitational, and hosts the largest high school indoor track meets with the U.S. Army Hispanic Games, The New Balance Games, and the New Balance Nationals Indoors.  The Armory also runs The Armory NYC Indoor Marathon Presented by New York Road Runners, which is the world's largest indoor marathon relay. The Armory is also the home to the National Track & Field Hall of Fame and dozens of very large education-focused events. For more: Please visit Armory.NYC andArmoryTrack.com