Ben True Outkicks Dathan Ritzenhein To Win 2018 NYC Half in His Half Marathon Debut, Buze Diriba Edges Emily Sisson For Women's Title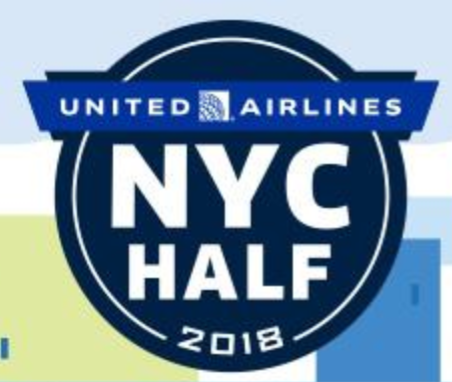 March 18, 2018
By LetsRun.com
March 18, 2018
Both the men's and women's races at the 2018 United Airlines NYC Half came down to sprint finishes — not a surprise given the cold and windy conditions (29 degrees at the start, 10 mph headwind for virtually the entire race). In the women's race, Ethiopia's, Buze Diriba outsprinted American Emily Sisson for the title, winning in a pedestrian 72:23 to Sisson's 72:24 while in the men's race, American Ben True got the win in his half marathon debut over Dathan Ritzenhein, 62:39 to 62:42, with Brit Chris Thompson and Ethiopian Teshome Mekonen close as well in 62:43 and 62:44.
In the later stages of both races, the eventual second placers, Sisson and Ritzenhein, were the ones doing much of the work and the leading trying to take the kick out of their competitors as they realized they were unlikely to come out on top in a kick. Diriba, the 2012 world junior champion at 5000 who was 5th at senior worlds in the 5k in 2013 and has a 66:50 half pb, certainly has better speed than Sisson, as does True when compared to Ritzenhein.
Article continues below player
For the first time, the NYC Half was a two-borough race, starting in Brooklyn and running predominantly north into Manhattan and heading up into Central Park before the race turned back south and finished at the NYC marathon finish, but coming from the other direction. 10mph winds from the north guaranteed a slow race, as no one in either the men's or women's field wanted to be the sacrificial lamb into the wind early on. Recaps of each race below.
Men's Race
After the men's race, Ritzenhein said Wilson Chebet, who had the fastest PB in the field, did test the field a bit on FDR Drive (the 6th mile was an unofficial 4:35), but the field slowed back down exiting the highway as they turned towards Times Square. After leaving Times Square, it's a straight shot into the park and that's where the real racing began.
Ritzenhein was at the front and pushing in the park. He said his mileage of 110-115 per week is the highest he's ever had going into a race, so he was fine to let the pace drag early on. "I was happy to see it start out slower [but] when you go to the front, you've got to make something happen. Otherwise there's no point to be there," he said afterwards at the post-race press conference carried live on Facebook.
Eventually it became a four-man race between True, Ritzenhein, Thompson, and Mekonen (3rd at last year's NYC Half). True was in unknown territory, having never raced beyond 10 miles and that is when Dathan began to open a gap on him.
"When Dathan started to pull away about mile 10 I wasn't sure I was going to be able to reel him back in," said True.
But True did reel him back in. Mile 10 was a 4:43 and then Mekonen upped the ante the next mile to an unofficial 4:37, but when it came down to a battle the final quarter mile, True, the man with the best track speed, came out on top.
"I think most people were taking it easy because of the wind. I was willing to let it go as slow as possible," he said of the opening miles. Not only was True in new territory in regards to race distance, he also has switched coaches, and is coached by Ray Treacy now, so he wasn't sure what to expect. He said he's done more tempo and threshold type work this year, and that Treacy assured him he was in good shape, which proved to be the case.
True isn't sure what is next for him, except that it will be shorter in distance.
Dathan Ritzenehein has his eyes clearly set on something longer, the Boston Marathon. Ritz said this course with its initial downhill and later uphills is a great Boston simulator. "This was a great simulator for Boston for me. This was a perfect, perfect pre-race for that."
(Post-race thoughts below women's recap)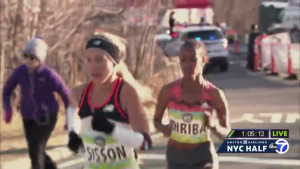 Women's Race
In the women's race, no one pushed the pace until they exited FDR Drive and started running towards Times Square. As a result, the race relatively was even slower than the men's and that caused the men to almost catch the women despite starting nearly 11 minutes later (more on that below).
Mile 8 was a 5:21, mile 9 an unofficial 5:10 and then even in the rolling hills of the park, the women clipped off miles of 5:24, 5:20 and 5:13. At this point it was a battle between Sisson and Diriba and while Sisson made it even closer than last year, where she lost a sprint finish to training partner Molly Huddle, she had to settle for another runner-up sprint finish.
Pro Women's Results
Quick Take: Today was about racing
We tried to make a chart figuring out how much slower today's course was than a typical half marathon course but after making it realized it was pointless. Today was for racers, not time trialers.
In neither race did the fields even attempt to run fast and some guys who ran fast earlier this year at Houston, such as Stephen Sambu (1:00:41) and Haron Lagat (1:01:01), ran terribly today. Whereas Chris Thompson ran faster here than he did in Doha.
Vivian Cheruiyot is one of the best track runners ever, and a decent marathoner, but she struggled with the slow pace before dropping out. Andrew Bumbalough dropped out as well.
This was a nice payday for True ($20k), and a strong run for Ritzenhein heading into Boston. It at least shows that Ritz is doing well with the Hanson brothers' training going into Boston.
Our pointless chart is below the next quick take.
Quick Take #2: The women's race was so slow and tactical that the men came fairly close to catching them despite starting the race 12 minutes back
We've long complained that major marathons that feature a women's-only start do not start the women nearly far enough head. Ideally one race should be finishing as the other race is at the halfway mark. That clearly was never going to be the case today as the women were only supposed to be given a 12-minute head start. In actuality, the women's and men's races appear to have started just 10:52 apart as the elite men finished just 68 seconds after the elite women.
Our pointless chart from point #1 is below with unofficial splits below that.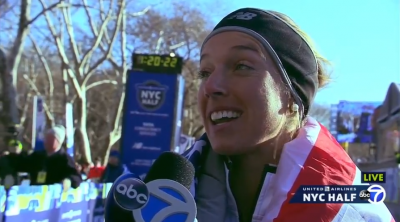 Talk about the race on our fan forum / messageboard.MB: Official 2018 United Airlines NYC Half Live Discussion Thread
Despite the loss, Sisson was full of smiles after it was over
Women's Unofficial Splits from @NYRRNews
Mile 1 5:40
Mile 2 5:54
5k 18:10
Mile 4
Mile 5 5:30
Mile 6 5:55
10k 35:30
Mile 7 5:56
Mile 8 5:21
Mile 9 5:10
15k 52:39
Mile 10 5:24
Mile 11 5:20
Mile 12 5:13
Men's Unofficial Splits
Mile 1 4:43
Mile 2 5:01
5k – 15:31
Mile 4 5:05
Mile 5 4:50
Mile 6 4:35
10k 30:19
Mile 7 5:27
Mile 8 4:52
Mile 9 4:40
15k 45:12
Mile 10 4:43
Mile 11 4:37