Meet Mr. Cross Country, The Sport's Biggest Fan
Cross country's biggest fan resides in Massachusetts, where for the past 33 years, Michael Mahon has traveled to over 1,700 career meets, bag of cans in tow. And he doesn't plan on stopping anytime soon.
By Jonathan Gault
December 18, 2017
You hear Michael Mahon before you see him. Today's main attraction — a mid-October high school cross country tri-meet between Concord-Carlisle, Lincoln-Sudbury, and Boston Latin — normally wouldn't draw much attention. But for Michael P. Mahon, it's career meet #1712, the 34th meet of his 33rd season as Massachusetts cross country's biggest fan. And as usual, Mahon is pretty excited about it.
Article continues below player
"You're numbah two in the rankings!" Mahon yells to Concord-Carlisle senior Zander Kessler, rankings coming out more like wankings due to Mahon's unique speech pattern.
"Yes!" Kessler shouts, punching the air with an exaggerated fist pump before refocusing for the rest of what Mahon has to say.
"Let's focus and do your job!" Mahon booms, every word entering the air like a cannon blast.
"Okay Mike, I'll do my job!"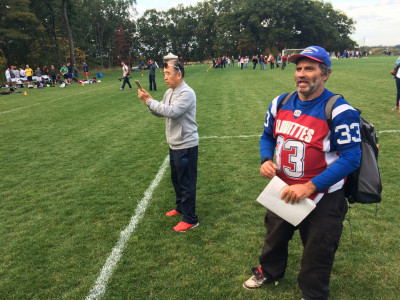 Every year since 1985, Mahon has ranked the top teams and individuals in MetroWest Boston, a loosely defined region whose schools (whether they know it or not) belong to what Mahon refers to as the Mahon's Cross Country Organization. Though you won't find the rankings on any website or newspaper, they're serious business around these parts. As today's races approach, Mahon continues to make his rounds on the athletic fields behind Concord-Carlisle High School, stopping by coaches, athletes, and whoever will listen to talk running. He spots C-C coach Steve Lane and briefs him on the latest race results. Franklin upset Mansfield recently, and that could really shake things up in the next rankings.
If there's a cross country race in Massachusetts, Mahon can tell you who won. He spends a couple hours every night surfing the web for race results. When he finds one, he'll copy it by hand into his notebook — which he totes along to every meet in a bulky black backpack — and in so doing, seal the knowledge in his brain. His memory stretches back decades, a long list of state-champion individuals and teams rattling around in his head. 
At meets, those who know Mahon greet him like an old friend. And if you don't know Mahon, it won't stay that way for long. He has no qualms about walking up to a group of complete strangers, smile on his face, and yelling out, "Hi I'm Michael Mahon, welcome to cross country!"
Often, this pronouncement is met with confusion. It may have something to do with Mahon's appearance. Mahon is 55 years old, five-foot-eight with a scraggly salt-and-pepper beard shaved so that two strips of whiskers creep up his cheeks to roughly form the shape of a "W". His sweaty, tousled hair is tucked under a blue and red hat that reads "Michael Mahon's CC Racing Series". His hands are coarse, dirt firmly ensconced under each fingernail. He wears a pair of black cargo pants that are muddy and stained, his well-worn sneakers don't match, and, stretched over his protruding belly, he sports a red, white, and blue Montreal Alouettes (Canadian Football League) jersey with IMPALA printed on the nameplate above the number 33. For the uninitiated, it's quite a sight.
A minute before the race, Mahon stands about 75 meters from the start line. He waits for the gun to fire, then emits a loud, low growl — "THEY'RRRRRRRRE off and running!" — drawing out that first r until the entire field has passed through. It's a call Mahon makes at the start of every race, one that he borrowed from the late Luke Kruytbosch, the former public address announcer at Churchill Downs.
As the race unfolds, Mahon walks quickly from spot to spot, constantly updating each team's score in his head as the runners filter by him. Once the race is almost over, Mahon stakes out a spot by the finish line and takes a knee. For meets with automatic timing, he can get the results online later, but these results won't be posted, so it's important that he takes note of every finisher with his own eyes.
And so…
"GUYS, DO ME A FAVOR, PLEASE MOVE BACK! BACK OF THE COURSE! BACK!"
Mahon, glasses on, notebook on the ground, extends a meaty palm from his body, imploring the assembled fans to give him a clear line of sight of the finishing straight. Whether out of fear or respect, most of them do.
Once every runner is through the chute, Mahon hustles purposefully from team to team, asking each athlete for their name and finishing place. With each answer, he grips his pen tightly in his fist, as one would a spoon, writing the results into his notebook in small, neat handwriting.
The boys' winner, Tim McClure of C-C, thanks Mahon for coming to the meet and asks whether C-C's victory has affected the race for the Mahon Cup, which Mahon awards at the end of each season to the team that finishes at the top of his rankings. Mahon calls out for the rest of the C-C squad to assemble, and he shakes each athlete's hand with an enthusiastic "Great job, guys!"
The team grows quiet, and Mahon launches into a speech about how C-C stacks up against the rest of the state.
"Guys! Wellesley's got a very good, solid team. There's no icing on the cake. Including St. John's and Lowell, they're also solid performances as well. That's why we're making statements to the large schools, right here at Concord-Carlisle Regional High School! We're Patriot Nation!"
The squad erupts into a roar. Mahon packs up his notebooks, straps on a beat-up yellow Lazer helmet, hops on his bike, and gets ready to do the whole thing again tomorrow.
***
Michael Mahon's fingerprints are all over the sport of cross country in Massachusetts. Literally.
"My guess is he has physically touched the last 30 state champion team trophies in Massachusetts," says 2:14 marathoner Nate Jenkins (Narragansett Regional, Class of '99). "An odd but probably unique accomplishment."
If you've run cross country in the Bay State at any point in the past 30 years, chances are you've crossed paths with Mahon. Since he founded the Michael Mahon Cross Country Racing Series in 1985, Mahon has been to 1,747 cross country meets — an average of over 50 per year. Most are high school meets, but Mahon will watch athletes at any level, from middle school to the 1992 IAAF World Cross Country Championships at Boston's Franklin Park. This past season was Mahon's most successful ever: 69 meets in the 85 days from #1 (the Wellesley College Invitational on August 31) to #69 (Gabe's Run on November 23). Name any date in the months of September, October, or November from 1985 to 2017, and there is a greater than 50% chance that Mahon was at a cross country meet that day.
Through his remarkable attendance record, his unmatched enthusiasm for the sport, and his gruff, unmistakable voice, Mahon has come to occupy a special place in the small world of Massachusetts cross country.
"He really is like a celebrity at a lot of these meets," says Ben Benoit, the athletic director and, since 1999, head cross country coach at Parker Charter School in Devens, the 2017 Massachusetts Division II boys' state champions. "You know it's a big meet when he shows up."
Mahon makes it to all the big meets. But he also makes meets big. Once or twice a year, he'll dub a dual meet The Main Event. Instead of his usual Alouettes jersey, he'll don a CFL jersey with the same color scheme as the team that he is picking to win that day, keeping it under his jacket until he's ready to reveal his pick, the Lee Corso of high school cross country. It's not uncommon for Mahon to approach the winner after the race for an impromptu interview, his Bic pen serving as a "microphone."
Sean Duncan's family has been friends with Mahon for years — his father, Dave, serves as Mahon's unofficial guardian — and when Duncan graduated from Gardner High School in 2007, Mahon gave him a signed British Columbia Lions jersey with Mahon's nickname, Impala, on the back. One day in college at UMass, he decided to wear it around campus.
"Literally, I got stopped 50 times that day from just random people that knew what the Impala jersey was," Duncan says. "I think if I had gone to college literally anywhere — like, anywhere in the country — if I wore that Impala jersey on a campus somewhere, I bet you at least one other person from Massachusetts would recognize what that was…You just can't do cross country in Massachusetts and not know who Mike Mahon is."
Mahon considers himself, first and foremost, a promoter of the sport of cross country. Or, as Mahon's Facebook page states, a "permoter" (his speech and writing is peppered with grammatical gaffes and typos). As such, he views it as his duty to travel across the state, spreading excitement and creating as much buzz as possible. That's why he spends hours every night studying and copying results, analyzing all available statistics to create his rankings, which are recalculated weekly. For a few years, he even convinced the MetroWest Daily News to give him a high school cross country column, where he published the rankings for all to see. When athletes find out the time and energy Mahon devotes to chronicling their achievements, they can't help but take the sport more seriously.
"When I got to my senior year, Mike Mahon finally asked me my name after a cross country race and it was one of the best moments of my sporting career," says Brian Rich, a 2013 Concord-Carlisle graduate now serving as an assistant coach at his alma mater. "I felt absolutely honored that my name was in his notebook and I could see my name in the perfect block script on his graph paper. And that's when I knew that I had made it as a cross country runner in Massachusetts. That's pretty inspiring as a high school athlete when you see someone who has so unabashedly dedicated themselves to your sport. It makes you feel really important and it makes you feel special."
Mahon is almost as good at promoting himself. His goal is to make it to 2,000 career cross country meets. He projects that, at his current pace, he'll hit the mark sometime in September 2022, and he's already trying to set it up so that meet #2000 features his alma mater, Keefe Tech in Framingham — the place he calls the birthplace of cross country — against Parker Charter, its vocational school rival.
If he can make it to 2,000, "I will become the greatest high school cross country promoter in American history," Mahon says (Mahon is many things, but modest isn't one of them). He desperately wants someone to film a documentary chronicling his quest. When I tell him I'm writing a story on him for LetsRun, Mahon grows excited; before I've typed a single word, he's already thinking of how to leverage this article to a bigger audience, telling me I need to get in contact with ABC, NBC, CBS, FOX, and international channels like CBC, BBC, and RT. Mahon wants everyone to know about him.
Mahon makes it to all of these meets without the use of an automobile. Whenever he needs to go somewhere, he'll look it up online, memorize the turn-by-turn directions, and hop on his gray Schwinn. For longer journeys, he'll head to the Framingham train station, take the commuter rail, and bike from there. This can result in some very long days.
Even by car, getting from Framingham to somewhere such as Gardner, 45 miles northwest, would be at least a three-hour commitment — a two-hour round trip, plus an hour to watch the races. For Mahon, it's an all-day affair. Mahon must bike from his apartment to the commuter rail station in Framingham, carry his bike onto the train, take the train east for 20 miles into Boston, switch lines, take another train out west to Fitchburg, and bike the remaining 10 miles to Gardner. Then he has to do the whole thing in reverse once the meet is over.
The longest journey on record is when Mahon traveled to the 2015 state meet in Westfield. The night before the meet, Mahon took the train to Worcester and proceeded to bike through the night — eight hours in total — along Route 20, a trek of over 60 miles, stopping every so often to call and update Dave Duncan on his progress.
Though Mahon made it through the trip in one piece (he managed to get a ride back from the course), Duncan was worried sick.
"It was too long," Duncan says.
Now if Mahon has to make a trip that long, Duncan will arrange transport or give Mahon a ride himself.
***
One day after the race in Concord, I meet Mahon at Larz Anderson Park in Brookline for the Larz Anderson Invitational. He has instructed me to arrive two hours before the meet begins, and of course, Mahon is already there waiting for me in his Alouettes jersey when I pull into the parking lot. He would be here even if he did not have an interview. A week later, he shows up for the Boston Middle School XC Championships at 6:30 a.m.; the first race is not until 10:45.
Four hours early. For a middle school cross country meet.
Back at Larz Anderson — another middle school meet — Mahon watches the finish with the same intensity he showed at Concord-Carlisle the day before. The Rivers School has put four runners in the top seven, but their #5 was way back and Mahon is trying to add up in his head whether they've scored enough points to win.
This is a frequent habit of Mahon's. In 2004, Dan Chebot was the fourth man on a Newton North squad gunning for the state title at Gardner Golf Course.
"I don't remember much after crossing the line, other than Mike yelling 'NNHS got it!  You guys got it by five points!'" Chebot says. "This was mere seconds after I finished; I was still in the chute. He had done the math in his head while watching a deluge of runners finish the race at a rate of one or two per second. He was right. The final score was 62-67."
A similar scene unfolded at the 2016 state meet.
"I had to kind of bark at him because he was running around immediately," Wellesley coach (and 2004 Olympian) Tim Broe says. "There were kids still finishing and he's yelling 'Wellesley's won! Wellesley's won!' And from what I saw, it was really, really close and I didn't want him getting the kids' hopes up."
It turns out Wellesley had indeed won — by six points. While Mahon nailed the Newton North and Wellesley victories, his record isn't perfect in this department.
"This was probably around 2004, and we're at the [Colonial Athletic] League meet at Coggshall Park [in Fitchburg]," says Benoit. "And the teams in contention for the boys' race [were] Blackstone Valley Tech and Keefe Tech and Parker.
"And this isn't the best story, but we ran the race and everyone knew it was wicked close. And before the scores are tabulated, Mike is running around saying, It was a three-way tie! It's a three-way tie and it went to the sixth man and Parker won!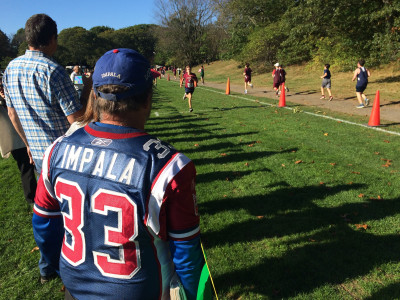 "And I didn't know whether to believe it or not. Of course, you want to believe it, he's telling my guys that. Long story short, it wasn't a three-way tie, Parker got third. So it was very disappointing when I had to tell the guys…He knows a lot about the sport, maybe more than anybody I know [but] he's not Rain Man. He's not perfect."
On this day, Rivers wins, and as usual, Mahon is eager to dole out congratulations. Mahon had been standing next to Rivers' coach at the finish line, who told him that their #4 runner, Lila, had run the race of her life to finish seventh overall. Mahon has a soft spot for the unsung hero, and he spends the next few minutes like the Joker in search of Harvey Dent.
Where's Lila? 
Are you Lila?
Have you seen Lila?
He spots Rivers' top two runners and tells them to "stick with it and you'll be a rising star." Finally, he finds Lila. What he says to her isn't particularly memorable, but what resonates is the gesture. Mahon spent 10 minutes searching out the #4 runner on a middle school cross country team because she ran well and deserved the praise. These are the gestures that define Michael Mahon.
"There's a lot of kids that maybe wouldn't keep doing cross country or wouldn't be as enthusiastic about cross country," Sean Duncan says. "And then you meet Mike, this crazy guy who's so into it that it's kind of infectious."
***
Mahon's disheveled appearance, his constant yelling, his manic passion, and the large plastic bag of cans he brings to every meet (we'll get to that later) lead to a lot of questions, particularly among parents.
Who is this guy, and what is he doing at my daughter's cross country meet?
Is he homeless?
Is this guy all right?
The popular story is that Mahon was a promising young runner before his career was derailed by a motorcycle accident that left him with brain damage. That's certainly the version I was told when I was a high school runner in Massachusetts a decade ago.
The truth is a little less interesting. This guy is Michael P. Mahon. No, he's not homeless. And while, to the Duncans' knowledge, Mahon has never been officially diagnosed, they suspect Mahon may have a type of autism, perhaps Asperger's (which would fit with Mahon's repetitive behavior and highly specific interests). While it affects his speech, behavior, and intelligence, he is high-functioning in several respects. He lives alone in an apartment in Framingham, subsidized by the state under Section 8. He pays his bills — cable, electric, rent — on the first of the month, every month, hand-delivering the payments in cash. He can manage a budget, and at any given time can tell you exactly how much money he has remaining on his foodstamps.
"[The] first time [he] showed up [at one of our meets] — and it was a big meet, because he wasn't coming to C[oncord]-C[arlisle] meets — it was an invitational," says Concord-Carlisle coach Steve Lane, who has won more Mahon Cups (six) than any other coach. "I remember just thinking, This guy needs to be contained or roped off. I didn't know who he was, I didn't understand. And then you watch him and okay, one, he clearly is there for the sport and two, he knows so much about the sport that my shock became amazement. Because when you talk to him after the meet and he knows pretty much where your guys are gonna finish in the league, against the other guys in the MetroWest. And it's just an impressive amount of dedication to a sport that needs it, to be honest.
"And that to me is a really, really cool thing. It sounds cheesy to say, but everybody kind of learns something and checks their judgment a little bit. It's like, This guy may come off as a little bit odd, but he knows his shit."
Before the first big meet of every season, Lane gives a heads-up to his freshmen about Mahon. But in 2009, Brian Rich's freshman year, Lane may have forgotten (either that or Rich, as freshmen have been known to do, simply may not have been paying attention). Either way, when C-C's bus pulled up to Cold Spring Park to face Newton South, Rich's first thought upon spotting the man in a CFL jersey riding an undersized bicycle was typical: Who is that guy?
Immediately, one of the older kids of the team set him straight.
"They said to me, Oh! That's Mike Mahon. We love him."
Longtime Weston High coach John Monz also briefs his freshmen about Mahon. He affords the parents no such warning.
"I just like to watch their reactions and tell them afterwards," Monz chuckles.
Monz's predecessor at Weston, the late Donald Duncan — Sean's grandfather — took a particular interest in Mahon while he was coaching during the 1980s, and would often offer him rides home after races, becoming an uncle of sorts. The Duncans have continued to support Mahon through the years, and after Mahon's parents died — his father in 2007, his mother in 2012 — Dave Duncan, 56, stepped in to help manage his affairs. Mahon calls Dave every night to check in.
Mahon says exactly what's on his mind, and can't always tell the difference between what's appropriate and what's not. Occasionally, Dave will hear complaints from parents — swearing and hygiene are two of the biggest ones recently — and it falls to him to rein Mahon in.
"[When I tell him] you're sending an image that isn't professional, he changes instantly," Dave says. "But you've gotta be around to remind him."
Most of the stories about Mahon, however, are positive. Nate Jenkins fondly recalls Mahon interviewing him and his teammates in the bathroom at Wachusett High School, using his pencil as a microphone and sticking it in the face of whoever was talking. Andy Haydu (St. Marks '96) wrote his college application essay on Mahon and can't forget hearing him scream "Fight the demons!" as he climbed the monster hill on his home course. A favorite story of members of the 2010 Pembroke squad is picking Mahon up from the parking lot of a Framingham Dunkin' Donuts in the early-morning hours so that he could accompany them to the NXN Northeast Regional in New York. Pembroke qualified for nationals, and on the ride home, Mahon alternated between celebrating with the team and yelling on the phone, to the amusement of the runners.
Mahon is also famous for his lack of tact. He spends hundreds of hours each season compiling his rankings, and as a result, Mahon has developed an unshakable confidence in them.
"He has no filter," Dave Duncan says. "He just says, well these two people are gonna beat you. What do you mean Mike? No they're not. Well, I'm sorry to hear that, but they're going to beat you today."
In March, Elliott Lehane (Brookline '08) changed his profile picture on Facebook.
"It was a picture of me running a personal best in the mile, with 4:08.5 as the caption," Lehane says. "Mahon posted simply, 'Fast time, You never get under 4:00 per mile.""
And then there's Mahon's rendition of the national anthem, which…well, words can't do it justice.
Teddy Farley (Acton-Boxborough '09) was a big Mahon fan in high school, and when he got to college, he convinced his school, Bentley University, to give Mahon a show on the campus radio station.
"First few weeks, we quickly broke the school records on number of listeners just because of high school and college runners listening and calling in," Farley says. "But by about week four, we really hit it big. [Local rock station] WAAF found out about the show and started simulcasting us over their station, and our number of listeners exploded to tens of thousands. The phone would ring nonstop from start to end of show, with Mahon taking questions from runners everywhere on literally any topic imaginable."
Mahon, in fact, was already well-known to loyal WAAF listeners. For several years in the early 2010s, Mahon, famous in Framingham for the thousands of cans he collects each year, appeared on WAAF as "The Can Man," on The Hill-Man Morning Show. A popular segment, inspired by Mahon's national anthem performances, was Can Man Karaoke, where Mahon would belt out hits as only he could.
The first time Sean Duncan heard Mahon on the radio, he was heading south on Route 128, commuting to an internship in Quincy.
"I was laughing so hard, I had to pull over on the highway because I was like I'm gonna get in an accident," Duncan says. "I couldn't even function."
But Mahon wasn't on the radio to sing songs. He was on there to do what he always does: promote cross country.
"Basically, they think that Mike is dumb," Duncan says. "And Mike's not dumb. [We suspect] Mike [may be] autistic, but he's not stupid. And they really underestimated him. They would bring him in and basically make him the butt of these jokes, and he was hilarious, because he would spin it on them. They loved Mike the Can Man on WAAF.
"And then one day, he was like, They're taking advantage of me, they're using me for all these jokes. And he was on there for a different agenda. He wanted to promote cross country and that's it. And when he felt like they weren't gonna help him do that, he was done. He cut them off."
Mahon says it's been two years since he's appeared on the air on WAAF, though he did make an appearance at the station's Toys for Tots event on December 15, 2017. Neither WAAF nor The Hill-Man Morning Show responded to multiple interview requests for this story.
***
Mahon grew up as one of three children to Catherine and Richard Mahon, a custodian at Framingham North High School. The family moved a couple of times within Massachusetts, from Petersham to Ashland, before finally settling in Framingham, where Mahon attended Keefe Tech, a vocational school. It was there that he developed his love of the sport while running for KT's cross country team. Upon graduation in 1982, Mahon briefly followed in his father's footsteps by working as a custodian, but he didn't enjoy it. He hoped to work in a mailroom somewhere, but nobody would hire him.
It wasn't until 1983 that Mahon began to discover his true calling. As a student at KT, he had raced against Marian, a Catholic school in Framingham and looked up to several of the runners there. That fall, Mahon would show up at Marian meets to cheer the team on. After a few weeks, Marian coach Jack O'Rourke — whom Mahon refers to as "the savior" of his career — was struck by Mahon's enthusiasm and decided to take him on as an unofficial assistant coach. Mahon continued to train while helping out O'Rourke and ran a marathon personal best of 2:57 in 1984.
At first, Mahon was only interested in Marian, but eventually his passion grew too large to be limited to just one school. As he attended more meets, Mahon became absorbed by the entire MetroWest region and, on September 1, 1985, he established the Michael Mahon's Cross Country Racing Series, awarding the first Mahon Cup at the end of that year. Since then, Mahon has dedicated his life to cross country. In all, he made it to 37 meets that first year, and has been to at least 40 per season in each of the 32 years since. In 1987, Mahon began tracking each meet formally in a notebook. Now he has 31 of them, each filled with thousands of names and times, stored in what he refers to as the "library room" of his apartment.
In the days before the internet, that information was a valuable commodity.
"He would keep me abreast of several people that I should be watching out for," says Newton South girls' coach Steve McChesney. "And he was always right. So early on, before I started knowing the landscape of Massachusetts, I actually depended on him a bit to do a little bit of scouting for me. You ask him a question, he'd answer it freely and very honestly."
Through the years, there have been attempts for Mahon to learn a skill, to work a job. None have worked out.
"For him to be working, his whole life is focused around cross country, ever since he graduated high school as a runner," says Dave Duncan. "It's been 100% around cross country, how does he promote more kids? So when you put him in a job, [he thinks], Why am I doing this? I need to be helping kids with cross country."
Mahon sums up his purpose as follows:
"I'm not here for the money, the power, the greed. I'm here to represent the kids for all MetroWest high school cross country has to offer. For all different types and all different skills."
At the end of every season, Mahon holds an awards banquet where he distributes hundreds of medals, plaques, trophies, and certificates to the athletes of the MetroWest region. Including awards, reserving a space, and food and drink for up to 200 people, the banquet can run north of $6,000 to stage, but Mahon covers 100% of the costs himself, through two sources. The first is donations, which he will solicit at meets by presenting a blue and yellow tub of Maxwell House labeled "PLEASE FOR DONATIONS FOR THE MAHON'S X-COUNTRY BANQUET." The second is canning.
During the fall, if he's not at a cross country meet, chances are Mahon is biking around Framingham, Natick, or Hopkinton hunting for cans, a couple of large plastic bags slung over his shoulder (he claims he can carry up to 800 cans at a time). At the end of each day, he'll store the cans in a shed on his property before heading to Framingham Liquors the next morning to redeem them — Massachusetts pays out five cents per can.
"When he's going to Wrentham (a town 17 miles south of Framingham), he leaves at 2:00 in the morning," Dave Duncan says. "Because his whole ride down, he knows where to go to — the baseball fields, the soccer fields, the football fields — and collects cans. And then before he gets to Wrentham, he hides them all in the woods and he actually changes and puts on some clothes. And then he's at the cross country meet talking to all the kids."
Mahon has a few other passions. He reads the MetroWest Daily News and Worcester Telegram & Gazette religiously. He follows the Framingham Men's Slow Pitch Softball League almost as closely as MetroWest cross country. He loves the CFL (he claims to own over 60 CFL jerseys), which he says he prefers to the NFL for its faster pace, and even taught himself French in order to listen to Montreal Alouettes radio broadcasts. During the spring, he'll occasionally pop up at a track meet for "scouting purposes."
But cross country is what he lives for. In the offseason, with no meets to attend, he'll spend eight to 10 hours a day canning. His busiest time of year is what Mahon refers to as, "The Fourth of July of Hell." With so many parties and barbecues, the streets are a veritable goldmine, and Mahon puts in 18-hour days to take advantage. He estimates that he can score up to $200 a day — that's 4,000 cans — in the days around July 4.
"I define him as probably the biggest philanthropist around when you look at their ratio of income," Dave Duncan says. "Mike lives on state-provided income. He has a little bit of income. And then look at the banquet he puts on and what he gives away."
***
I ran high school cross country in Massachusetts, and Mahon's rankings meant a lot to me. I can still remember crossing the finish line at the Weston Twilight Invitational in the spring of 2008 and having Mahon approach me to tell me that I was now THE FAVORITE for the MIAA Division II cross country title that fall (I wound up third…sorry I let you down, Michael). It was a great feeling.
When I got to college in 2009, I enjoyed reminiscing about Mahon with one of my teammates, Jake Shoemaker (Lincoln-Sudbury '08). I told him the story about the Weston Twilight Invitational, and he asked me, "So did you go to the banquet?"
Banquet? What banquet?
Jake proceeded to regale me with tales of a wild gathering, orchestrated by Mahon, which ended with Mahon handing out dozens of awards and the coveted Mahon Cup. It bothered me that I had not been invited. I was no state champ, but I was a good high school runner. Heck, I'd beaten Jake at our conference meet his senior year, and he had been invited. I had always wondered what I could have done differently.
Fast-forward to the fall of 2017, and I'm introducing myself to Mahon for this story. I tell him I used to run for Bedford High School. When I see him the next day, Mahon begins by reeling off my high school resume; he had spent the previous night scouring his notebooks for my name. And finally, he answers the question that had bugged me since high school. Mahon tells me that he didn't decide to add Bedford to the Mahon's Cross Country Organization until 2011 — two years after I had graduated. And he goes on to state that, had Bedford been part of the organization in 2008, I would not just have been invited; I'd have been Runner of the Year.
This makes me profoundly happy, happier than I have any right to be. It probably sounds silly, actually, to be so excited over such a thing, almost a decade after my high school career is over. But that's the effect Mahon has on you. You care so much because he cares so much.
Not everyone is as desperate to attend the banquet as I was. When Tim Broe took over at Wellesley in 2015 — upon first meeting Mahon at the Frank Kelley Invitational, he thought his team's tent was under attack, such was the commotion Mahon raised over Wellesley hiring an Olympian as coach — his team had been invited but chose not to go. The day after the banquet, Broe pulled into the parking lot at Wellesley High to see Mahon waiting for him with his bike and a large bag stuffed with a two-foot silver trophy and a dozen other plaques and awards. This is how Mahon spends much of every winter: biking around to high schools and indoor track meets, a bag slung over his shoulder, handing out awards to the athletes and coaches who couldn't make it to the banquet. Broe found a room for Mahon to stage a private ceremony for the Wellesley squad — which included the Mahon Cup, the first in program history — and has committed to attending the actual banquet moving forward.
"I thought, well he puts so much effort — and you know, it's not free — time and effort and money into it that I figured we should honor that by being there," Broe said. "He just loves the sport and you can see it in everything he does and says. And that makes the kids feel special, that we're not just some second-hand sport to football."
Steve McChesney, a member of the famed McChesney running family — Steve and brother Tom ran at Oregon; a third brother, Bill, still holds the Ducks' school record at 5,000 meters — loves a good awards night, and says nothing compares to the Mahon banquet.
"To me, he was the pinnacle of awards night," McChesney says. "I've never been to anything like that. I've been to awards nights put on by the U of O. When I was running [at South Eugene High School], we were national champs and we set the national record in the 4 x mile. We had some pretty good awards nights at South Eugene. I try to make our awards nights [at Newton South] fun. But there's no way you can rival the energy and the work. Mike works on this all year long."
Having missed out in high school, I am determined to attend in 2017, and Mahon sends me an invite (full disclosure: I made a $25 donation to cover the cost of my meal at the banquet). And so on a cold December evening, I pull up to the Thoreau Club in Concord and follow the sign that reads "Mahon X-Country Banquet" down the stairs, where an IMPALA 33 jersey hangs on the railing. Over the speaker system, I can hear Mahon announce "FOURTEEN MINUTES until dinner is served!" As I enter the banquet hall, Mahon greets me excitedly. He looks sharp in a black suit, and though his beard is still shaved into a W shape, it's more precise than when I saw him last, no stray hairs.
He is, however, wearing a black-and-orange Michael Mahon CC Racing Series hat. This is not standard practice at the banquet, but Mahon made a bet recently with Parker Charter saying that if they won the state title, Mahon would shave his head. They did, and the next week Parker held an assembly for the entire school with each member of the championship team taking a turn with the hair clippers. Mahon's hair has just started to grow back, hence the hat.
Mahon hands every guest three things as they enter. One is a comment card. Another is a petition to nominate Mahon for a local honor, the Salute to Framingham. Mahon has tried to win the award, unsuccessfully, for the last 18 years; he's hoping that if each of the roughly 150 people at tonight's banquet can write something nice about him, he'll finally win it in 2018. The third is 12-page, double-sided packet, printed on orange construction paper, that lists the names and previous recipients of the 26 awards Mahon will hand out tonight. The actual number of awards turns out to be over 100 — Mahon hands out honorable mention certificates to every nominee that doesn't win, and his all-star teams go 15 deep per gender, with each recipient receiving a plaque. He also secures a guest speaker every year, which in the past has included luminaries such as Alberto Salazar and Bill Rodgers. Yes, Alberto Salazar and Boston Billy spoke at a Mahon banquet.
Mahon leads me past a table with four large trophies and past a fireplace which serves as the awards hub. There are three large cardboard boxes, each stuffed with 20 plaques, and a table upon which lie dozens of medals and certificates, as well as a few more plaques. Another IMPALA 33 jersey hangs to the right of the fireplace, just above two more plaques, one of which Duncan will award to Mahon to recognize his 1,700th career meet. Mahon carries around a half-drunk one-liter bottle of Lipton Brisk Iced Tea; two more sit behind the lectern "for backup." A small boombox hooked up to a large speaker is playing the Carpenters' Christmas Portrait.
Mahon has been waiting all year for this. Dave Duncan, who coordinates the logistics of the banquet, was supposed to pick him up at 2 p.m., and starting at 9 a.m., Mahon began calling him once an hour to make sure he was still coming. Once Duncan hits the road just after 1 p.m., Mahon calls even more frequently so that he can provide live updates on Duncan's progress on his Facebook page.
Now, at 4:55 p.m., the moment is here. Mahon ambles to the stage, and what unfolds over the next two and a half hours is at times confusing, hilarious, awkward, and poignant. Mahon begins by presenting individual MVP awards for each of the 44 teams in the Mahon's Cross Country Organization, followed by a Mahon national anthem. There is no flag, but that doesn't matter.
"We'll use this!" Mahon implores, motioning toward his red, white, and blue Alouettes jersey. Mahon launches into an impassioned version of The Star-Spangled Banner, and though parents and children must stifle laughter as he botches roughly a third of the words, the room erupts into an enormous cheer at the end of the song.
And then Mahon hands out award after award — if anything, there are too many — while launching into an occasional monologue. Mahon often demands photographs with the winners, and if the recipient has no family present, this has a tendency to delay the ceremony; Mahon will pose with the athlete at the front of the room, repeating "Take pictures, please!" until someone gets up and fulfills his request.
At times, Mahon is the only one in the room who seems to know what is going on.
"I'm gonna be honest, I'm not 100% sure how I got this, but I appreciate it anyway," says Needham's Matt Maio after Mahon presents him with the Upset of the Year award.
Later, Mahon gives a "State of the Harrier Series" address, in which he details his plans for career meet #2000. Unfortunately, verbalizing his thoughts is not one of Mahon's strengths, and by the end of the rambling 10-minute speech, I think I'm one of about five people in the room who actually understand what Mahon is saying. Most have tuned him out and one woman sitting behind me in a black sweater is having a hard time keeping it together. As Mahon explains how "there will be no guns, knives, weapons, foreign objects, no chemicals or biological weapons" she can't help but laugh at the seemingly random assortment of names and places spewing from Mahon's mouth. It's not random, of course, but unless you've heard a version of this speech before (and I have), it can sound that way.
But when Mahon also makes a special presentation to the Haworth family, whose son Keith, a Keefe Tech cross country grad, died unexpectedly earlier this year, the whole room pays rapt attention. There's a moment of silence as Keith's father, David, follows up by telling the room about how, two days before Keith died, he was with him at a bonfire sharing old stories about Mahon.
Mostly, however, the night is one of joy. While Mahon honors excellence, he also hands out several whimsical awards. There's the Benny's Mascot of the Year Award (for best pet), the Richard S. Mahon Memorial Boys' Parents Supporter of the Year, and the Video Caddyshack Award (I'm still not exactly clear what that one is meant to honor). About halfway through, my face actually starts to hurt from the amount of smiling I'm doing, and without fail, every kid, coach, or parent ends their acceptance speech by thanking Mahon for everything he does for the sport.
And then there are the "Unofficially Trivia" awards. Mahon will read out the name of an award and give the room five seconds to guess the recipient. These include the Snooki Black Cat Award, the I Am Not Scott Baio Award, the NBC Mystery Movie Starring Dennis Weaver Award, and the Solar Plex Award. If no one can produce the correct response, Mahon yells out "I stumped 'em all" triumphantly before revealing the answer.
While the awards sound totally made up — because, well, they are — Mahon has a method to his madness. The I Am Not Scott Baio Award goes to Matt Maio. The Snooki Black Cat Award goes to a runner named Nicole (the actual first name of the Jersey Shore star and award's namesake). Not everyone guesses correctly, but when someone does — Maio figured it out — Mahon's eyes light up in a moment of delight, the runner picking up on his inside joke before Mahon explains it to the rest of the audience.
At the end of the night, as the runners filter out, Mahon takes time to individually thank each guest for coming. If they didn't have a Mahon story before, they have one now.
Michael Mahon may never receive the Salute to Framingham. He may never get documentary made about his quest for 2,000 meets. But they don't hand out an award for the guy who shakes the most hands at a cross country meet. Or the guy that cheers the loudest. Or the guy that can make 50 kids on a college campus stop and stare simply because a kid walked by wearing a CFL jersey.
Maybe some day, someone will.
---
Do you have your own Michael Mahon story? Share it here on our messageboard: MB: Michael Mahon- Mr. Cross Country – Share Your Favorite Story Here
You can read even more Mahon stories in this thread from 2005 MB: Mike Mahon Stories and this one from October 2017 MB: MA XC fans/alums: send me your Mike Mahon stories