The Greatest Race at Worlds You Never Heard About: The Epic Pure Guts Media 800 with LetsRun.com's Jonathan Gault
by LetsRun.com
September 11, 2017
There were a ton of great races at the 2017 World Track and Field Championships: Emma Coburn and Courtney Frerichs went 1-2 in the steeple, Justin Gatlin shocked Usain Bolt in the 100, Usain Bolt pulled up lame in the 4×100, Faith Kipyegon won a great women's 1500, and Phyllis Francis shocked Allyson Felix and Shaunae Miller-Uibo in the 400.
Different people are going to have a different favorite race. (NBC has its 10 favorite races here).
Article continues below player
But when it comes to the media 800, there's no dispute what the most exciting race was. Heat 9 of the media's 800m with LetsRun.com's Jonathan Gault and Belgium's Bart Spruijt. In case you missed it on NBC, we'll let you watch it below without knowing the results.
What an epic race.
Full results below.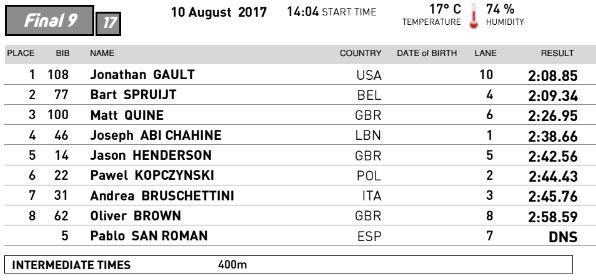 Jon showed the heart of a champion and is negotiating for a bonus and endorsement deals as hurdling legend Allen Johnson interviewed him afterwards.
LRC's Weldon Johnson talked to Jon after his race too and also with Ireland's Cathal Dennehy who blasted a 1:54.54.
As for LetsRun.com's Weldon Johnson, the last quadrennium has not been kind to the LRC co-founder, who won his media race heat in Moscow in 2013 in 2:17, racing in pants. He raced in London in shorts and faded to his customary 4th place finish. Even in the 15th heat of the media 800m races, he could not make the podium.
Miss any of the London Worlds coverage? Click here for 2017 London special section.