TV/Streaming Information for 2017 NCAA Division I Outdoor Track & Field Championships
By LetsRun.com
June 5, 2017
The 2017 NCAA Division I Outdoor Track & Field Championships will take place from Wednesday, June 7 – Saturday, June 10 at Hayward Field in Eugene, Oregon. TV/streaming information for each day of competition below.
Article continues below player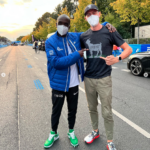 Kipchoge loves the 1:59:40 Shirt Get Yours Today
Shirts are $10 off if he breaks the world record and you order today.
ALL TIMES BELOW U.S. EASTERN
Wednesday, June 7
7:30-8:30 p.m., ESPNU
8:30-11 p.m., ESPN
Thursday, June 8
7:30-11 p.m., ESPN2
Friday, June 9
8:30-11 p.m., ESPN
Saturday, June 10
6:30-9 p.m., ESPN
All broadcast can also be streamed online or on mobile devices via WatchESPN. WatchESPN will also air live coverage of multi-events before the TV windows begin.