2017 NCAA Division I Outdoor Track & Field Championships Full Results
By LetsRun.com
June 10, 2017
Below are final results from the 2017 NCAA Division I Outdoor Track & Field Championships  at Hayward Field in Eugene, Oregon.
The Oregon women were cruising to the triple crown until Deajah Stevens fell in the 200. Then, they got only 1 point in the 5000m, which meant they had to win the final event the 4×400 to win the Championship. That's exactly what they did in a thrilling race thanks to the anchor by Raevyn Rogers. 
Article continues below player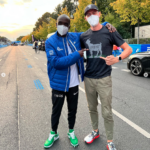 Kipchoge loves the 1:59:40 Shirt Get Yours Today
Shirts are $10 off if he breaks the world record and you order today.
In the distances, Rogers won her third 800m outdoor title, Jaimie Phelan won the 1500, Karissa Schweizer dominated the 5000m, and Allie Ostrander got the steeple.
| Day | Start Time | Saturday Field Events | Rnd | Start List | Result | Status |
| --- | --- | --- | --- | --- | --- | --- |
| Saturday | 3:00 PM | Women High Jump | Final | Start List | Result | Scored |
| Saturday | 3:05 PM | Women Discus Throw | Finals | Start List | Result | Scored |
| Saturday | 3:40 PM | Women Triple Jump | Finals | Start List | Result | Scored |
| Day | Start Time | Friday Field Events | Rnd | Start List | Result | Status |
| --- | --- | --- | --- | --- | --- | --- |
| Friday | 5:00 PM | Men High Jump | Final | Start List | Result | Scored |
| Friday | 5:05 PM | Men Discus Throw | Finals | Start List | Result | Scored |
| Friday | 5:40 PM | Men Triple Jump | Finals | Start List | Result | Scored |
Rain | 45°F | w:0.0mph NNE | h:98% p:29.96 in | Eugene
8:20 PM PDT