Molly Huddle (68:19) and Feyisa Lelisa (60:04) Win 2017 NYC Half In Sprint Finishes as Emily Sisson (68:21) and Chris Derrick (61:12) Move Into US Top 10 All-Time
Huddle Completes Three-Peat As Emily Sisson Moves Into Top 5 For Fastest Americans Ever and Chris Derrick Moves Into Top 10
By Chris Lotsbom, with additions by LetsRun.com
(c) 2017 Race Results Weekly, all rights reserved
NEW YORK (19-Mar) — After 13 miles/21 kilometers of racing, a pair of sprint finishes decided both the men's and women's champions here at the 12th annual United Airlines NYC Half, as Molly Huddle and Feyisa Lilesa prevailed victorious. Racing side-by-side with training partner Emily Sisson the entire way, Huddle took the final turn for the finish and simply out-sprinted her close friend, winning by two steps 1:08:19 to 1:08:21. By running 68:21 in her debut, Sisson moves into the top 5 all-time for the US at the 13.1 distance.
Article continues below player
Minutes later, Lilesa edged Scotsman Callum Hawkins in the same manner, crossing the line in 1:00:04 with his wrists crossed to protest the treatment of the Oromo people in Ethiopia. American Chris Derrick took top American honors in sixth in 61:12 to move into the top 10 all-time for the US on records-eligible half-marathon courses.
MOLLY HUDDLE COMPLETES HISTORIC THREE-PEAT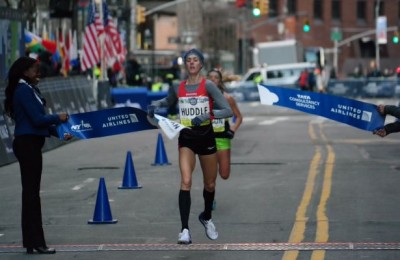 Though the temperature read 34F/1C here in Manhattan, both Huddle and Sisson felt like they were running back in sunny Arizona as they covered Central Park's roadway in the early miles. Step for step, stride for stride, the pair distanced themselves from the field as the miles clicked by and Lower Manhattan came into view.
Huddle entered today's race knowing it would be a war of friends. As if connected by a tether, Huddle and Sisson led the opening 5-K (16:59), as a strong pack formed behind them including two-time world marathon champion Edna Kiplagat, 2016 USA Olympic Trials Marathon champion Amy Cragg, Burundi Olympian Diane Nukuri, and Swedish Olympian Sarah Lahti, who was making her half-marathon debut.
In the days leading up to the race, both Huddle and Sisson told RRW that the podium in essence would be decided by the 10-K mark: if you leave Central Park feeling comfortable, the second half will be a breeze. If you're struggling, good luck getting to the Water Street finish line. Though Cragg and Kiplagat looked poised, Huddle and Sisson appeared driven and bound for a battle down the stretch. After all, they had done this dozens of times in practice.
"I knew that Emily and I would be step-for-step for a long time because we had practices that were similar and our coach told us to do that. It felt kind of like a practice tempo run, a very hard one. But I was just thinking back to Arizona when we were out on the canal for miles and miles," Huddle said. "Until we turned [for the finish] it didn't feel like a race, until then. But we were working hard!"
To get to the finish together, Huddle and Sisson kept the pace honest; they'd subtly create daylight between themselves and Nukuri, Kiplagat, and Cragg running through the heart of Times Square where hundreds of children were participating in youth races. Though the 15-K checkpoint data said Kiplagat and Nukuri were only two seconds adrift (and Cragg an additional eight seconds back), the gap soon seemed like an eternity.
Unbeknownst to Sisson, Huddle was beginning to hurt along the West Side Highway. Running a half step ahead of her mentor, Sisson cruised with the same form she's always shown on the track. In her half-marathon debut, she appeared completely comfortable.
"I was starting to get tired so I was hoping that if she couldn't see me she'd slow down a bit," Huddle said, laughing. "I felt controlled, just my legs were feeling a little tired. I was just trying to take a break."
Huddle knew it'd come down to a kick, just like last year when she edged Joyce Chepkirui by one a fraction of a second. Leaving the Battery Park Underpass with 400 meters to go, Huddle injected an ever-so-slight surge that gave her an edge. Slingshotting around the final corners and hitting the homestretch, she was in sprint mode. Sisson, finally feeling fatigue in her quads, had no response.
Breaking the tape in 1:08:19, Huddle didn't have time to celebrate before Sisson crossed two seconds later, giving her a congratulatory hug at the finish. Sisson's time was the fastest women's half-marathon debut ever by an American.
Fastest US Women's Half Marathoners
According to TFN (all courses)
1. 66:57* Kara Goucher (Nike) 09/30/07
2. 67:34 Deena Kastor (Asics) 04/02/06
3. 67:41 Molly Huddle (Saucony) 03/20/16
4. 67:51* Shalane Flanagan (Bowerman TC) 06/05/16
5. 68:21 Emily Sisson (New Balance) 03/19/17
*Aided course
"It's really cool. I never would have thought I could come back here and win three times. I remember the first one was such a surprise for me, and last year we ran so fast. I just feel really lucky to win for a third time," said Huddle, reflecting on becoming the first runner to complete a three-peat in United NYC Half history (Ernst van Dyk completed the same feat earlier this morning in the wheelchair competition). "It just contributes to my enthusiasm for New York."
Sisson was surprised to find out that she'd broken the American debut record, and moved to No. 5 on the all-time USA list. "It's pretty special. I didn't even know what [the record] was coming into today, but I'm pretty happy. Especially to do it here, a tough course." The Providence College grad credited confidence gained from training with Huddle for the strong showing.
Behind Huddle and Sisson, Nukuri finished third for the second straight year in a near-PB 1:09:13.  It was her third time making the podium here. She's gearing up for April's Boston Marathon, and was thrilled with the performance.
"I was really jealous of them, thinking they probably train like that and have so much speed," she said with a laugh, speaking of Huddle and Sisson. "It was fun to mix it up with them."
Kiplagat was fourth in 1:09:37, a second up on Cragg. Lahti, in her debut, ran 1:09:59 for sixth, breaking Isabella Andersson's Swedish record. American Des Linden, who is also running Boston was seventh in 1:11:05, the approximate pace she hopes to run in the marathon.
LILESA WINS, ONLY AFTER MEMORABLE BATTLE WITH HAWKINS
In the record books it'll go down as Feyisa Lilesa winning the 2017 United Airlines NYC Half by four seconds over Scotland's Callum Hawkins. But what the results won't show is the ferocious battle that Hawkins threw at the Olympic silver medalist en route to the finish line.
"I was just thinking, like, 'Why won't he leave me alone?'" Hawkins said with a laugh, describing the duel. "Really, it was really fun running through Manhattan and such an exciting race. But overall it was just really tough and I was throwing everything I could just to get rid of Feyisa, but he was just too strong in the end."
From the gun in Central Park, Japan's Kenta Murayama and Hawkins took the initiative to control the pace, running through 5-K in 14:25 as a pack of six. The pack remained together at 10-K (28:46), with Hawkins –sporting shiny sunglasses– keeping an eye on his challengers.
Using the final hills in Central Park as a launching pad, Hawkins injected a surge that got the attention of the entire group, including American Chris Derrick. "I was having fun being out there [mixing it up with the leaders] and then Callum had to go and ruin it coming out of the Park, putting in a big surge," the Nike Bowerman Track Club athlete joked, giving credit to Hawkins.
"I knew coming out of the park could be quite crucial, because it's a slight dig and then a downhill, so I made a move at the very top of the hill where some people like to relax, and then tried to bust up the group," Hawkins said. "Then just tried to keep the pressure on, and then coming on West Highway with the switchback, I knew I was slightly better in the corners than most of the people, so I put another dig in."
What was a pack turned into a three-man battle down the West Side Highway as Hawkins, Lilesa, and Ethiopia's Teshome Mekonen gathered steam. Defending champion Stephen Sambu was the closest challenger some six seconds back at 15-K.
Hawkins, a 60:00 runner who is known to grind down his opponents, threw the entire kitchen sink at Lilesa in the final five kilometers. The muscular Lilesa weathered surge after surge, hanging tough as Mekonen drifted back.
For the remaining miles, it would be a boxing match between Lilesa and Hawkins. Hawkins threw haymaker after haymaker, but Lilesa kept snapping back. When he did try to take over the lead and drop Hawkins, the determined 24-year-old responded promptly.
"I just put my foot to the floor and tried everything I could. I even tried a small surge in those spreads, but nothing. I couldn't get rid of him. Yeah, it was quite painful the whole way," Hawkins said.
Lilesa, who was beaten in a spring finish at the Aramco Houston Half-Marathon last January, simply wouldn't be denied today. He'd sprint the final 200 meters to gain a slight edge, and cross the finish in 1:00:04 hoisting his wrists in the same defiant 'X' he displayed at the finish of the Rio Olympic Marathon.  Hawkins recorded a time of 1:00:08.
"After I came back from Rio, my body was not fit, and I didn't think I was going to win. After that, I lost two races. I am very happy, and I'm getting very good feelings from winning the New York Half-Marathon," Lilesa said, speaking through a translator.
While the race was a classic, the scene at the finish line was touching when Lilesa's daughter came running out to congratulate him. Following the Olympic Games, Lilesa and his family were separated because he feared for his life after speaking out in defiance of the Ethiopian government. Lilesa gained international fame after his Olympic protest. For months after the Olympics, he could not see his family.  New York Road Runners made sure his family was in New York to watch him race.
"When I was running I wasn't thinking about my family at all because this is a very tough road. I wasn't thinking about them while I was running, but I was very, very happy when I saw them at the end of the finish line, especially since I won, I am extremely happy that they were there," he said.
Speaking about continuing his tradition of crossing his wrists, Lilesa opened up about the plight of the Oromo.
"Even if it doesn't help my goal, it is a good reminder for me. When I left my country, the feeling of my people was, we want freedom. We want to have our share of the pie. We want to be equal like everybody else. We don't want to be killed. This protest included the university students. What I brought was a message of the university students, and this protest will continue, and when we get our freedom, I will make sure that there will be a memorial for the people that were massacred.
Behind Lilesa and Hawkins, Mekonen took third in 1:00:28, just one second off of his personal best.  Sambu and Murayama rounded out the top five in 1:00:55 and 1:00:57. Derrick was the top American in a career best 1:01:12, followed by a breakthrough performance by Noah Droddy (1:01:48).
Fastest US Men's Half Marathoners
According to TFN (records-eligible courses)
1. 59:43 Ryan Hall (Asics) 01/14/07
2. 60:00 Dathan Ritzenhein (Nike) 10/11/09
3. 60:51 Diego Estrada (Asics) 01/18/15
4. 60:55 Mark Curp (New Balance) 09/15/85
5. 61:00 Meb Keflezighi (Nike) 10/04/09
6. 61:07 Abdi Abdirahman (Nike) 09/17/06
7. 61:12 Chris Derrick (Nike) 03/19/17
8. 61:17 Khalid Khannouchi (unattached) 09/17/00
9. 61:20 Galen Rupp (Nike Oregon Project) 12/13/15
10. 61:23 Tim Ritchie (Saucony) 10/31/15
Other notable results included American Olympians Jared Ward (14th, 1:03:22), Abdi Abdirahman (15th, 1:03:22) and Meb Keflezighi (20th, 1:04:55). All three will race the Boston Marathon on April 17.
The 2017 United Airlines NYC Half came down to a spring finish in both the men's and women's race. In the women's race, Molly Huddle outkicked her training partner Emily Sisson to win her third title in 68:19. Sisson was the runner-up in her debut at 68:21 which means she's now the 5th fastest US woman at the half-marathon on any course (4th fastest ever if you are counting just record-eligible courses). In the men's race, Olympic bronze medallist Feyisa Lelisa outsprinted British record holder Callum Hawkins to win in 60:04. Chris Derrick took top American honors in a big pb of 61:12 – a time that moves him into the US's top 10 all-time on records-eligible courses.
More: Post-race interviews: LRC Molly Huddle, Emily Sisson, Feyisa Lelisa, Callum Hawkins, Chris Derrick and Diane Nukuri Talk After 2017 NYC Half Marathon
Talk about the race on our fan forum: MB: Official 2017 United Airlines NYC Half Live Discussion Thread
Leading Women's Results
UNOFFICIAL RESULTS: @MollyHuddle 3-peats in 1:08:19 to edge @Em_Sisson by 2 steps at #UnitedNYCHalf. Times unofficial. pic.twitter.com/nBoITLJu77

— Chris Lotsbom (@ChrisLotsbom) March 19, 2017
Leading Men's Results
UNOFFICIAL MEN'S RESULTS: Feyisa Lilesa wins over Callum Hawkins in close race. @CDerrickRun top American. #UnitedNYCHalf pic.twitter.com/HB1PWnL4Hw

— Chris Lotsbom (@ChrisLotsbom) March 19, 2017
The men's 5k splits are here. Women's 5k splits are here.