Robby Andrews-Led 4×800 Going For 4×800 World Record At The Armory Track Invitational This Weekend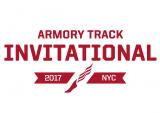 February 04, 2017
Press Release
January 31, 2017
NEW YORK – Many story lines await the February 3-4 Armory Track Invitational at The Armory's New Balance Track & Field Center:
Olympian Robby Andrews will anchor Main Street Elite in search of an indoor world record in the 4×800 relay.
High school star Tyrese Cooper will take a shot against the professionals in the 300 meters.
It will be the Americans versus Jamaicans in the international 4x200s.
50 college track teams will be competing in one of the biggest indoor meets of the year that includes professional, college and high school track & field athletes.
A high-profile two-hour window on Saturday afternoon features Andrews and his team gunning for the record of 7:13.11 set in 2014 by a U.S. all-star squad. On Saturday, the NBC Sports Network will televise same-day coverage from 4-6 p.m.
Article continues below player
Cooper, a sophomore from Miami Gardens Xpress Track Club, broke the national high school record in the 300 meters two weeks ago. He will go head to head with Lalonde Gordon, the Olympic bronze medalist in the 400 meters from 2012 in London. Najee Glass, who prepped at St. Peter's Prep in New Jersey before going on to a successful career at Florida, is also entered.
Olympian Ajee' Wilson returns to The Armory to race in the 600 meters, where she ranks No. 2 on the U.S. all-time list. Samantha Watson of Rush-Henrietta could be in position to lower her national high school record.
Paralympic gold medalist Mikey Brannigan and first-year pro Drew Hunter are the headliners of the men's 3,000 meters.
Chad Zallow of Youngstown State and Donovan Robertson of Ohio State are going head to head in the 60-meter hurdles in what promises to be one of the top college races of the meet.
Sage Watson, a Candian Olympian from the University of Arizona, is entered in the women's 500 meters.
Khallifah Rosser from Cal State-Los Angeles, the NCAA Division II 400-meter hurdles champion, has an intriguing matchup against Ohio State's Nick Gray in the 400 meters.
Amy Regan of Steven Institute in New Jersey, the reigning NCAA Division III national champion in the indoor 3,000 and 5,000 meters, the outdoor 5,000 and 10,000 meters and also cross country, is back to defend her ATI title in the 5,000 meters.
TEAMS ENTERED: Adelphi, Arizona, Arkansas, Army Prep, Bloomfield, Carleton, Cal State LA, Cal State Northridge, Central Connecticut, Columbia, Cornell, Cheyney, Delaware, Duke, Essex County, Hampton, Holy Family, Hunter, Lafayette, Loyola, Maryland, Maryland Eastern Shore, McGill, Monroe, Morgan State, Ohio State, Oklahoma, Ottawa, Queens, Quinnipiac, Ramapo, Richmond, San Jose State, Saskatchewan, Siena, South Carolina, St. Thomas Aquinas, Steven Institute, Tennessee Tech, Texas, Texas at Tyler, Texas at San Antonio, Toronto, Tulane, Trevecca Nazarene, Wisconsin, Western Ontario, Windsor, York, Youngstown.