Olympic Gold Medalist Matthew Centrowitz to Face Ryan Hill, Ben Blankenship, Hassan Mead, Mo Ahmed, Donn Cabral, and Ben True In Paavo Nurmi Two-Miles at NYRR Millrose Games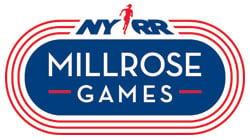 February 11, 2017
Centrowitz is the 12th Rio Olympic Gold Medallist Expected To Compete
Press Release
(Editor's Note: LetsRun.com article on this matter is here: LRC Olympic Champion Matthew Centrowitz To Race 2-Mile at 2017 NYRR Millrose Games – Will He Attack Galen Rupp's 8:07.41 American Record?)
NEW YORK, January 19, 2017 – Olympic 1,500 meters champion Matthew Centrowitz, already a three-time Wanamaker Mile champion, will turn his attention to the Paavo Nurmi Two Miles at the 110th NYRR Millrose Games at The Armory's New Balance Track & Field Center on Feb. 11.
Article continues below player
Centrowitz, who became the first American man to take gold in the Olympic 1,500 meters since 1908, will line up against a field that includes Ryan Hill, the World Indoor 3,000 meters silver medalist, Olympians Ben Blankenship, Hassan Mead, Mo Ahmed, Donn Cabral, and also Ben True.
"I'm kind of excited about a couple of things," Centrowitz said. "One is about racing some of (coach) Jerry Schumacher's guys (Hill and Ahmed). I've heard they're going out to run a fast time, so it sounds like it will be set up for a fast race. There are not many opportunities to run a 2-mile, especially against those guys."
Centrowitz ran 3:50.63 to win the NYRR Wanamaker Mile in 2016 and that time held up as the fastest mile in the world for 2016.
He opened his 2017 season with a strong 7:49.89 clocking for 3,000 meters at the University of Washington Indoor Preview on January 14 in Seattle.
By moving up in distance, Centrowitz said he is aiming to become more versatile and would like to keep his options open by the time 2020 comes around.
"As long as I'm having success in the 1,500 meters, which is such a signature event and fan favorite, I'll stay with it," Centrowitz said. "I have spoken to (coach) Alberto (Salazar) and it's no secret that I'll probably do a 5K this outdoor season. If I do move up down the road it won't be such a foreign event, but a lot of my training is strength-based anyway."
The Paavo Nurmi Two Miles is an NYRR Millrose Games event named for the famous "Flying Finn," who won nine Olympic gold medals from 1920 to 1928. In 1925, Nurmi came to New York City and broke the world record in the 2,000 meters at The Armory.
The event is also supported by Finland's Paavo Nurmi Games, which celebrates its 60th year on June 13.
For Centrowitz, it means twice as many laps and twice as much time in front of an enthusiastic NYRR Millrose Games crowd.
The American record of 8:07.41 by Centrowitz's Nike Oregon Project teammate, Galen Rupp, could be in play.
"I've noticed that I do a lot better when I put myself in a race to try and win rather than go for time," Centrowitz said. "I'm pleased where I'm at right now. I feel like I can run a fast time. Eight-oh-seven seems like a strong record. It's only four seconds off Mo (Farah's) world record. But if some of those guys get around that (pace) and I'm competitive I could be near it. But I'm more concerned about trying to beat those guys."
Centrowitz's entry makes it 12 Olympic gold medalists who will be competing at the NYRR Millrose Games.
Go to NYRRMillroseGames.org to learn more about the NYRR Millrose Games and to purchase tickets to the February 11th meet scheduled for noon to 6 p.m. Follow The Armory on Twitter, Facebook and Instagram at @armorynyc or go to ArmoryTrack.com or Armory.NYC.
About the NYRR Millrose Games
With a storied history that spans more than a century, the NYRR Millrose Games is one of track and field's most prestigious and enduring annual events. A New York City sports staple, the meet moved to the New Balance Track & Field Center at The Armory in Washington Heights in 2012 after having called Madison Square Garden home from 1914 to 2011. The Games—established by employees of Wanamaker's Department Store—feature track and field's most prolific male and female stars as well as collegiate, high school, club and youth competitors. More than 200 athletes share the distinction of being both Millrose and Olympic champions. In November of 2013, New York Road Runners became the title sponsor of the NYRR Millrose Games, which is hosted by the Armory Foundation.