2017 New Balance Indoor Grand Prix Adds Rio Medallists Paul Chelimo, Hagos Gebrhiwet and Clayton Murphy Plus Donavan Brazier, Candace Hill and Noah Lyles
by LetsRun.com
January 6, 2016
The organizers of the 2017 New Balance Indoor Grand Prix, which takes place in Boston on January 28, sent over a press release today adding some big names to their meet. Previously, the NBIGP had already announced that Matt Centrowitz, Jenny Simpson, Emma Coburn, Benda Martinez, Jenn Suhr and Ekaterini Stefanídi would be in the meet but today they added in Olympic 5000 medallists Paul Chelimo and Hagos Gebrhiwet who will race 800-meter Olympic medallist Clayton Murphy in the 3000. The meet also added in teen phenoms Donavan Brazier, Candace Hill and Noah Lyles.
Read the press release below and talk about the meet on our fan forum / messageboard: MB: Wow! Clayton Murphy's not scared or resting on his laurels. He'll face Hagos G and Paul Chelimo in the 3k at NBIGP
Article continues below player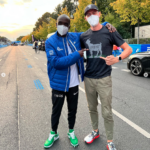 Kipchoge loves the 1:59:40 Shirt Get Yours Today
What a legend!