Video: Deer Collision Sends NCAA D-III Runner Flying During Cross Country Race
By LetsRun.com
November 16, 2016
Cross country is supposed to be a noncontact sport. But that was not the case at the 2016 NCAA Division III Mideast Region Cross Country Championships on Saturday, as senior Justin DeLuzio of Gwynedd Mercy University in Pennsylvania was sent flying by a deer just over a mile into the 8,000-meter race. Spectator Eric Bologa captured the footage below, which showed a pack of deer sprinting across the course during the race, which was held at DeSales University in Center Valley, Pa. Another spectator yelled "Watch out for the deer!" just before the collision, but because the deer came at the athletes from the side, DeLuzio had no time to react.
Article continues below player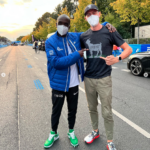 Kipchoge loves the 1:59:40 Shirt Get Yours Today
Shirts are $10 off if he breaks the world record and you order today.
Who says Cross Country isn't a contact sport?

Posted by Eric Bologa on Tuesday, November 15, 2016
According to the Gwynedd Mercy Athletics site, DeLuzio's teammate, senior Matt French, saw what happened and helped DeLuzio get back on his feet. Amazingly, with French and teammate Armani Rivera at his side for most of the remainder of the race, DeLuzio finished the race. French and DeLuzio crossed the line together in 301st and 302nd place in the 351-person field (French clocked 31:15.9, DeLuzio 31:16.0).
"Justin is doing ok, he's just a little sore and bruised up," Gwynedd Mercy coach Kevin Clark told the Gwynedd Mercy Athletics site. "We were worried about his health for a while but we're proud to see him fight through this along with his teammates, get up and finish his last collegiate cross country race."
Talk about the incident on our world famous messageboard/fan forum. MB: Deer Takes Out Runner in D3 Regional.